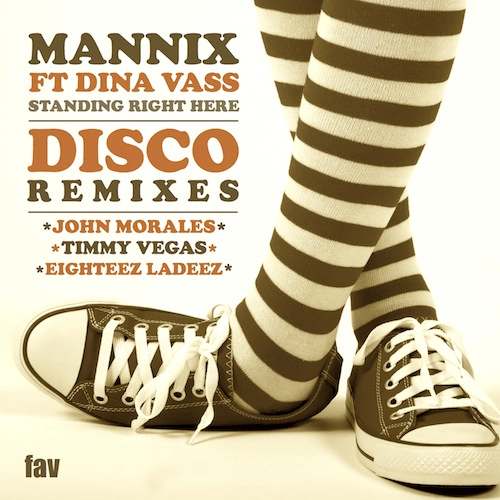 Mannix ft Dina Vass – Standing Right Here
Mannix & Dina Vass' awesome cover version of Melba Moore's classic 'Standing Right Here' gets an almighty disco/boogie make-over from 3 musical heavyweights! Taking it right back to a classic NY Disco vibe is one of the true legends of the mix, John Morales (M+M Productions), who delivers a fantastic M+M vocal mix and a playful dub. Timmy Vegas lays down a superb 80's boogie inspired mix, upbeat and armed with a popping baseline and a spectacular trademark keys solo. Topping off the package is Austria's Eighteez Ladeez (aka Urbs) who injects a trashy Nu Disco vibe laced with a gritty bassline and sexy 80's synth washes.
Mannix, born 1974 in Vienna has been into Dance music ever since 1986 when he bought his first records and finally started Djing 1990. He¹s been one of Vienna's pioneers for good house music. In late 1999 he formed Whipped Creem together with DJ Krismas and DJ Wax to move to the next level. From this time on Mannix has been a producer, promoter and music journalist (DJ Magazine Hype Chart contributor, Tilllate Magazine House Reviewer) and has released on labels like AM:PM, Go Beat, Generate Music, Soundmen On Wax, Polydor or V2. After splitting up with Krismas, Mannix and Wax formed a new project Double Jackpot, Which stood for unique funky house music in its production and DJing guises. Together Wax and Mannix run the radio show 'Crystal Radio' on the underground station Play.FM. From 2012 on Mannix started workin' on solo material. A live instrument driven album is on the way as well as new releases with Rainy Payne on Duffnote, another collaboration with Arnold Jarvis for Solid Ground and some hot remixes for Susu Bobien, Donna Hidalgo and K-Klass. Dina Vass is a spirited and accomplished UK artist. She uses her tremendous vocal strengths to enchant and transport us to the centre of some faraway, house music ether. She has worked with many dance producers including Mannix right back in 2004 under his Whipped Creem guise on 'Now I'm Free', to the Hoxton Whores' 'Come Be With Me'. Her own solo material includes 'Waiting For You' and the massive single,'The Love I Have For You', produced by Full Intention on Go Beat!
Chances are if you grew up in the Eighties, you will be well versed in the amazing music of the legendary New York producer John Morales of M+M productions. John has produced some of the biggest names in music history Tina Turner, Miami Sound Machine, Aretha Franklin, Jocelyn Brown and countless others. His fantastic 'The M+M Mixes' compilation series on BBE, now on vol.3 are superb examples of his work. John is still one of the busiest men in music and is more in demand than ever, continuously travelling the world to DJ to his many fans. UK Producer and DJ Timmy Vegas, one half of Soul Central, has a plethora of releases and remixes spanning 14 on labels such as MAW, Ken Lou Records, Henry St, King St, Soundmen on Wax, Defected Records, Z Records, and Kneedeep, to name a few. Eighteez Ladeez is a new guise from Urbs, a veteran Hip Hop producer and DJ from Vienna. He has been DJing for more than two decades and had his first release in 1999 on Viennas Uptight Recordings as Urbs&Chaoz. Later on he teamed up with DJ Cutex, forming Urbs&Cutex and release two LPs of instrumental Hip Hop. In 2005 he released 'Toujours Le Meme Film', an album inspired by movie soundtracks. Several songs from that album have appeared in TV, such as Greys Anatomy, compilations and film scores. Urbs is well known for his immense output of Edits, Bootlegs and Mash-Ups.