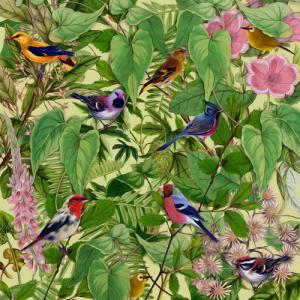 Mark Barrott – Sketches From An Island
Certain places have a history that allows things to happen outside the norm. Ibiza is one of those. A place where anyone with an open heart can find their space. A place where maverick thinking still matters. It´s this environment that in turn nurtured and created the music and style known as balearic.
"This is what I call Balearic" Jose Padilla
In 2014, a new generation of DJs, bloggers, and house heads are embracing the into-everything mentality that marked out the original balearic beats, including the widescreen, afterhours sounds made famous by José Padilla's sunset DJ sets at the Café Del Mar and Alfredo´s legendary sets at Amnesia.
Mark Barrott's 'Sketches From An Island' compresses this Balearic heartbeat into nine warm gems which paint a picture of the island, the people and the magnetic beauty that pulses through it. Recorded in Ibiza´s northern hills using "weird percussion, some slide guitars and a few borrowed synths," it's a melodic and mysterious representation of a place seeped in a rich and rebellious history.
BACKGROUND
Opening track 'Baby Come Home' radiates with carefree tropical sounds and upbeat harmonies. The blues-soaked melodies of 'Essene' perfectly navigates the tension between heart-bursting happiness and melancholy and 'Go Berri Be Happy' is like Prefab Sprout gone to Ghana. It's colour smudged hazy emotions swirl between Brian Eno, Penguin Café Orchestra and Compass Point vibes into a free-flowing cascade of live playing and synthesized sound, perfectly epitomised on the future classic, ´Formentera Headspace Blues´.
Barrott himself is a man of serious musical pedigree. He founded the highly-respected International Feel label back in 2008, after moving to Uruguay, where his A&Ring tempted the elusive DJ Harvey out of studio retirement for his genre-defying Locussolus project and he followed it with new work from artists like Quiet Village, Gatto Fritto and the Italian cosmic disco don Daniele Baldelli.
Since moving to Ibiza two years ago, he's continued producing and releasing music anonymously on his label as Rocha, Bepu N'Gali, Flights of Fancy, Boys from Patagonia and The Young Gentlemen's Adventure Society. The releases covered house, Afrobeat and proper downtempo balearic and quickly sold out. The music is cult and desirable: Young Gentlemen's… only track, 'Adventure Party' now goes on Discogs for £200.
He pressed 500 copies of the 'Sketches 1' EP on vinyl and it sold out in two hours. A special edition 12″ in collaboration with innovative retailer LN-CC, featuring the beautiful birds of paradise artwork, sold out in two minutes.
"Sketches is inspired by those weird, unique little oddities that would turn up on early José Padilla mix tapes that he'd sell in the Las Dalias hippy market, before he even went to the Café Del Mar," says Barrott, "It's influenced by living in Ibiza year-round, and by the feeling of what I think balearic sounds like."
It's warm and widescreen music for the days when you need musical sunshine. Or as original Café Del Mar's José Padilla, has it: "This is what I call Balearic."
CONNECT:

www.facebook.com/internationalfeelrecordings
www.sketchesfromanisland.com