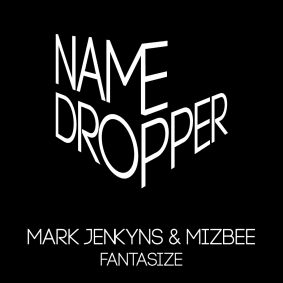 Mark Jenkyns launched Name Dropper label with Mizbee collab
Mark Jenkyns launches his Name Dropper imprint with a single entitled 'Fantasize', renewing his partnership with Mizbee.
"Name Dropper will be a home for my music and a place to work with friends and artists I respect – always in collaboration, where we can be free to stretch our creative and musical ideas – basically dropping a name I love, whenever I want." – Mark Jenkyns
Hot Creations regular and seven-year Paradise Ibiza resident Mark Jenkyns has accomplished a lot over the years, performing regularly at events like ElRow and VIVa Warriors, not to mentioning releasing on top tier labels like Suara, VIVa and Crosstown Rebels. A particular career highlight came in 2017 when he teamed up with Newcastle-born vocalist Mizbee, releasing 'Sirens' on Jamie Jones' Hottrax. Supported by Ricardo Villalobos, Richy Ahmed and The Martinez Brothers, the track was ubiquitous and a bona fide hit on Beatport.
With early support from Richy Ahmed, Nicole Moudaber and Mark Knight, 'Fantasize' sees the duo return with a track destined to do damage this summer. Rhythmic from the off, a looping piano groove is joined by crunchy drums and enticing strings whilst Mizbee's soulful vocals operate throughout.
Mark Jenkyns & Mizbee 'Fantasize' drops on Name Dropper on 12th July 2019.
Tracklist:
1. Fantasize
https://www.facebook.com/Name-Dropper-361483084716949/
https://www.facebook.com/markjenkynsmusic/
https://www.beatport.com/artist/mark-jenkyns/281143
https://www.facebook.com/mizbee123/
https://www.beatport.com/artist/mizbee/325941