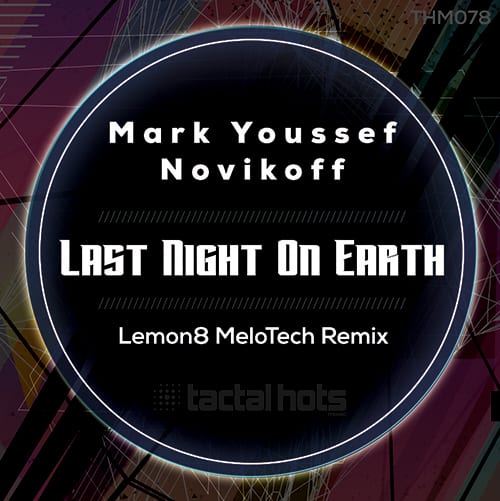 Mark Youssef & Novikoff – 'Last Night On Earth'
Tactal Hots Music, the steadfast North West (UK) underground label, returns from its hiatus with 'Last Night On Earth', a stunning new track courtesy of Mark Youssef & Novikoff. This exciting Australian-Russian studio collaboration is further enhanced with the unique remix skills of Dutch maestro Lemon8.
The creative connection between Mark Youssef & Novikoff is super strong. Each of their deftly crafted releases is a highly anticipated event for many DJs around the globe and their latest creation is no exception. 'Last Night On Earth' is powerfully engaging beast that floats melodic beauty on top of a swirling cauldron of bursting energy.
"'Last Night on Earth' has that techno vibe going on and it was really interesting exploring that when making my own interpretation. What I wanted to preserve was that drive and I think I've succeeded. The 303 acid line is understated and that's just how I wanted it. I'm very happy with the end result and it's been wonderful exploring the techy side of me once again." – Harry Lemon8
Lemon8 takes a deeper route to create his equally engaging rework, with layers of melody over a gloriously hypnotic percussive backbone. Masterfully sophisticated and sublimely subtle touches are the name of the game here as acidic elements peak and retreat in the mix – it is an utterly absorbing creation that perfectly contrasts with the upfront energy of Mark Youssef & Novikoff's excellent original.
Beatport: https://www.beatport.com/label/tactal-hots-music/16186