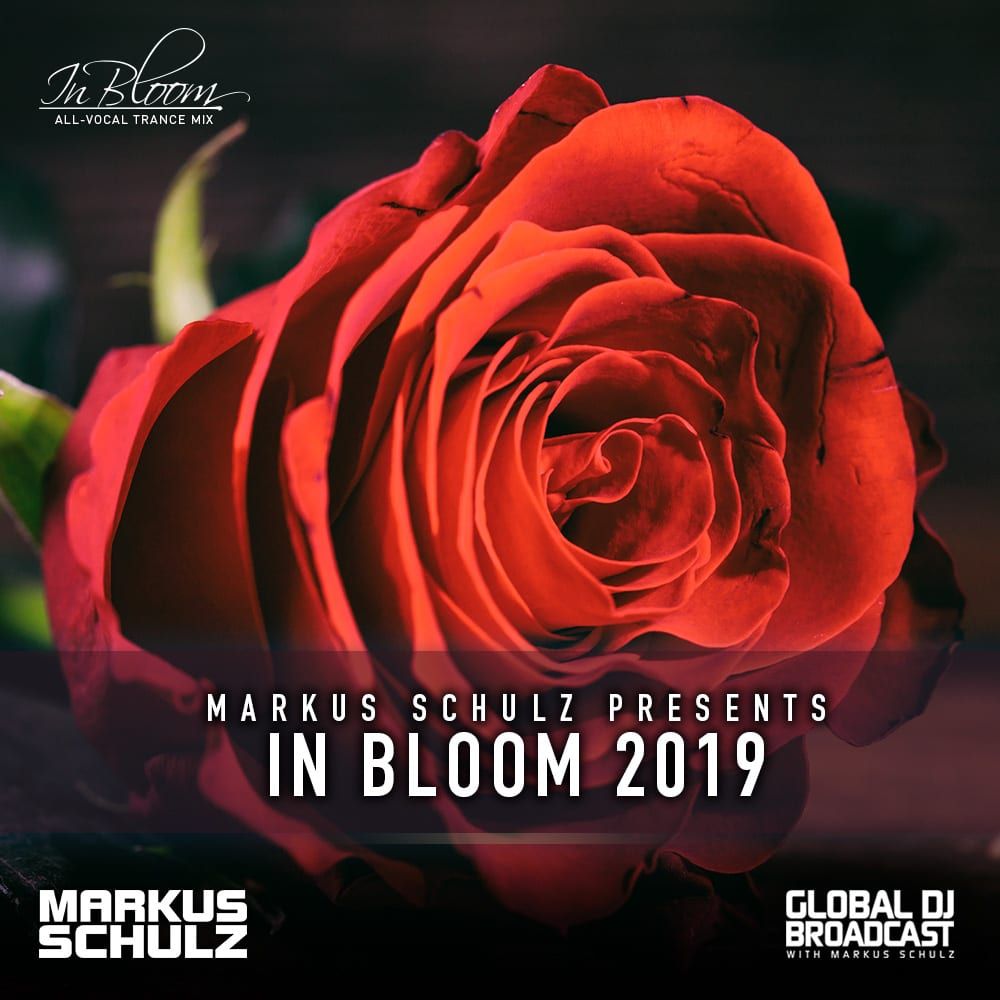 Markus Schulz Brings 'In Bloom 2019' To Spotify
The briefest of glances outside your window will tell you all you need to know on the 'is spring/isn't spring here?' question. Should you still need convincing however, here's Markus Schulz to make it empirical. Out of the dark, into the light, through his annual Global DJ Broadcast In Bloom show, spring mainlines.
One of his GDJB quarterly specials (the Sunrise set, the Afterdark Edition and the Classic Showcase making up the others), In Bloom turns up the contrast on vocal-centric trance. Picking the freshest, choicest cuts from the current, recent and close horizon crop, Markus – in typically masterful form – has weaved them into two hours of dazzlingly fine music.
Maximum access assured for 2019, for the first time this year 'In Bloom's also been given the full official Spotify treatment. Following its recent premiere on GDJB, you can access the entire two-hour run of the mix through the platform here (https://spoti.fi/2YKitnd) from today.
Befitting the mix's profile, you'll find the tones of many of trance's most lyrically adept and emotionally charged summoning that In Bloom esprit. Emma Hewitt, Christina Novelli, Adina Butar, HALIENE, Justine Suissa, Nikki Flores and Mia Koo are just some of those behind the mic, whilst male voices like Richard Bedford, Josh Gabriel and Christian Burns are well represented too.
Backing them in the studio, well it might be quicker to tell you who's not on the list! To give you some idea though Armin, Above & Beyond, Ferry Corsten, Cosmic Gate, Giuseppe Ottaviani, Gabriel & Dresden and ATB are just some of those adding their production punch to the mix.
Sure enough Markus has applied much of his own latest and forthcomings too. 'We Are the Light' – the Nikki Flores-sung title track from his latest album makes an early appearance, as does recent ATB-collab, 'Heartbeat'. Rounding out the first hour is current single 'The Dreamers' (naturally in its In Bloom mix form!), with Daxson's new treatment of Markus & Adina Butar's 'Breathe Me To Life' a vanguard to the second. Markus's daisy-fresh spin on Dash Berlin/Emma Hewitt anthem 'Waiting' also get an airing, as does Johan Gielen's rebuild of Schulz's own 'Perception' classic. Reserving In Bloom's most emotionally carrying moments to its last, Markus fittingly bestows final track honours to his and HALIENE's forthcoming interpretation of 'Ave Maria'.
A mix that masterfully lifts every voice to divine the essence of the season into two breathtaking hours – In Bloom's all-vocal, all trance, all spring and all here!
DON'T MISS! Listen through Spotify here, now: https://spoti.fi/2YKitnd
Markus Schulz Presents Global DJ Broadcast's In Bloom 2019 Tracklist:
Markus Schulz featuring Nikki Flores – We Are the Light (Intro Mix)
Eli & Fur – Parfume (Dosem Remix)
Max Graham featuring Jessica Jacobs – I Know You're Gone
Ferry Corsten & Nevve – Freefall (Club Mix)
Andrew Bayer featuring Alison May – In My Last Life (In My Next Life Mix)
Cosmic Gate & Foret – Need to Feel Loved
Gabriel & Dresden featuring Josh Gabriel – Over Oceans (Gabriel & Dresden Club Mix)
Haris C & Michael Angelo – Take it All Back (Michael Fearon Remix)
ATB & Markus Schulz – Heartbeat (Festival Mix)
Offer Nissim featuring Maya – For Your Love (Sied van Riel Remix)
Adip Kiyoi & Susie Ledge – Wild Rose
Nifra & Mia Koo – Forever Forever
Above & Beyond featuring Richard Bedford – Happiness Amplified (Above & Beyond Club Mix)
Whiteout & Kate Miles – Love Again
Gabriel & Dresden featuring Sub Teal – Only Road (Cosmic Gate Remix)
Markus Schulz & Smiley – The Dreamers (Markus Schulz In Bloom Mix)
Anske & Ellie White – Bring My Spirit
Markus Schulz & Adina Butar – Breathe Me to Life (Daxson Remix)
DT8 Project – The Edge
Lostly featuring Claire Willis – Neon Skies
Dash Berlin featuring Emma Hewitt – Waiting (Markus Schulz In Bloom Remix)
Richard Durand & Christina Novelli – The Air I Breathe (Markus Schulz Big Room Reconstruction)
Markus Schulz featuring Justine Suissa – Perception (Johan Gielen Remix)
Armin van Buuren, Alex M.O.R.P.H. & Ana Criado present Triple A – Winter Stayed (Alex M.O.R.P.H. Mix)
Susana & Neev Kennedy – The Promise
Giuseppe Ottaviani & Christian Burns – Brightheart (Robert Nickson Remix)
Raz Nitzan & Ellie Lawson – Beyond Time (C-Systems Remix)
Factor B featuring Cat Martin – Crashing Over
Drival & Michele C – Saviour
Markus Schulz & HALIENE – Ave Maria
markusschulz.com
facebook.com/markusschulz
twitter.com/markusschulz
instagram.com/markusschulz
soundcloud.com/markusschulz