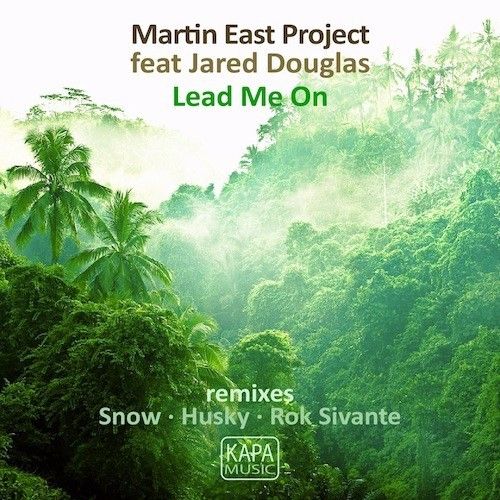 Martin East Project ft. Jared Douglas – Lead Me On
Martin East joins forces once again with long time cohort, Jared Douglas, ready to inject their beautifully distinctive deep and soulful vibes back to our dance floors once again. 'Lead Me On' is sexy, deep house outing as you'd expect from this mighty duo, beautiful keys and blissful beats, drizzled with Jared's silky smooth vocal. Also on the package Australia's Husky delivers a bumping deep groove vocal and dub mixes, complete with a fizzing electronica and lush keys. Keys Snow works his afrocentric Jo-burg magical key wizardry over a hot bed of organic beats and round off the release, Bali's Rok Sivante offers a minimal flavoured deep chugger, drizzled with atmospheric ethereal breakdowns.
Martin East has been Musical Director at Bali's famous Rock Bar since 2010. He has presently holds a residency at Ku De Ta for 3 years also. Before living in Bali Martin was a major part of the LA dance scene and his Mundial Party was recognised as one of the best nights LA had to offer. His Label, Kapa Music in LA has had a number of Deep and Soulful house hits and personally Martin has found songs of his on compilations from Jay Hannan's Bargrooves, Om Beached, Roger Sanchez's Release series to a recent release on the new Black Coffee/Joe Claussell compilation for Club Djoon on BBE. He was also the figurehead of the Jaguar X-Type music program alongside Thievery Corporation, Zero7 and Rob Da Bank. His first single Neverending was a huge smash at WMC 2005 and since then he has had the pleasure of remixing the likes of New Order, Jill Scott and Nikka Costa. Subsequent tracks that were hits include Far From this Place, Let's Go Deep. Release, Wisdom of a Million Years just to name a few. As a DJ Martin has played in LA, NY, Miami, Vegas, SF, Australia, New Zealand, UK, Mauritius, South Africa, Canada, Singapore, Manila and Vietnam and of course Bali and Jakarta. Corporate and Celebrity clients include : Matthew McCounaghy, Golden Globes, Mario Andretti, Prince, Golden Voice, 20th Century Fox, Foo Fighters, Ministry of Sound, Harpers Bazaar, Conde Naste, GQ, Chateau Marmont to name a few.
Jared Douglas is a singer/songwriter from the astounding Pacific Northwest (Olympia/Seattle, WA) whose songs have been heard worldwide on radio/TV/film, including hit series Sex and the City (HBO) and Soul Food (Showtime). A seasoned live performer and noted 'one take wonder' hired gun studio vocalist, Douglas's soulful stylings have appeared globally from the Staples Center to Singapore, from smooth jazz radio spots to national jingle campaigns, from hit video games to your neck of the woods. Jared's writing and vocal skills have been featured on 'The Mastery of Love', the latest recording from The Plantlife's Dena Deadly (Jack Splash, Scott Storch, Will.I.Am) and 'The Long Hard Way', the debut recording from progressive soul band, Girth.
One of Australia's most promienet DJ/ producers, Husky, has a vast discography of productions and remixes on some of the worlds leading dance labels, such as Salted Music, Purple Music, Good For You Records, Shifted Music, Ultra, Interscope,Bargrooves and more. He also is one half of the popular production duo Random Soul with partner Yogi and boss of Bobbin Head Music. South African remixer, producer, accomplished Pianist and DJ Keys Snow recent remix of Martin & Jared's 'Makin Memories' found itself on the Black Coffee and Joe Claussell D'Joon compilation for BBE. His debut album 'the Bigger Picture' was recently released on House Afrika. Rok Sivante abandoned the formal education path for a pro DJ career in Vancouver's upscale hotspots, later setting the soundtrack against a backdrop of crashing waves & epic sunsets in Bali. A multi-dimensional character with a deep intellectual & spiritual side – a unique perspective and energy is brought through his very eclectic approach to music, infusing his tracks with influences from around the globe.