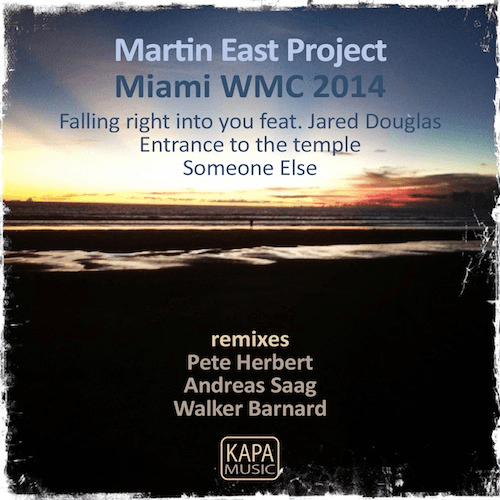 Martin East Project – Miami WMC 2014
King of the sunset groove, Martin East, reveals his stunning new collection of songs, beautifully crafted in the tropical paradise of Bali, on 'Miami WMC 2014'. The lush cinematic soundscape of the dreamy 'Entrance To The Temple' is a powerful and emotive slice of electronica, laced with a cool spoken word. UK's don of all things deep and balearic, Pete Herbert, delivers a Deep/NuDisco boogie vibe for the floor, armed with a popping bass hook and catchy synth stabs. 'Falling Right Into You' is a seductive love song, beautifully vocalled by Jared Douglas, which combined with Martin's sweeping synthology is enough make any heart melt. Andreas Saag lends his Scandinavian cool to the song, adding a touch of icy melancholia fused with upbeat percussion, subtle keys and disco boo's. 'Someone Else' is a dramatic musical outing that carries a hint of 80's electronica fused with atmospheric guitar and powerful vocals from Martin East himself. Rounding off the release Walker Barnard works up a sublime deep house remix, making a beautiful feature of the guitar on the drop. All in all a fantastic musical feast from our maestro of the sunset Martin East!
"I wanted to make music that I would play – this has very much been a delve into rediscovering what it is that I love about Electronic Music and to flirt with conceptual energy of dance but
with a spirit of release and catharsis that is really important to me and what I try to provide inside my sunset experiences." – Martin East
Martin East has been a resident at Ku De Ta for 4 years, honing his skills on the legendary Funktion One on the beach in Seminyak as well as Musical Director for Bali's famous Rock Bar. Martin is a producer and DJ boasting a great understanding of the marriage between sound and vision, which is ever present as he crafts breathtaking soundtracks to stunning sunsets. Before living in Bali Martin was a major part of the LA dance scene with his Mundial Party, during his time there he was also an actor and even appeared in the blockbuster Titanic. Martin's Record label, Kapa Music has had a number of Deep and Soulful house hits including his first single 'Neverending','Far From This Place', 'Let's Go Deep', 'Release', 'Wisdom Of A Million Years' and recently 'Lead Me On' with Jared Douglas, with licences to compilations such as Jay Hannan's Bargrooves, Om Beached, Roger Sanchez's Release Yourself and Black Coffee/Joe Claussell Club Djoon. As a DJ Martin has played in LA, NY, Miami, Vegas, SF, Australia, New Zealand, UK, Mauritius, South Africa, Canada, Singapore, Manila and Vietnam and of course Bali and Jakarta. Corporate and Celebrity clients include : Matthew McCounaghy, Golden Globes, Mario Andretti, Prince, Golden Voice, 20th Century Fox, Foo Fighters, Ministry of Sound, Harpers Bazaar, Conde Naste, GQ, Chateau Marmont to name a few.
Jared Douglas is a Seattle-based vocalist and songwriter whose long-standing link with Martin East has triggered a smooth, soulful string of house favorites. Especially beloved in South Africa's deep house hotbed, Jared recently contributed to tunes by Keys Snow and Heavy K (The Drumboss). One time co-proprietor of Atlas Records in Soho, London, Pete Herbert is constantly busy DJing around the globe or in the studio. For Eskimo Recordings he has released as Reverso 68 with Phil Mison, as well as remixing the likes of Grace Jones, Ajello, Tosca, Bent and Badly Drawn Boy. Pete has also recorded as LSB alongside Baby g. Notching monster hits for Eskimo, plus two mini albums-worth of re-edits and singles on their own label Superdiscoteca. He now records under his own name and has remixed Luke Godson (The Swiss), Royksopp, Roots Manuva, Bottin, The Glimmers and Stars On 33, among others. He recently teamed up with Dicky Trisco, releasing for their co-run label MAXI DISCS, focusing on their take of Tropical House. Andreas Saag aka Swell Session is considered one of Scandinavia's top producers in the house and club jazz scene. He blends all genres of House, Techno, Jazz, Soul, and club music. He's released singles like 'Music in her Eyes' and 'Let me Decide' on Swedish label Hollow Recordings, he joined Freerange (as Stateless) and on many other labels SLS, Local Talk, Rebirth as Andreas Saag releasing 'Jazz Lesson', 'Tristeza', 'Get It On' 'Back To Life EP' and 'Latin Lesson', among many. He's remixed everyone from Ennio Morricone, Jimpster, Soul Patrol, The Layabouts The Sunburst Band, Susumu Yokota, Sunshine Jones and London Elektricity to name just a few. US producer Walker Barnard's career has been someone diverse, travelling through various corners of the globe, both physically and musically, producing Funk Rock to super stars in Hip Hop including Saul Williams, Mike Ladd, Rob Sonic, Mos Def, Cannibal Ox among many, through to classic New York House. Walker has been a Now a valued member of the Berlin scene since 2008 – his regular appearances around venues such as Club der Visionäre, Watergate, Wilde Renate, Chalet, Katerholzig and a live performance for Panorama Bar. Look for his tunes on labels like Private Gold, Vakant, Serialism, Dumb Unit and Jack Off.
TRACKLISTING
1 Entrance To The Temple
2 Entrance To The Temple (Pete Herbert remix)
3 Falling Right Into You
4 Falling Right Into You (Andreas Saag remix)
5 Someone Else
6 Someone Else (Walker Barnard remix)