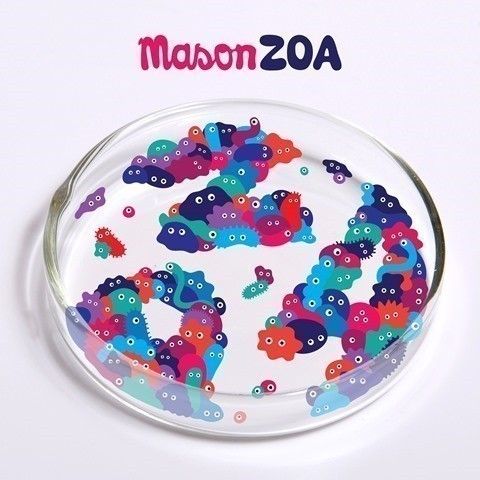 MASON – ZOA
Dutch production duo Mason are to release their second artist album ZOA on 26th August. ZOA is an eclectic and colourful collection of genre-bending, electronic based jams.

"ZOA", emanates a joyous musical freedom, as the duo show their usual blatant disregard for genres and trends. Like a toddler on Kia-Ora the music flits impatiently from italo-disco to house, electro to indie-pop yet somehow retains a common thread and remains highly listenable. This is serious music with an underlying playfulness that reflects the artistic satisfaction and fun these two studio professors experienced while creating it.
Mason first crashed into the mainstream consciousness with their international crossover hit 'Exceeder' in 2006 and haven't rested a great deal since. Their productions have appeared on some of the coolest imprints out there, including Fool's Gold, Great Stuff, Cheap Thrills and Boys Noize, as well as on their own widely respected label, Animal Language.
"For the last two years we've released lots of club oriented stuff, but kept on making all kinds of other music in the background. Making only club driven tracks 24/7 is just a bit dull!" says Iason. "We had absolutely no musical boundaries making ZOA. Anything goes, as long as we're digging it. It's the opposite of writing DJ tool 'fodder', or pre-fabricated radio hits. It made the whole process so enjoyable."

The diversity of "ZOA" is reflected in the long list of hugely talented guest musicians and vocalists featured on the album. Guests such as the legendary Jocelyn Brown, cult electro pop act Zoot Woman and U.S. Hip Hop trio Champagne Champagne have all been thrown into Mason's musical petri dish and drip-fed nutrient agar to create this particularly virulent strain of electronic bacteria.
Coen remarks, "We've worked with over 15 vocalists and musicians on this album, which is always very inspiring, as they're all so incredibly good at what they do. It really makes a producer feel humble"

Whether it's the Prince-a-delica of 'Gotta Have you Back' ft Rouge Mary (of Hercules And Love Affair), or the dark bumping house of 'Peer Pressure', the acidic grooves of 'Get Back', or the 80's summer vibes of Salamander, "ZOA" showcases Mason's constantly evolving songwriting and production skills, while giving a nod to their eclectic range of influences. This is an album that keeps you coming back for more, with each listen leaving you with a new favourite. This is Mason with no constraints, a lovingly spliced piece of musical genetics.