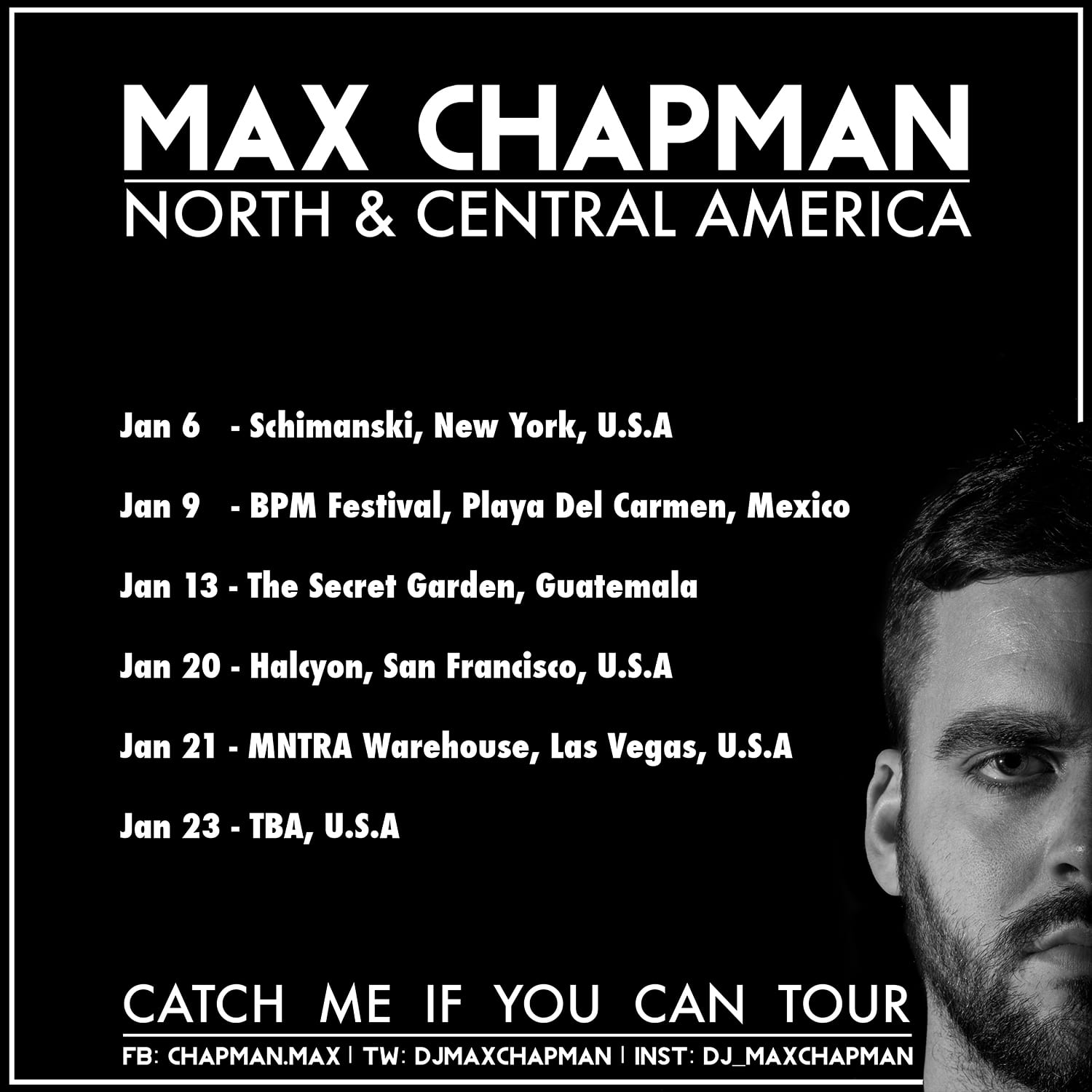 Max Chapman announces debut North & Central America Tour
UK heavy-hitter Max Chapman has ticked a lot of career boxes in 2016, and the start of 2017 will see him fulfil another big one as he embarks on his first official North & Central American tour. Named after his critically-acclaimed debut LP on Mad Tech, the 'Catch Me If You Can' tour looks set to deliver Max's inimitable flavour of rugged tech house across six massive parties, with several more dates still to be announced.
On a route that criss-crosses the breadth of north and central America, the tour will kick off in New York, then hitting the BPM Festival in Mexico, Guatemala, San Francisco and Las Vegas; expect several more parties to be added to what is going to be the best way for any self-respecting raver to shake off those January blues. With a recent Beatport #1 under his belt on legendary party-cum-label Elrow, Max hasn't stopped to catch his breath this year; touring extensively throughout 2016 with over 60 dates that took him across Australia, Europe and South America, at gigs including the Warehouse Project, Solardo Sea Sessions, and a residency at Abode Ibiza, Max has refined his craft to become one of the most in-demand DJs on the circuit.
"I've played some amazing gigs already in Central America, and I've heard so many stories from DJs who have played the US about how incredible the vibe is over there, so to finally be able to say that I'm heading there on my own tour is pretty big news. The tour name was an easy one – 2016 really couldn't have started any better with my 'Catch Me If You Can' album, so it made sense to start 2017 in the same way. I've got so much new music ready to road-test, and what better opportunity than at some of the most iconic venues in the world?"
Hitting the road armed with a crate of tried and tested cuts, expect to hear forthcoming EPs signed to Hot Creations, Toolroom and Wow from one of the UK's most exciting producers; Max Chapman is ready – catch him if you can…
Tour Dates – more to be announced soon
Jan 6 – Schimanski, New York
Jan 9 – UNDR THE RADR, BPM Festival
Jan 13 – The Secret Garden, Guatemala, Mexico
Jan 20 – Halcyon, San Francisco
Jan 21 – MNTRA Warehouse, Las Vegas
Jan 23 – TBA
https://soundcloud.com/max-chapman
https://www.facebook.com/Chapman.Max
https://twitter.com/DJMaxChapman
#CatchMeIfYouCan