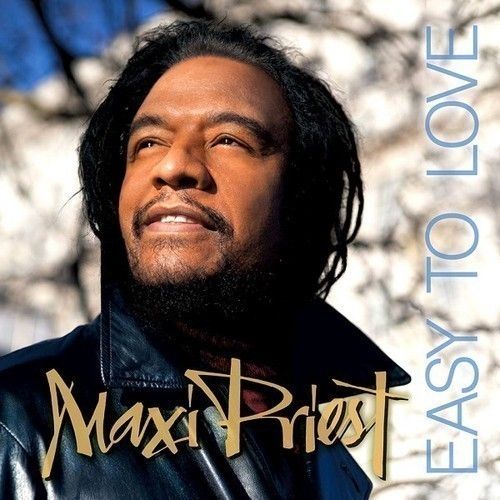 MAXI PRIEST – EASY TO LOVE
Only a handful of singers succeed in transcending their genre without losing the essence of who they are. Superstar Maxi Priest is one of those artists whose own unique vision has led him to tremendous international success, being the first reggae artist to have a No. 1 hit worldwide, including the US Billboard charts.
His new album is as fine a representation of lovers' rock as you could possibly wish for. The sophistication he brings to these tracks is the mark of true quality; his effortless blend of reggae, R&B and dancehall has universal appeal. It's also great to dance to and make love to – important ingredients for a singer who has attracted such a loyal female following.

Lead single "Easy To Love" was a No. 1 smash hit last summer in the reggae charts – evidence that Maxi Priest has a gift for staying fresh. It features legendary Jamaican drum and bass duo Sly & Robbie (famously known as The Riddim Twins) who've worked with other prominent artists such as Dennis Brown, Gregory Isaacs, The Rolling Stones, UB40 and Bob Dylan. Sly & Robbie have also played on some of Maxi's biggest hits: "Wild World," "Some Guys Have All The Luck," "Every Little Thing," "Close To You," and "Housecall" (featuring Shabba Ranks).

"Without A Woman" features Beres Hammond, and echoes the themes and intensity of James Brown's "It's A Man's World." Maxi and Beres further a partnership that began with the crossover hit "How Can We Ease The Pain." Time has deepened the understanding between them and there's so much soul in this track it hurts. "This song is an appreciation for all women and a gift from the artists," says Maxi. "Sometimes we forget to simply say 'thank you' – as without you, there is no us."

"This album is about time, and a moment," says Maxi Priest. When singing "Angel Wings," Maxi envisioned himself in Jamaica surrounded by nature. The delicate, aching need of this track demonstrates just how far reggae has evolved in the new era. Other tracks, like "Fire In The Skies" and "I Could Be The One," simply defy categorization and are living proof of Maxi Priest's musical versatility.
ABOUT MAXI PRIEST
"First and foremost, I'm from a church background," he explains. "My mother, a missionary, is where I would hear the beautiful sound of gospel, mixed in with reggae music that my older brothers played around the house. My sisters were into the Jackson Five, The Beatles, Al Green, etc. From and early age my family always encouraged meŠ I listened to all kinds of vocalistsŠ Frank Sinatra, Elvis Presley, Sam Cooke, Dennis BrownŠ without realizing it, I was developing my craft. I was taught never to limit myself – that's why you'll always find different styles of music on my albums, and a range of producers to bring out different aspects of my creativity."
"Gravity," written by John Mayer, is an example of what happens when someone of Maxi's caliber takes a song to heart; like Marvin Gaye or John Holt, he's long mastered the art of romance. His delivery and phrasing are impeccable, and so too his choices of material and collaborators.

"Hearts Across The World" is a centerpiece of the album, and sends out a message to the global village. It's a song for our times – a plea for people of all races to love one another, and which stems from a genuine desire to help uplift humanity. "No one's going to cry tonight / Everyone in the world, dry eyesŠ"

New and long-term fans alike will relish hearing tracks like "Loving You Is Easy," "Holiday," and "Still In Love," – irresistible tributes of enduring affection. Maxi's been tugging on girls' heartstrings ever since the mid-80's, when he dominated the UK reggae charts with hits like "Should I" and "Strollin' On." Maxi's version of John McLean's "If I Gave My Heart To You" is a reminder of when Maxi Priest's star was still ascending. Now, with over 15 million albums sold worldwide, he is the most successful solo act in British reggae history and has earned the respect of fellow artists from all over the world.
Maxi Priest is the first British-born singer to graduate from the London reggae sound-system Saxon Studio International, introducing the sound of lovers' rock to a global audience. Before joining Saxon, Maxi embraced Rastafari and served an apprenticeship with South London sound-system Negus Negast and the legendary Jah Shaka. Maxi has adhered to these principles his entire career by making conscious music of all kinds. While Easy To Love is essentially an album of love songs, it closes with a track first recorded by Ras Michael and the Sons of Negus in the 1970's. Maxi's version of "None A Jah Jah Children" is strikingly original and intended as a blessing to see us safely on our way as we're transported to a Rasta grounation or Nyahbinghi – a gathering of the faithful where we receive affirmation that no matter the hardships, Jah Jah's children will always triumph.