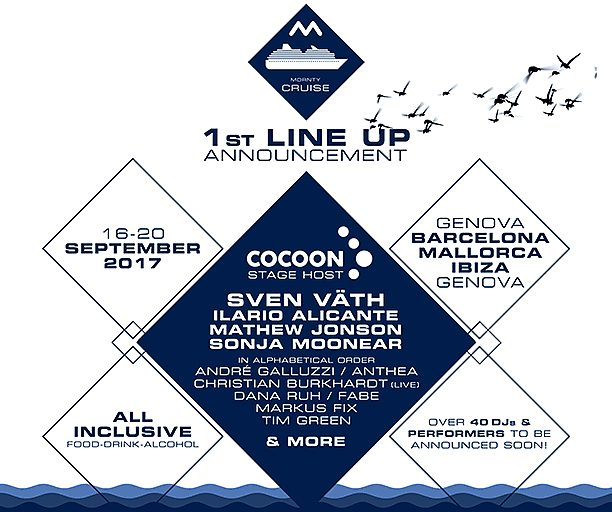 MDRNTY Cruise announces first acts…
MDRNTY Cruise announces first acts including Sven Väth, Sonja Moonear, Mathew Jonson, Dana Ruh, Anthea, Ilario Alicante and more
Cocoon regulars Sven Väth, Ilario Alicante, Andre Galluzzi, Anthea, Christian Burkhardt, Dana Ruh, Fabe, Markus Fix, Tim Green, and Mathew Jonson will be performing on one of the dancefloors for the first edition of the MDRNTY Cruise. More than 40 other DJs and artists are yet to be announced. As pioneers of underground electronic music, rallying cities from Genes to Palma including Ibiza and Barcelona, MDRNTY Cruise will accommodate up to 3200 clubbers from 16 to 20 September 2017, onboard the MSC Magnifica.
Starting at €729, all inclusive offers (travel, 24-hour party, accommodation, food, beverages, alcohol and taxes) are available on www.mdrnty-cruise.com
A 24-hour programme
A regular of MDRNTY events and the Caprices Festival, Mathew Jonson and the COCOON label artists expressed their enthusiasm when Maxime Léonard, Director of both institutions and planner of this cruise, invited them. The DJs of the label founded by the German Sven Väth will take turns at the turntables along with other artists who will be announced later. The MDRNTY Cruise passengers will be vibrating non-stop.
"Our desire is to share a musical, sensorial experience throughout the whole trip," says Maxime Léonard. "We want people to enjoy the programming of 5 dance floors, anytime day and night. With COCOON as the first host of our stages, the public can expect other artists of this magnitude for the rest of the programming."
All inclusive offers starting at € 729
MDRNTY Cruise offers all inclusive packages that include travel, 24h access to dance floors, cabin accommodation, unlimited food, unlimited drinks – including alcoholic beverages excluding premium drinks, port charges and taxes and gratuity.
From €729, clubbers will enjoy all the facilities of the MSC Magnifica for 4 nights/5 days. As a 294-meter ship with a crew of 1000, offering 3 swimming pools, 11 bars and 5 restaurants, the MSC Magnifica also offers a state-of-the-art health and beauty centre as well as many entertainment options: tennis, bowling, high-tech fitness club or 4D movie theatre.
"MSC Cruises, a leader in maritime tourism, features a ship with sumptuous facilities to relax or enjoy the ride between two sets of artists." as Maxime Léonard concludes. "This is a new experience for the 3200 clubbers who will vibrate to the sounds of these DJs in an unusual place. MDRNTY Cruise is the culmination of an idea that originated two years ago in my mind. This project was created to fully service both the public and music."
Reservations available as of today, online via www.mdrnty-cruise.com
Rates and available cabin categories on www.mdrnty-cruise.com/packages/cabins-pricing/