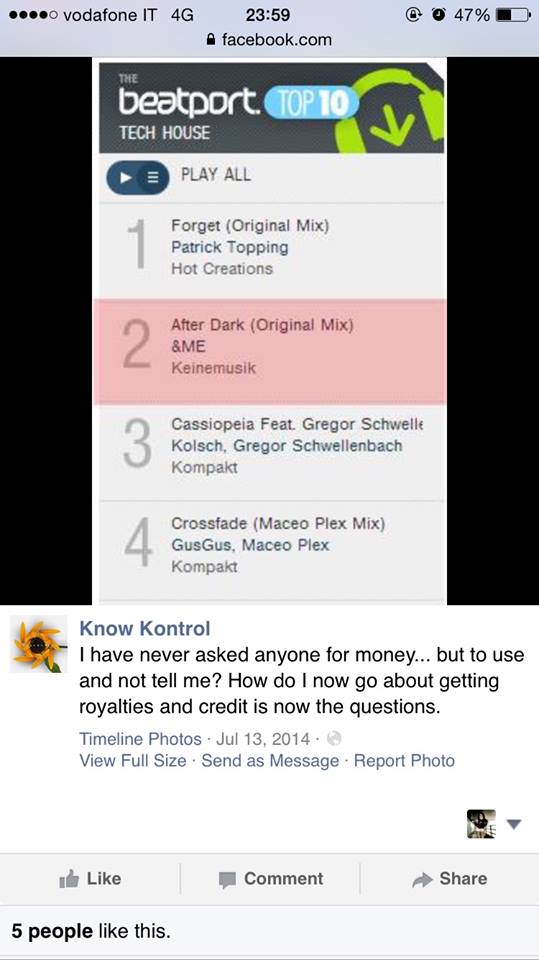 &ME – Woods, Keinemusik RIPS OFF a song from 7th Star
"Hello dear friend, we are sad to announce yet another ugly move from another "big" artist.
We produced this track "Visions" (Originally called Lost In The Woods) in late 2013 – and decided to send it around to a few labels and djs.

As Less Hate, i played in a few radio shows and podcasts. This is dated December 2013


The result is this:

www.youtube.com/watch

Is it mere coincidence that the track sounds almost identical in its groove, synthesizers, transitions, fxs and arrangement?
Of course ours was a little more artistic and had more music to it.
We wouldn't EVER send this if MUSIC wasn't SO IMPORTANT to us.

AFTER We commented on &ME and Keinemusik's facebook pages, our comments got deleted and we got banned from the pages, which, to us, constitutes definitive PROOF that the track has been stolen.

MUSIC is our life and we don't care about charts and merchandise, apparently some acts care more about it, so maybe they don't have much time left to develop original ideas.

Anyway, we hope you like the original work that inspired this track.

Thank you for your attention
Nihil Young of 7th Star"