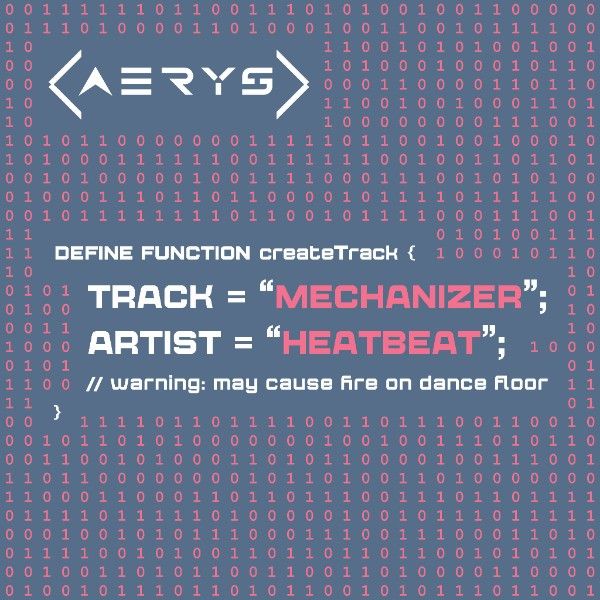 Heatbeat - Mechanizer
After killing it on a variety of Armada Music labels for close to nine years, Heatbeat have linked up with the Amsterdam-based record label to launch their own imprint. AERYS RECORDS will not only serve as the main output label for Heatbeat, but also welcomes fresh talents from their home country. 'Mechanizer', the first release on the AERYS RECORDS, was put out today.

Listen to: Heatbeat – Mechanizer

With 'Mechanizer', Heatbeat cranked it up a notch to turn the first release on their AERYS label into an absolute floor cracker. Designed to be a machine of mass destruction, 'Mechanizer' drops so darn hard it may get mistaken for a high-magnitude earthquake, causing venues across the globe to fortify their sound systems.

Heatbeat: "We are very proud to announce that we begin 2017 with our own label AERYS RECORDS and continue to be part of the Armada Music family. For many years now, we have developed tracks, compilations and even our own artist album, but now we have decided to take the next logical step and launch our own label. AERYS RECORDS will be the label dedicated to our vision of trance music."

Heatbeat have been part of Armada Music's artist roster since 2008, when they first touched down on Soundpiercing, one of Armada Music's past imprints. Since, the Argentinian hotshots have made tremendous impact with cuts all across the Trance spectrum, from pile drivers such as 'Roses Never Cry', 'Chow Mein' and 'Aerys' to debut album 'Global Monster'. From 2012 to 2014, Heatbeat adorned the DJ Mag Top 100, peaking at #81.