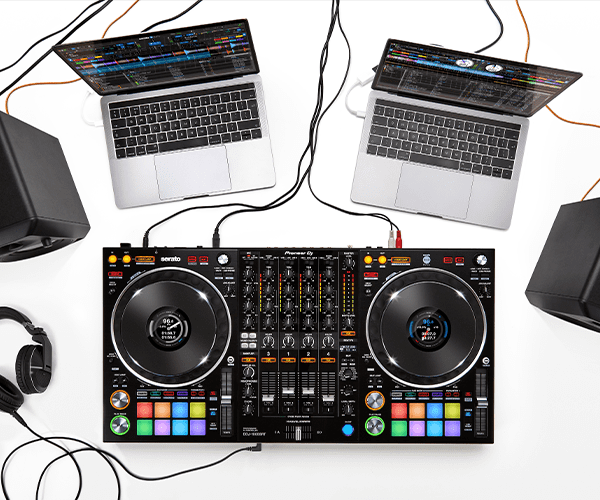 Meet the DDJ-1000SRT Club-style 4-channel performance DJ controller…
The Wait is Over: Meet the DDJ-1000SRT
Club-style 4-channel performance DJ controller for dedicated use with Serato DJ Pro
August 8th, 2019: If you've been eagerly anticipating a Serato-compatible version of our pro-grade DDJ-1000 controller, good news: The wait is over.
The 4-channel DDJ-1000SRT inherits the layout of the DDJ-1000, which feels familiar to a CDJ+DJM club-standard set-up. All the same professional features are there too, including low-latency, full-size jog wheels from the CDJ-2000NXS2 and the slick MAGVEL FADER for tight scratching.
Concentrate on the crowd, not your laptop, thanks to color On Jog Display, which gives you important track information in the center of each jog wheel. Build excitement on the dancefloor and create huge drops with 4 Sound Color FX and 14 Beat FX. And with 16 Multicolored Performance Pads (8 per deck) at your fingertips, you can trigger various features including Hot Cues, Slicer, and Pitch Play to put your own spin on each track and keep your audience in raptures.
If you want to use Serato DJ Pro to play at events and parties and you need a controller that's portable but packed with features, you've found your perfect match in the DDJ-1000SRT. Its multiple inputs and outputs enable you to connect external equipment and assemble different setups, so you'll be prepared for anything.
The DDJ-1000SRT will be available from August at an SRP of €1,499 including VAT. Simply plug it into a laptop running Serato DJ Pro to unlock the software – you don't need a license key or subscription – and use the included Pitch 'n Time DJ Expansion Pack to enable advanced key-related features. The controller is Serato DVS-ready (Expansion Pack available separately).
Special limited offer: Free Serato DJ Suite
We're putting a free Serato DJ Suite voucher worth €299 in the boxes of the first 5,000 DDJ-1000SRT controllers that we ship worldwide. This all-in-one suite includes a Serato DJ Pro license and unlocks all the Serato Expansion Packs, including Serato Play, Serato DVS, Serato Video, Serato Flip, and Serato Pitch 'n Time DJ.
To protect your DDJ-1000SRT from bumps and scrapes in between gigs, we recommend carrying it in the DJC-1X BAG. Constructed with an EVA Durashock molded body, ballistic polyester, fleeced lining, and eggshell foam, it's a hard-wearing but lightweight solution with a snug fit.
Want to know more? Watch the DDJ-1000SRT introduction video or find out more about the controller.
KEY FEATURES OF THE DDJ-1000SRT
Serato DJ Pro compatibility
Feel at home using Serato DJ Pro with the DDJ-1000SRT. You'll be able to easily use popular features such as Hot Cues, Beat Jump, and Slicer, bringing more creativity to your performances. The controller comes bundled with a voucher for the Serato Pitch 'n Time DJ Expansion Pack, enabling you to use Key Shift, Pitch Play, and Key Sync. You can also mix, cut, and scratch while maintaining perfect key and audio quality.
Full-size jog wheels and MAGVEL FADER
Mix and scratch your tracks with freedom. The jog wheels taken from the CDJ-2000NXS2 look and feel familiar, and you can customize the way they react to your touch with Jog Adjust. The MAGVEL FADER is highly durable for more than 10 million movements1 and responds to every deft movement you make, so intricate performances feel effortless.
Portable DJ controller with club-style layout
The DDJ-1000SRT is the ideal piece to take on the road. You'll feel at home using all its feature controls, which are arranged in the same layout as those on our club-standard NXS2 setup.
Color On Jog Display
Focus on your performance and keep your eyes off your laptop. A full-color, high-definition LCD screen in the center of each jog wheel gives you all the information you need, such as playback time, BPM, and playback position. And the color scheme is the same as Serato DJ Pro's, creating a more intuitive experience.
Professional FX
Show your flair and spice up your sets with the four popular Sound Color FX from our DJM series mixers. You've got 14 Beat FX to get creative with too, and you can instantly reference BPM and the name of the selected FX thanks to the dedicated Beat FX display.
Standalone DJ mixer with multiple inputs and outputs
Switch between DJs seamlessly thanks to the two USB ports for PC/Mac and connect your external equipment to the four inputs. Plug in DJ players and analog turntables, plus two mics. You can also use the DDJ-1000SRT as a standalone DJ mixer without connecting a PC/Mac.
Other features
Multicolored Performance Pads – trigger Hot Cues, Rolls, Slicer, Sampler, and Pitch Play
Key Shift and Key Sync buttons – direct control of Serato Pitch 'n Time DJ key-related features
Aluminum/acrylic-finished top panel – for a quality look and feel
Serato DVS-ready – requires the Serato DVS Expansion Pack (available separately)
1 according to tests conducted by Pioneer DJ Corporation Ltd.
DDJ-1000SRT specifications
Frequency Response 

 

20 Hz to 20 kHz (LINE)

S/N Ratio 

 

112 dB (USB)

96 dB (LINE)

85 dB (PHONO)

80 dB (MIC)

Total Harmonic Distortion 

 

0.002% (USB)

0.005% (LINE)

Input / Output Terminals 

Inputs 

LINE / PHONO × 2 (RCA)

LINE × 2 (RCA)

MIC × 2 (XLR & 1/4-inch TRS jack x 1, 1/4-inch TRS jack x 1)

 

Outputs 

MASTER × 2 (XLR × 1, RCA × 1)

BOOTH × 1 (1/4-inch TRS jack)

PHONES × 2 (1/4-inch stereo phone jack x 1, 3.5-mm stereo mini jack x 1)

 

USB 

USB (Type B) × 2

Power Supply 

 

AC adaptor (DC 12V) 

Maximum Dimensions 

 (W x D x H)  

 

708.0 × 361.4 × 73.4 mm

Weight

6.0 kg

Accessories

AC adapter

Power plug

USB cable

Quick Start Guide

Serato DJ Pro Expansion Pack voucher (Pitch 'n Time DJ)
System requirements
Compatible OS 

Mac  

macOS Mojave 10.14 (updated to the latest version)

macOS High Sierra 10.13 (updated to the latest version) 

macOS Sierra 10.12 (updated to the latest version) 

Windows 

Windows® 10, 8.1, 7 (the latest service pack) 

CPU 

Intel® processor Core™ i9, i7, i5, i3  1.07GHz or above 

Memory 

4GB or more of RAM 
* Disclaimer: specifications and price are subject to change.
* Serato DJ Pro and Serato DJ are registered trademarks of Serato Limited.
* Use the latest edition of Serato DJ Pro.
* Intel and Intel Core are registered trademarks of Intel Corporation or its subsidiaries in the U.S. and other countries.
* MacOS are trademarks of Apple Inc., registered in the U.S. and other countries.
* Windows is a registered trademark or trademark of Microsoft Corporation in the U.S. and other countries.
* The names of companies, product names, and technology names mentioned herein are the trademarks of their respective owners.
* Other stated company names, product names, technology names, etc. are the trademarks or registered trademarks of their respective owners.
About Pioneer DJ
Pioneer DJ Europe Ltd is the subsidiary of Pioneer DJ Corporation responsible for sales and marketing in EMEA. For more than 20 years, Pioneer DJ has been a market leader in the design and production of innovative DJ equipment and software. The company works closely with DJs and clubs to deliver next generation products that inspire and shape the global dance music community and has recently launched a new range of musical instruments for production and live performances. Its portfolio includes brands such as TORAIZ, Pioneer Professional Audio, and Pioneer DJ Radio as well as social platforms KUVO and DJsounds. Pioneer DJ Corporation is a privately held company headquartered in Yokohama, Japan, and is led by President and CEO Akio Moriwaki and Executive Vice President Yoshinori Kataoka.
Website: https://www.pioneerdj.com/
Stay up to date: https://www.pioneerdj.com/news/
Main Social Media
www.instagram.com/pioneerdjglobal
Download images and marketing assets from https://www.pioneerdjhub.com/.
Or for more information contact Pioneer DJ European marketing department: [email protected]