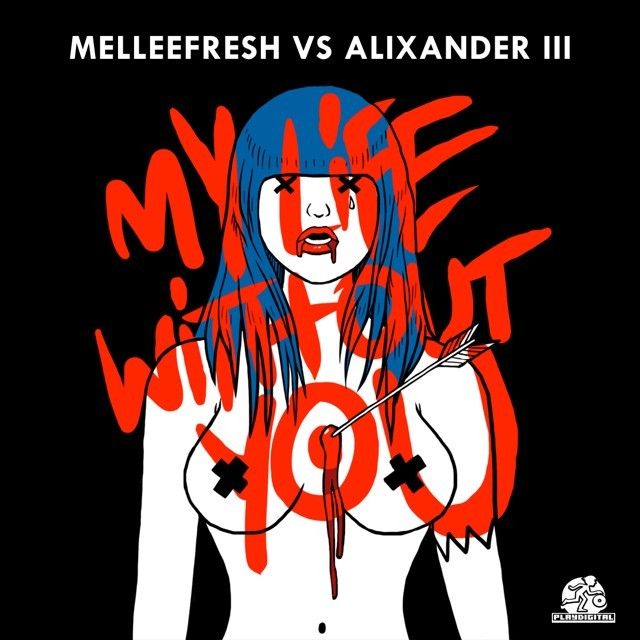 Melleefresh & Alixander III – My Life (Without You)
From the murky underbelly depths of Canada's Okanagan Valley acid scene to the rock Lucifer inferno of the big smoke, hallucinogenic poet and tribal witch doctor, sign language prophet and speed delay-time traveler Alixander lll (of Azari & lll fame) who's analogue digital exploits continue alongside the delectably delicious MelleeFresh. Raised by Carebears in Care-a-lot, who hails from Candyfloss and embodies both the sultry style and adorable cuteness of one destined to reign in Diva Clubland
Her talent as a singer, songwriter and performer exploded with her famous partnership with deadmau5. Their first remix of a Melleefresh & Dirty 30's trak, Beautiful Rich and Horny resulted in a succession of number 1 hot'n dirty hits.
Mellee and Alixander lll connected at Dirty Louie's in Koboconk, a truck 'em up stop on the way to Vegas. He offered her a ride on his Harley and the next thing you know they were rolling the dice and chugging back Jagermeister and the songs and lyrics were once again flowing like peanut butter and ice cream!
He left her there to hitchhike home alone…BASTARD! The results, "My Life (Without You)"
Their original mix is an intoxicating mix of dirty analogue lines, percussive sounds and tumbling drums. It's grinding tech music for floors that like it dirty and gets the EP off to a fine start.
On remix duties are the Paris native, Bobmo who delivers some studio magic with a warm tech house offering, meandering between funk and veering off in the occasional wonky direction. An incredible piece of work that will devastate any of the 'cooler' dancefloors. Lastly, Italian maestro Michele Pinna delivers a slick techno cut, full with warm layers and cool fx bringing depth to this special soundscape. This remix is an amazing builder full of depth and drive & serves as a great finish to this amazing package.
Essential!
http://www.playrecords.net
http://www.facebook.com/melleeefresh
https://www.youtube.com/melleefresh
http://www.twitter.com/melleefresh