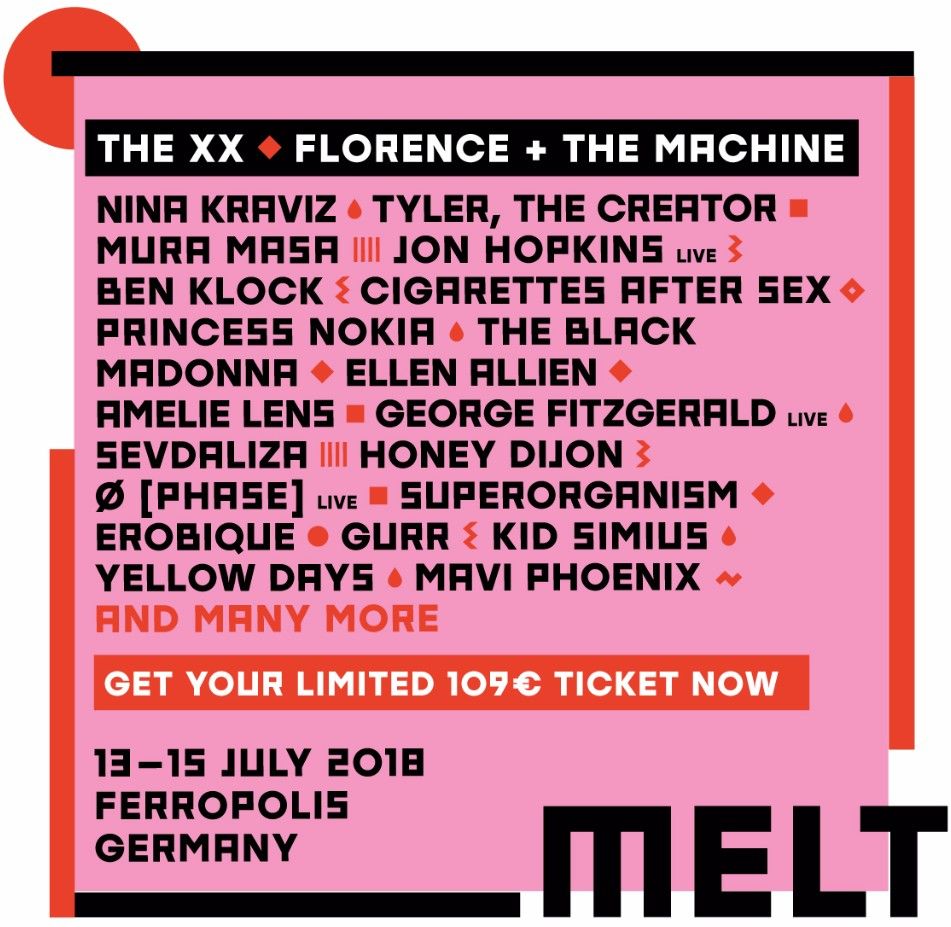 Melt Festival 2018 – First acts announced…
Melt Festival, the Mad Max inspired post-industrial musical mecca, returns once again to Ferropolis, Germany from 13 – 15 July 2018.
THE XX
FLORENCE + THE MACHINE
NINA KRAVIZ
TYLER, THE CREATOR
MURA MASA
JON HOPKINS (LIVE)
CIGARETTES AFTER SEX
BEN KLOCK
PRINCESS NOKIA
THE BLACK MADONNA

ELLEN ALLIEN / AMELIE LENS / GEORGE FITZGERALD (LIVE) / SEVDALIZA / HONEY DIJON / Ø [PHASE] / SUPERORGANISM / EROBIQUE / GURR / KID SIMIUS / YELLOW DAYS / MAVI PHOENIX
Topping the bill for 2018 are The xx and Florence + The Machine: two huge acts at the top of their game right now, both of whom will be playing under the iconic cranes in what will be rare European festival appearances.

A lot has changed for The xx since their first visit to Ferropolis in 2010. Distinctive and promising newcomers when they emerged in 2009, today Romy Madley Croft, Jamie Smith & Oliver Sim are one of the most formative and popular bands in a generation. After three acclaimed albums and a sold-out tour in 2017, the trio return to Melt for one of only a few 2018 festival slots worldwide, and their only festival appearance alongside fellow headliner, Florence + The Machine.
Throughout its 21 year history, Melt Festival has cemented itself for hosting a melting pot of different musical styles and genres, and 2018 will be no exception. Also announced today are Nina Kraviz, Tyler, The Creator, Jon Hopkins (Live), Mura Masa, Cigarettes After Sex, Ben Klock, Princess Nokia and more.

Making their Melt debut this year will be a roll call of the hottest new acts of the moment, including Amelie Lens, Sevdaliza, Ø [PHASE] (Live)and Superorganism.
Melt Festival is based in Ferropolis, an hour south of Berlin. Famously referred to as 'The City of Iron', Melt often ranks highly on lists of the world's most unusual and striking festival sites. A former coal mine that is home to a number of enormous cranes and towering diggers, the machines create a truly spectacular backdrop for post-industrial raving – a German speciality.
Ticket info:
Early bird – €109 (approximately £96)
General release – €129 (approximately £114)
Day tickets – €69 (approximately £61)

New this season: limited VIP-tickets incl. VIP-camping and access to the VIP area on site are on sale for €249,00. All tickets can be bought viawww.meltfestival.de