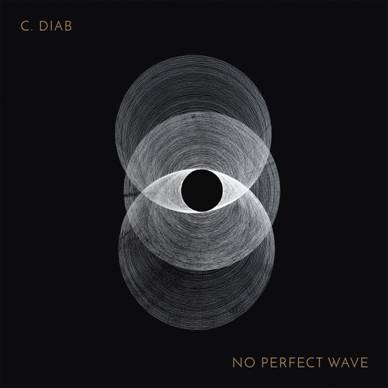 C. Diab - Memory As Mist
A resident of the spectacular wilderness of Canadian island town Port Hardy (located on the northern tip of Vancouver Island), solo bowed guitar player / trumpet player / tape manipulator C. Diab creates in his music something comparable to the remote and otherworldly beauty of those surroundings.
However, there is a lack of clear musical references to his LP No Perfect Wave. In its singularity and intersection of niche geographies – both musical and physical – the record lands only momentarily on comparison points. Listeners of Colin Stetson, for example, will enjoy C. Diab's virtuosic instrumental technique; fans of Tim Hecker and Richard Skelton will find interest in the glacial slow-motion textures; here is a soul-bearing and intimate tenderness in the same way as Arthur Russell; John Fahey and Robbie Basho scholars will appreciate his nods to the dark underworld of North American folk music. But, as with the best records, the result is much greater than these parts. The truth more distinctive and mystical than the evocations.
This is partly due to C. Diab's playing style. He describes his work as 'Cascadian guitar music'. Where Appalachian Guitar Music has a well-known musical identity, C. Diab's elegant cello-bowed guitar compositions have a quality just as rare and powerful, captured with meditative and swooping grace on No Perfect Wave. As longing and expressive as solo cello, droning as leftfield ambient music, moving as film score and cathartic as religious song. He names the style in reference to the biogeographical (but not political) territory of the Cascade mountain region (Northwestern USA / Southwestern Canada), which is – just as C. Diab's music – mountainous, moody, mesmeric, and filled with breathtaking majesty.
C. Diab – Caton Diab, born 1986, Ottawa, Canada – is a friend and collaborator of acclaimed vocalist / composer Ian William Craig (FatCat / 130701 Records), whose engineering work on No Perfect Wave lead Injazero Records to C. Diab's music. The record marks not only C. Diab's first album proper, but also Injazero's first physical album, released worldwide on 180g vinyl and digital formats on October 7th 2016.
Injazero Records was set up in 2015 by two ex-FatCat Records staffers (the producer behind London / Istanbul house artist Villette, and one member of acclaimed UK instrumental band yndi halda) for the release of No Pasa Nada by LTO (Old Apparatus).