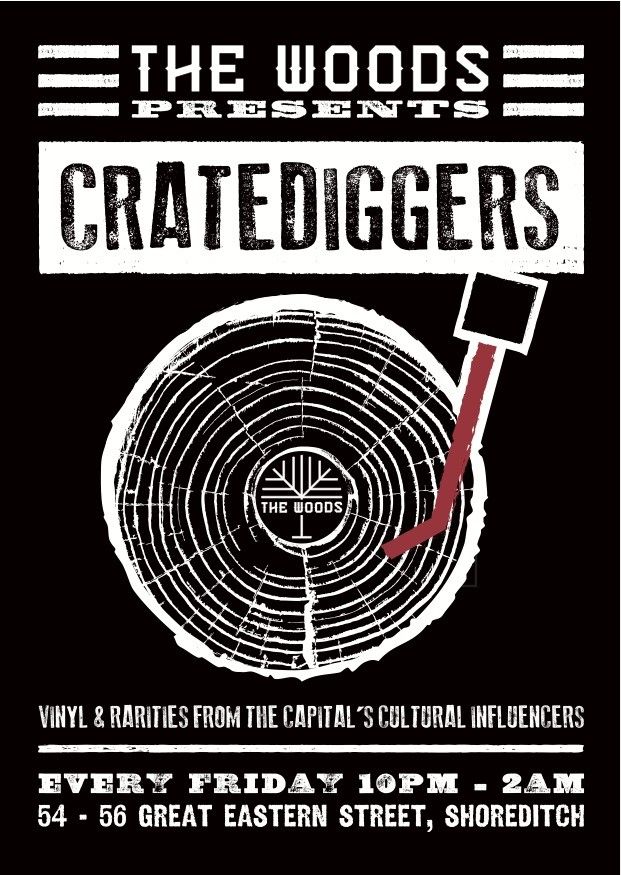 Mic Wright Launches TheMalcontent.rocks
The Woods is a new,130 capacity, free entry, late night bar for Shoreditch that will bring key cultural influencers together to host a brand new night every Friday, simply called – CRATEDIGGERS.
First opening its doors this month The Woods' emphasis is on great drinks, incredible atmosphere and expertly curated music from a variety of musical tastemakers. Having already played host to the eclectic tastes of Field Day, Eat Your Own Ears, Moshi Moshi Records and By The Sea Festival, Sunday Best and Drowned In Sound's 15th birthday in October the guests for November and December have now been announced.
NOVEMBER:
6th Lovebox
13th DIY
20th Transgressive Records
27th Oki-ni (offering 10% discount to all attendees)
DECEMBER:
4th Time Out
11th Hunger.tv Xmas party

6th November:
As one of the must-visit destinations of London's busy festival season Lovebox are renowned for bringing the best of British and international music to Victoria Park each year. With the festival featuring an eclectic mix of the finest in hip hop, dance, pop and electronic music their night at Cratediggers is not to be missed.
13th November:
Fast becoming the UK's brightest voice for new music, DIY is an essential monthly read for any discerning listener. As early champions of the likes of Wolf Alice, Drenge and Foals theirs is sure to be a deep record bag!
20th November:
As the home to an incredible roster including Foals, Flume, Alvvays, Marika Hackman and The Antlers, Trangsressive is one of the UK's greatest independent labels. With over a decade under their belts and no signs of slowing down, come down to The Woods to hear the records that influenced them.
27th November:
Oki-ni provides the one stop online shop for globally sourced contemporary men's fashion and have over the years established themselves as true trendsetters. Their weekly Mix Series sees them collaborating with their favourite bands, producers and DJs and places them as perfect guests for Cratediggers.
4th December:
The undisputed leading name in all things London, Time Out really needs no introduction. Their music team will be taking to the decks at The Woods to demonstrate why exactly they are the go to destination to find out what's on in the city.
11th December:
Founded by widely renowned photographer Rankin, Hunger.tv is the online platform for his highly regarded bi-annual magazine. The Woods is extremely excited to be hosting their Christmas party at Cratediggers.
With a lineup of some of London's finest tastemakers, CRATEDIGGERS at The Woods is set to become an essential Shoreditch destination!