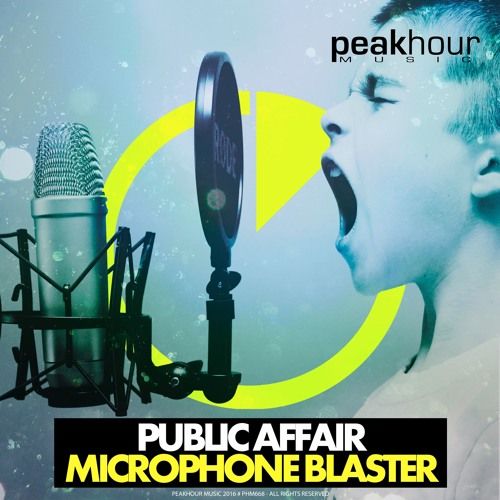 Public Affair - Microphone Blaster
Public Affair is a new electronic music trio hailing from Cleveland, Ohio. With a wide range of influences, Centric, D33bot, and Adamo Fiscella have joined forces to create a high-energy, bass heavy, vocally driven soundscape that crosses multiple genres of dance music. Having worked alongside artists including Pegboard Nerds and Moguai, Public Affair having been grabbing the attentions of the world's elite such as Tiesto, Bassjackers and Breathe Carolina – it's no wonder they have been involved in the LA clubbing scene.
Their debut single as a group comes in the form of 'Microphone Blaster', a Hip-Hop infused Electro House anthem that is sure to dominate clubs and festivals in the near future. Full of groovy beats, hard-hitting basslines and Adamo Fiscella's stellar vocals, 'Microphone Blaster' is a must have inclusion in any DJ's record box. It's out now via Peak Hour Music so make sure you grab your copy quick before it flies off the record store shelves!
Available on Beatport
https://www.beatport.com/release/microphone-blaster/1918244
Public Affair Online
http://www.publicaffairmusic.com
https://www.facebook.com/pg/publicaffairmusic
https://twitter.com/Public_Affair
https://soundcloud.com/PublicAffair
https://www.instagram.com/publicaffairmusic
Peak Hour Music Online
http://www.peakhourartists.com
https://www.facebook.com/PeakHourMusicOfficial
https://twitter.com/PeakHourArtists
https://soundcloud.com/peak-hour-music-official
https://www.youtube.com/user/PeakHourMusicTV