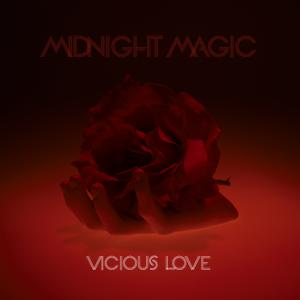 Midnight Magic – Vicious Love
From the Brooklyn based modern disco sensation that gave birth to musical babies such as 'Beam Me Up' and 'Drop Me A Line' comes yet another timeless EP of original music, this time made possible by Soul Clap Records. Midnight Magic is the real deal, an 8 piece "cosmic disco ensemble", complete with full horn section and fronted by the extremely sultry and often haunting voice of Tiffany Roth. We're honored to present their new EP 'Vicious Love' on our label.
This smoking-hot five track EP showcases Midnight Magic´s impressive range of moods and tempos. 'Night Flight' is our definition of a hit that seems to transcend space and is always on time for ALL time! 'Vicious Love' is a hypnotic slow burner guaranteed to transform a slow dance into heavy petting. 'Trouble T' is an Italo/electro club bomb complete with an epic, hands in the air vocal. 'Pick Up' satisfies our thirst for that boogie funk, bringing it way back with that 80's-romance, while 'Electric Shock' takes it even one step further with a touch of aciiiiiid.
As an added bonus we upped the ante even higher with a remix from the King Of Disco himself, Dimitri From Paris. Dim delivers an even more sensitive touch to the title track, with a smoothed out intro perfect for starting or ending our sets. All in all we're so excited to release such a musical, funky, fun EP on Soul Clap Records that we're convinced if it had dropped in the 80's, we´d still be RINSING it today!