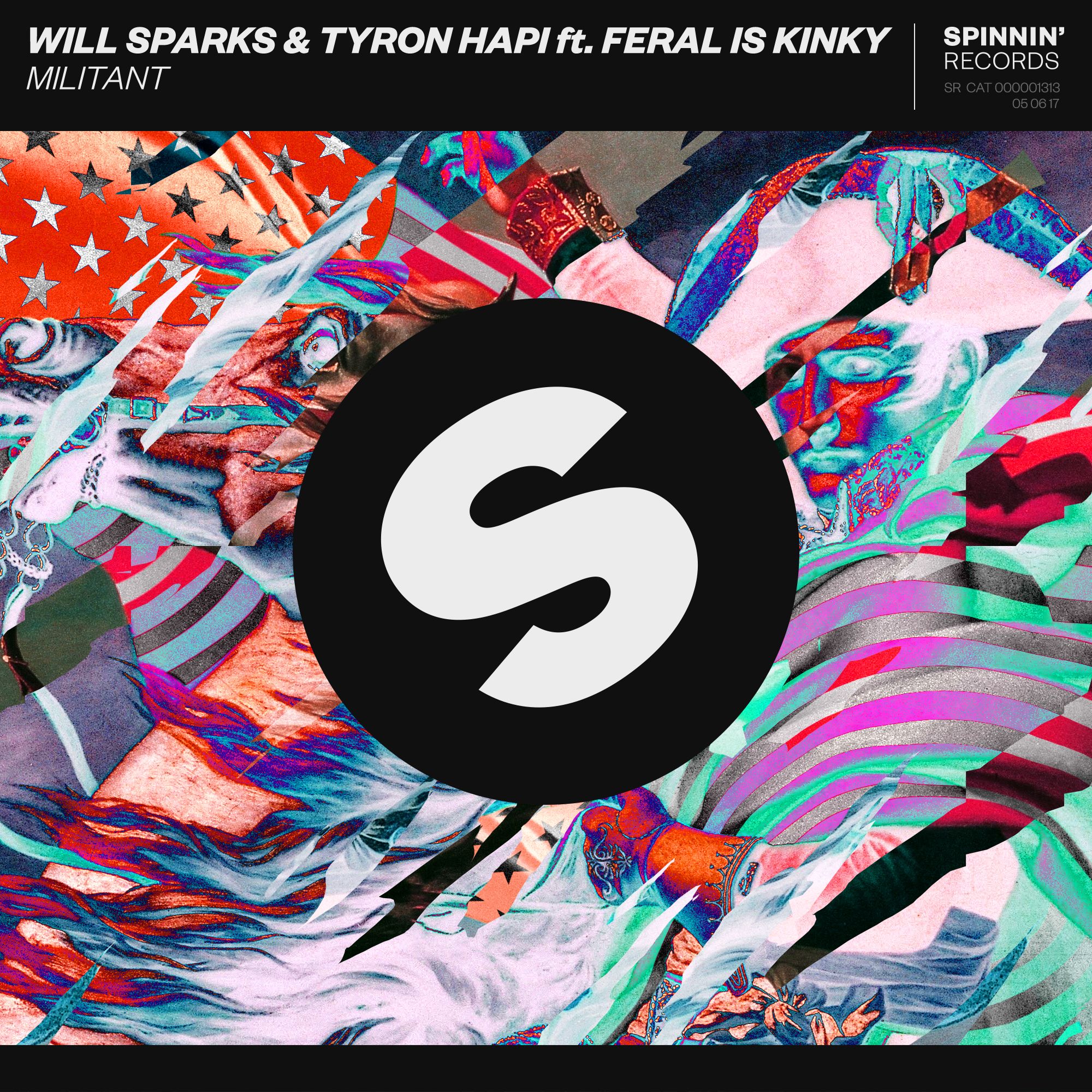 Will Sparks & Tyron Hapi ft. FERAL is KINKY - Militant
Will Sparks and Tyron Hapi are taking off big time as they go sky high with this banger! This pulsating record brings forceful kicks from the start, followed by the ruthless vocal part from FERAL is KINKY. Get in line to go crazy to 'Militant', there's no turning back from this combat!
"When Tyron sent me the idea, straight away that vocal popped with so much originality I loved it! I think it's a great follow up to Gorilla, again with both our style's being unique, they come together well!" – Will Sparks
The young and talented Melbourne-born tastemaker Will Sparks has well and truly earnt his placing as one of the most esteemed and exciting electronic acts to break out of Australia this decade. In his short 5-year career he already managed to accomplish a lot; such as being named one of 'Billboard Magazine's 10 most exciting young talents', embarking on countless world tours, playing over 270 shows every year in 70 countries, with residencies at some of the globes most famous venues, Marque Las Vegas and Pacha Ibiza to name a few, and hitting some of the biggest stages in the world such as Tomorrowland, Electric Daisy Carnival and more.
Since his genre-defining track, 'Ah Yeah!' hit #3 on the Beatport overall charts at the tail end of 2012, Will Sparks has been unstoppable, curating a catalogue of highly esteemed, energizing repertoire by producing hit after hit and gaining recognition from a number of dance music heavyweights and the biggest names in the industry and winning him multiple Gold and Platinum records to decorate the walls with.
His SoundCloud page stands as testament to his phenomenal influence as a producer, racking up millions of plays. To add to his impressive resume, Will Sparks has curated his own label 'Bourne Recordings – a joint venture with Lucky Ent and Ministry of Sound Australia, which has a mission of supporting young talent and emerging artists as well as acting as home for his releases. To complete his power house, Will Sparks has a social reach in the millions, and the ability to adapt to an ever-changing musical landscape whilst still holding the signature Will Sparks brand and sound, there is no doubt Will Sparks is an artist that is here for the long run.
To keep the force going Will Sparks is now back with his newest banger 'Militant'.
'Militant' is already supported by Dimitri Vegas & Like Mike, Steve Aoki, W&W, Quintino, Blasterjaxx and more.
Will Sparks & Tyron Hapi ft. FERAL is KINKY – 'Militant' – Out Now on Spinnin' Records
https://www.spinninrecords.com/releases/militant/