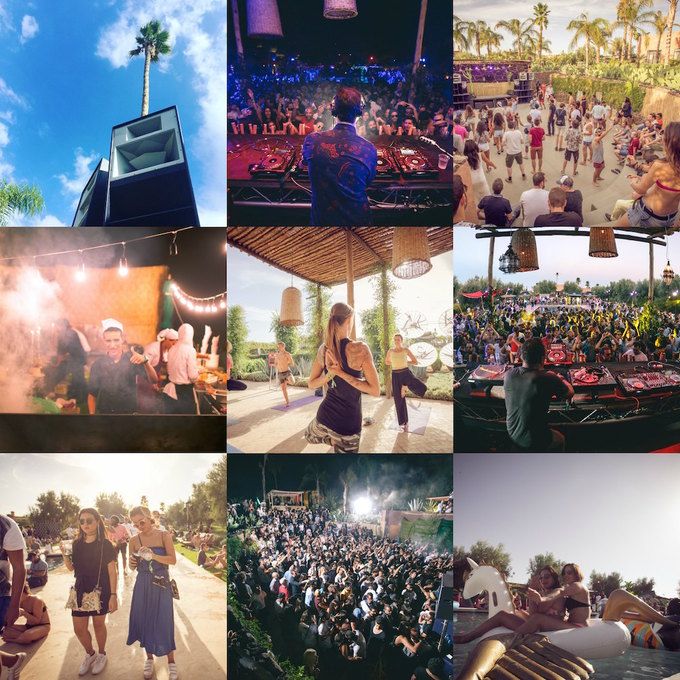 Year two of Morocco's Oasis Festival 2016 welcomes record number of visitors
Oasis festival continues to make its mark on the global dance music scene. The second edition of Morocco's premier electronic music festival took place from 16-18 September, welcoming a record-breaking number of visitors to The Source music resort in Marrakech, along with world-class acts including Dixon, Jeff Mills, Derrick May, Maya Jane Coles, Tale of Us, Booka Shade, The Black Madonna, Job Jobse, MCDE and Amine K.
DAY 1 HIGHLIGHTS – Friday 16th September
Dixon, co-founder of the formidable Innervisions label, made his Oasis debut on the festival's opening night with an unforgettable closing set. The German producer kept the dancefloor entranced well into the early hours with his distinctive sound, showing exactly why he's claimed the #1 spot in the Resident Advisor DJ Poll for the last three years. The dancers also showed their love for Morocco's very own Amine K and Kaybe & Majdo, David August's captivating DJ set and cosmic beat maestros Lindstrøm and Prins Thomas. Other highlights from Day 1 include stellar performances from Belfast selectors Bicep, Hunee, Jennifer Cardini, Midland, Dolan Bergin and Krankbrother.
DAY 2 HIGHLIGHTS – Saturday 17th September
Day 2 of Oasis saw Detroit's techno soul innovator Derrick May headline The Oasis stage. Delivering a masterclass in techno, May proved exactly why he's been an unstoppable force behind the turntables for over two decades – a true festival highlight! The main stage also saw UK producer Maya Jane Coles, Italian duo Tale Of Us, BBC Radio 1's B.Traits and Dusky make their Oasis festival debuts, Rodriguez Jr deliver vibes-a-plenty with his outstanding live show, plus DJ sets from two of last year's Oasis festival favourites – the enigmatic Eli & Fur and Morocco's Unes.
Meanwhile, over at The Arena, Spoetnik and Speaking Minds kicked off proceedings before a trio of master selectors, Red Rack'em, Job Jobse, and Chicago's The Black Madonna took control, laying down track-after-track of impeccable dancefloor cuts for their loyal dancers. Finally, George Fitzgerald and Leon Vynehall stepped up for an electrifying back-to-back session before Canadian techno DJ Mathew Jonson's live performance closed the stage in style.
DAY 3 HIGHLIGHTS – Sunday 18th September
For the closing finale on Sunday 18th September, Oasis lined up a very special headliner – techno pioneer Jeff Mills. Known for pushing the boundaries of electronic music, the techno futurist delivered a captivating and truly memorable performance. Other highlights from the final day included live performances by Panorama Bar resident Virginia ft. Steffi and Dexter, and Syrian artist and former wedding singer Omar Souleyman who brought his uplifting Arabic songs and Middle Eastern rhythms to Oasis. Motor City Drum Ensemble kept the crowd dancing at the Oasis stage, along with Butch, Booka Shade, Helena Hauff, Massimiliano Pagliara and Lele Sacchi. Meanwhile over at The Arena, local hero Fassi got the dancefloor moving, followed by killer sets from Objekt, Steffi, and Jennifer Cardini and before Mano Le Tough pulled off another classic performance with a crowd that didn't want the night to end.
Aside from the extensive music programme, the exotic Moroccan location also played host to an extensive lifestyle offering, with daily yoga and meditation classes, live painting, street art, henna and reflexology. Some of city's most celebrated restaurants, including Café des Épices and Nomad, also brought the exotic tastes and rich aromas of the Medina to this year's edition. Plus, the Secret Souk also returned for 2016, with another specially curated collection of Moroccan treasures selected by fashion designer and stylist team Nicole Francesca Manfron and Jasmien Hamed. With stage-side swimming pools, lush gardens and stunning views of the nearby Atlas Mountains it was a true festival paradise.
That's it for 2016! Hope to see you there next year. Keep up to date with all of the latest Oasis festival news at theoasisfest.com.
OASIS 2016 LINE-UP A-Z
AMINE K | BICEP | B. TRAITS | BOOKA SHADE | BUTCH | DAVID AUGUST | DERRICK MAY | DIXON | DOLAN BERGIN | DUSKY | ELI & FUR | FASSI | GEORGE FITZGERALD | HELENA HAUFF | HUNEE | JEFF MILLS | JENNIFER CARDINI | JOB JOBSE | KAYBE & MAJDO | KRANKBROTHER | LELE SACCHI | LEON VYNEHALL | LINDSTRØM live | MANO LE TOUGH | MASSIMILIANO PAGLIARA | MATHEW JONSON (LIVE) | MAYA JANE COLES | MIDLAND | MOTOR CITY DRUM ENSEMBLE | OBJEKT | OMAR SOULEYMAN live | PRINS THOMAS | RED RACK'EM | RODRIGUEZ JR. live | SEI A | SPEAKING MINDS | SPOETNIK | STEFFI | TALE OF US | THE BLACK MADONNA | UNES | VIRGINIA FT. STEFFI + DEXTER (LIVE)