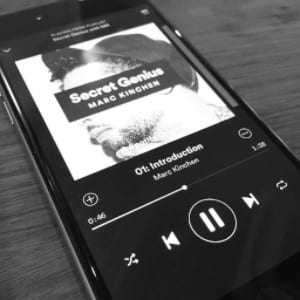 MK takes part in Spotify Secret Genius radio program
MK stars in the latest edition of Spotify's brand new radio program, 'Secret Genius'.
The legendary producer reveals stories from throughout his many years of hit making in the interview, which is broken down into a playlist of 17 excerpts each between 1 and 5 minutes length, and also features the tracks that are discussed.
Marc Kinchen grew up and began his career in Detroit, a city widely regarded as the birthplace of house and techno. Under the tutorage of some of the pioneers of the genre, he went on to help house break into the mainstream with his early releases and worldwide hits 'Always', and 'Burning'. His remix of Nightcrawler's 'Push The Feeling On' in this period hit #3 in the UK singles chart, before forming the basis of Pitbull's global hit 'Hotel Room Service' over ten years later.
He went on to spent several years away from the limelight, producing for major record labels and artists such as Will Smith and Snoop Dogg. It was only in 2013, when his remix of Storm Queen's 'Look Right Through' hit #1 in the UK singles chart that he truly became known as an artist in his own right. Since then, he's gone on to release a plethora of successful original productions and remixes.
All of this is discussed in the enlightening documentary, which aims to share the secrets of the world's most successful and innovative music makers.
The program follows the release of MK's latest single, 'My Love 4 You' feat. A*M*E. In just a short time, the tune has become a highlight in both MK's sets and on stage; after surprising this years audience at V Festival with a live vocal performance from A*M*E. Her rich distinctive vocals lead the track over uplifting chords and a subtle bass line, whilst MK's trademark chopped sampling creates a catchy chorus line.
For more information on MK, please visit
https://www.facebook.com/OfficialMK/
https://twitter.com/MarcKinchen
https://soundcloud.com/marckinchen