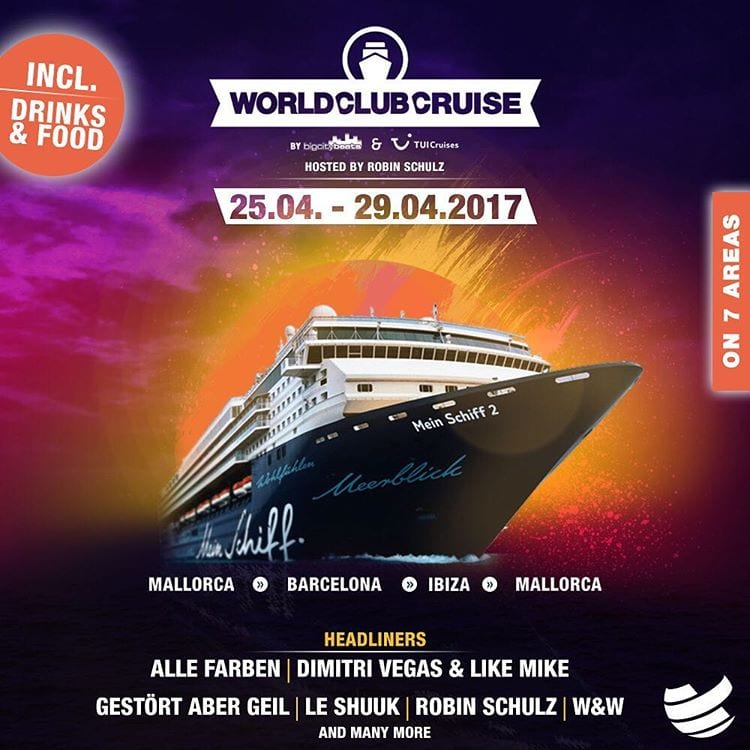 World Club Dome's cruise event adds more acts…
aving revealed a huge line-up for their 5th anniversary festival which sees Dimitri Vegas & Like Mike, Marshmellow and Steve Aoki headline the Frankfurt extravaganza next June, organisers of WORLD CLUB DOME – Big City Beats – have now announced further celebrations with a brand new 5-day cruise planned for next April, named 'WORLD CLUB CRUISE'.

Setting sail on 25th April 2017, the WORLD CLUB CRUISE will tour the Mediterranean for a party that's set to ensure the "biggest club in the world" is a rave state that cannot be landlocked. Set to transform the Mein Schiff 2 into a floating superclub, WORLD CLUB CRUISE will transport 2,000 world clubbers from Mallorca to Barcelona and then to the party capital of Ibiza. Thirty national and international dance music acts will takeover the cruise's 7 dance floors – with the two-times Echo award-winning Robin Schulz joining Dimitri Vegas & Like Mike plus a raft of other acts including Dutch superstars W&W, Alle Farben, Gestört aber GeiL, Kenny Glasgow, Boris Brejcha and Format:B.

Adding to the array of high-octane acts on the WORLD CLUB CRUISE, there will be a packed programme of extra entertainment: meet & greets with the stars, workshops, DJ battles for guests, special TV and film screenings and a merchandise store. Plus, excursions whenever the cruise ship docks!
Looking ahead to June, WORLD CLUB DOME will then return to the Stadionband, Frankfurt to the sounds of legendary techno DJs such as Sven Väth and Solomun for its official 5th anniversary. Electro-pop heroes Deichkind will also be appearing for their festival debut, whilst other heavyweights of the electronic music scene to feature include Alle Farben, Jauz, Le Shuuk, Gandtheft, Valentino Khan and W&W.

Columns of flames, fireworks and performers on the 10-metre-high diving tower will conjure up an Ibiza atmosphere throughout the 200,000m² site. After its premier in 2016 the Q-Dance stage stages an even bigger setup, dedicated to Hardstyle. The Commerzbank Arena will be home to the all-singing, all-dancing Q-Dance stage at the centre of two days of DOME along with high-end pyrotechnics show and the world's biggest Hardstyle artists.

WORLD CLUB CRUISE
25th / 26th / 27th / 28th / 29th April 2017
Mallorca > Barcelona > Ibiza > Mallorca
http://www.worldclubcruise.de/
https://www.facebook.com/events/1749774905275893/