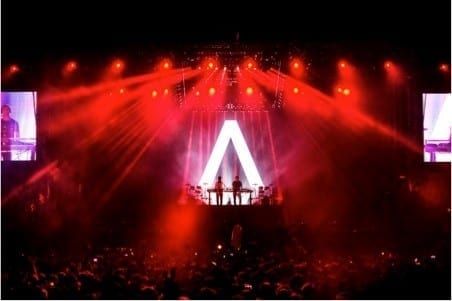 Mobile App Line welcomes Axwell & Ingrosso
Swedish electronic dance music duo will now share exclusive content with fans via Official Account
LINE Corporation, the world's leading mobile messaging platform, has announced the launch of an Official Account for Swedish electronic dance music duo, and former Swedish House Mafia members, Axwell & Ingrosso. The new account will give LINE users exclusive access to Axwell & Ingrosso announcements, ahead of any other social media platform or media.
Axwell & Ingrosso are one of the biggest acts in the global dance music industry, having formed in June 2014 after six years making up two thirds of supergroup, Swedish House Mafia, selling 15 million records worldwide. The group consists of Swedish DJs Axwell and Sebastian Ingrosso.
LINE is now offering Axwell & Ingrosso fans worldwide the chance to stay up to date with all of the DJs' latest news and releases by adding the Axwell & Ingrosso Official Account directly to their friend's list within the LINE App.
Through the Official Account, Axwell & Ingrosso will send real time updates via instant messages to all fans, including concert dates, photos, new releases and competitions.
LINE users will also have access to exclusive Axwell & Ingrosso content before anyone else, and all Axwell & Ingrosso announcements will be made via LINE two days ahead to any other platform or media.
Other special promotions include an exclusive interview with Axwell & Ingrosso, live chats and live casts directly from the Ultra Music Festival in Miami only available via LINE and the chance for LINE users to win fast track concert tickets, special seats, and backstage access to Axwell & Ingrosso gigs.
Commenting on the launch of their new Official Account, Axwell & Ingrosso explained: "We want to be as close as possible to our fans and LINE is the perfect tool to do this. We love all of the creative features and we can't wait to use them to connect with fans all over the world!"
Speaking after the launch of the new Axwell & Ingrosso account, Sunny Kim, Head of LINE Europe explained: "At LINE we love the music industry and want to help passionate fans get as the close to their favourite artists as possible. The Axwell & Ingrosso Official Account will give fans unprecedented access to their latest news, all delivered via instant message directly to the fans' smartphone."
The Axwell & Ingrosso Official Account is now available and it is possible to subscribe for free. Simply open the LINE app and go to: More>Official Account and select Axwell & Ingrosso. You can also find the account by scanning the QR code below with your smartphone: