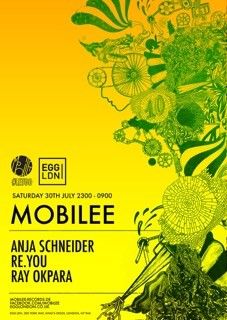 Mobilee Showcase with ANJA SCHNEIDER, RE:YOU, RAY OKPARA – Saturday July 30th
"I love these dark sweaty places because it always reminds me of the beginning when I first started raving. Of course we party now all over the world – on boats, planes, villas, beaches, jungles, pools, rooftops etc. But if I'm honest with myself, I'm a typical warehouse or underground club girl and I love this vibe the most." Anja Schneider
"There are no rules"
The hugely influential Anja Schneider and the Mobilee Records crew takeover Egg LDN once again on Saturday July 30th including fellow label compatriots Re:You and Ray Okpara.
From label showcases at Watergate to legendary rooftop events at Hotel Diagonal in Barcelona. Special things happen when Mobilee's extended family come together. Hugely esteemed and one of Egg LDN's favourite super groovy labels, Mobilee's inspirational leader Anja Schneider juggles the responsibilities of touring every weekend, with running a label and agency plus a weekly radio show, alongside that of being a mother but when the stars align, the results are memorable and tonight the constellations gather at Egg LDN. Arguably in the most inspired creative patch of her career, Anja's 'Soul Traveler' EP out in January was rated by XLR8R as 'one of her best for several years', to her deft remix of Catz 'N Dogz 'Joy' that was rinsed by B.Traits on Radio 1, to the stunning dreamy bliss of 'Caracus' (her contribution to the recent Moon Harbour compilation) , and the forthcoming Mobilee release, 'Rain EP' all illustrate her creative versatility blending energetic yet emotional house n' tech music to soundtrack the summer like no other.
From the get-go with his first single 'Work' with Rampa, to 'Ghost' which was featured on Sven Väth's infamous Sound Of the Season compilation to his huge edit of Lana Del Rey's 'Video Games', Re:You's commanding presence on the dancefloor is in huge demand. Currently featured on Rude Hagelstein's 'Ten Years Of Souvenir' compilation – he's been part of the family since 2011 – and his current 'Purple Claim' hypnotiser, Re:You continues to go from strength to strength having already racked up classic tracks like 'I Don't Know Baby', 'Fever' and 'Very Very' .
Rounding off this hotly anticipated Mobilee showcase is Ray Okpara, channeling his percussive, dirty hypnotic soulful deep house grooves. Behind the big smile and wiley dreads he is one of house music's most serious Producer/DJs who's been instrumental in Germany's flourishing house scene for well over a decade. A Berlin resident since 2005, he first broke out in 2008 via releases on Cecille, Oslo, Get Physical and Area Remote going on to launch his own label Ama Recordings, championing new artists such as Brodase, Hot City Orchestra and Marko Nastic in 2010. Welcomed into the Mobilee family in 2012, Ray has clocked up numerous successful releases with most notably, the "Back to Back Volume 8" compilation, "Sugar Feel EP" and the "Rao de Rani EP", and continues to deliver unique well-crafted dancefloor killers like 'Angel Eyes' and lead the charge behind the decks of some of the world's finest electronic music clubs and festivals.
Currently getting A-list support from DJs such as Marco Carola, Yousef and Cinthie, for their hot 'Mind Craft Glasses' release on My Favourite Freaks Music, the Willers Brothers continue to rock the house at Egg LDN with their party-attitude sets, and they return to Ibiza to play at Solid Grooves this summer.
Always impressive behind the turntables Kyle E toured Brazil earlier this year alongside Anderson Noise including sets at the Rio Music Conference, played at the infamous underground Berlin club, Sisyphos as well as clocking up guest slots in Ibiza and playing the final ever Trade party. His techno-leaning tastes and track breaking sets resonate with Egg LDN's hedonistic crowd, and his debut release 'Illusion' on Familia Records last year was picked up and signed to John Digweed's 'Live On South Beach' compilation.