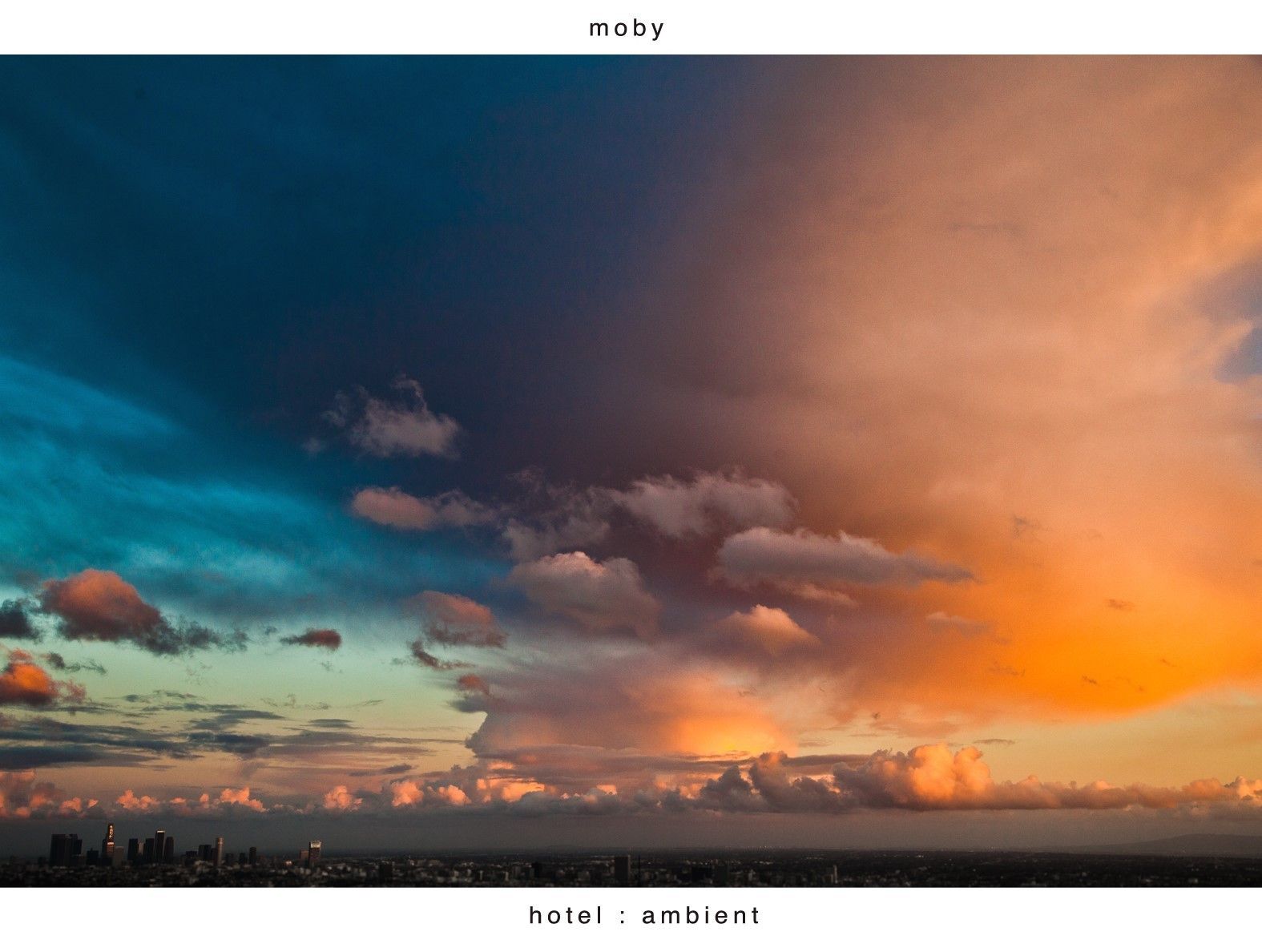 Moby – Hotel: Ambient
On December 16th, electronic-music icon Moby will re-release Hotel: Ambient – the long out-of-print, limited edition companion disc to the 2005 album, Hotel – in a remastered version, with the original tracklist filled out with previously unreleased tracks. In conjunction, Moby will also present his first-ever live performances devoted to his ambient material. The first performance will take place the release day – December 16th – at the Masonic Lodge in Los Angles, CA (tickets available here. The second performance (sold out) will be a fundraiser for the Integratron in Joshua Tree on December 21st.

One of Moby's most unsung efforts, Hotel: Ambient occupies a curious space in the electronic-music icon's discography. Originally released as a very limited bonus disc to the Hotel album, Hotel Ambient is some of the most sublime, unabashedly beautiful music Moby has ever created and was (almost) lost to history. The album in many ways sums up Moby's roots; highlighting the link between Philip Glass, Steve Reich and Brian Eno and the dance music of, say, groundbreaking Detroit techno from Derrick May and experimental IDM from early Warp releases.

While ambient music has been an element in every Moby release, it's never figured in his dynamic live shows or dance floor-driven DJ sets – until now. On December 16th Moby will debut his ambient show at the Masonic Lodge in Los Angeles, California. Moby's electronics will be complemented by an immersive visual experience: three large screens will feature imagery created by Moby specifically for the show, along with previous collaborations with his frequent collaborator, cinematic genius David Lynch, and archival footage – all processed and manipulated live by visual artists. "The idea is that the show starts very quietly, then slowly builds," Moby says. "By the end, it'll be more dance oriented – not hands-in-the-air raving, though, but more experimental. Through the course of the set, there'll also be ambient reworking's of my better-known songs like 'Porcelain,' 'We Are All Made of Stars,' and newer ones like 'Almost Home."

Moby's ambient music has been present in numerous films; most notably "God Moving Over The Face of The Waters" (made famous as the music from the closing scene in the motion picture "Heat") and his score for the cult Richard Kelly film, "Southland Tales." He's also very supportive of aspiring filmmakers and in 2008 launched mobygratis as a resource for independent and non-profit filmmakers, film students, and anyone in need of free music for their independent, non-profit film, video, or short. Moby has made a selection of over 150 tracks from his huge catalog of music available to license for free, via a simple online application system. Hotel: Ambient will be available for purchase and for free through mobygratis on December 16th.