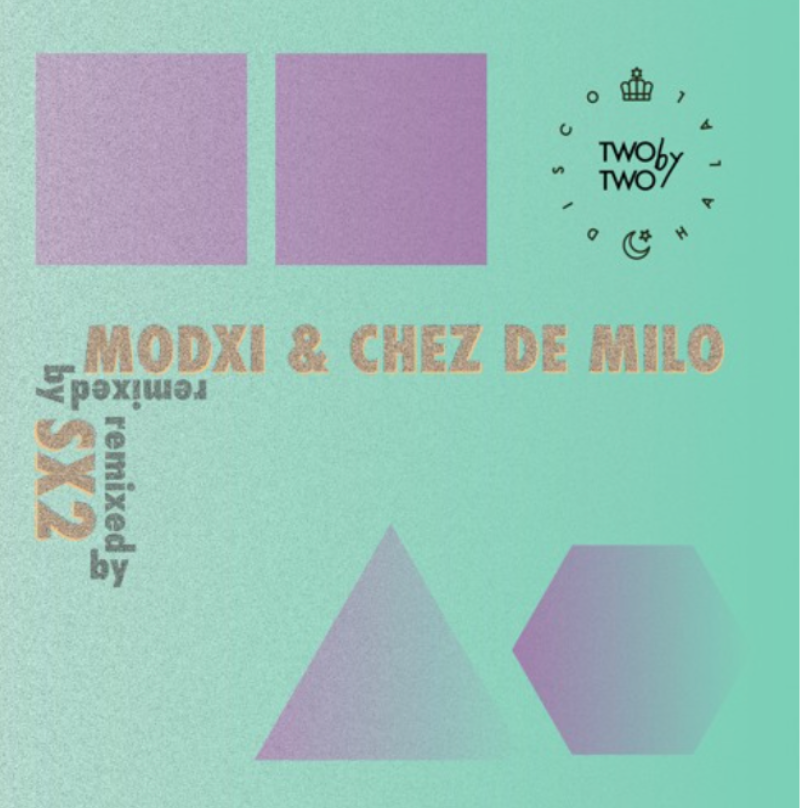 MODXI, Chez De Milo & SX2 feature on latest instalment of Disco Halal 'Two By Two'
Bristol artist MODXI, breakout talent Chez De Milo and Irish duo SX2 have contributed to the latest instalment of the Disco Halal 'Two By Two' series, out on Friday 19th March.
Combining chugging bass, light percussion and high-energy vocal samples, the four-track release opens with the Middle Eastern dancefloor vibes of 'Koba' by MODXI and Chez De Milo, with SX2 then delivering a pitched-up, bassline-driven remix of the same track. SX2 step up to the plate with trance-inducing cosmic house jam 'Adventures On The W4' before MODXI and Chez De Milo remix it into a deep, leftfield club oddity. 
"'Adventures on The W4' is a playful, bass-driven four-to-the-floor track, inspired by our home in Gracedieu and the club scene in Waterford," SX2 enthuse.
MODXI is Sam Watts, who, with the help of his improvisational jazz saxophonist father, Trevor Watts and talented electronic producer Thomas Gandey, dropped stellar single 'Amalgam' back in 2018, which saw remixes from Roman Flugel and Frank Butters.
Chez De Milo burst onto the scene earlier this year with debut EP 'Bushwa'. Released on the iconic Bristol imprint Futureboogie Recordings, it included remixes from lauded duo Smagghe & Cross.
SX2 are brothers Clive and Scott Sullivan from Waterford, Ireland. Their musical journey started when Clive first got his hands on a set of decks, with Scott following suit shortly after. From there their love for DJing and turntablism continued to grow and the pair dropped a melodic remix of a Lost People track last year.
Encompassing elements of downtempo, new-wave and alternative pop, stitched together with a leftfield dancefloor throb, the Disco Halal back-catalogue, filled with efforts from the likes of Simple Symmetry, The Organism and Moscoman himself, has seen the imprint rapidly emerging from the once-overlooked nightlife and club scene of Tel Aviv into the worldwide spectrum.
DHTBT03 sees Disco Halal continue to push the dance music envelope.