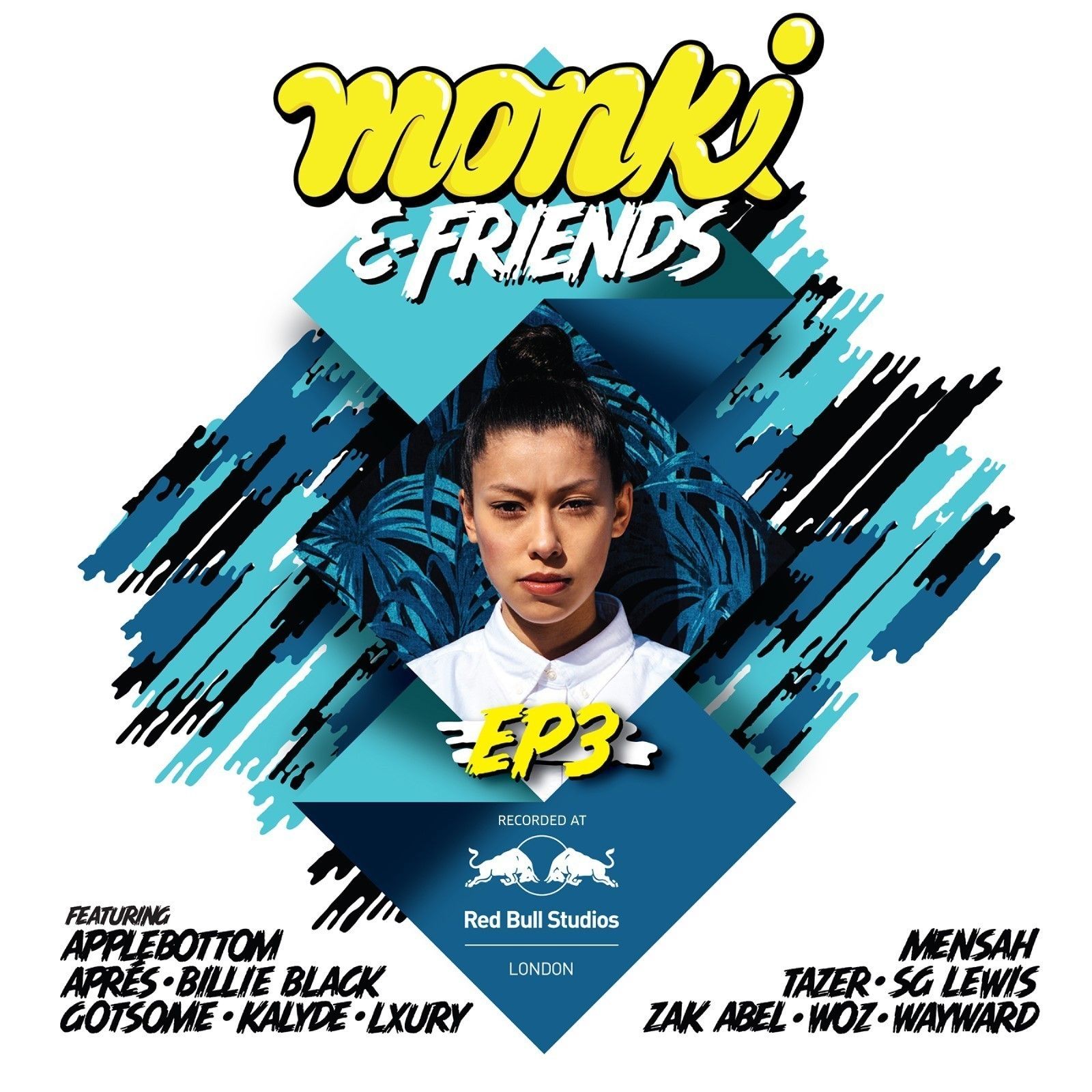 Monki & Friends EP 3
This year marks the third instalment of Red Bull Studios' collaboration with BBC Radio 1 DJ Monki, who is proud to present the latest volume in her 'Monki & Friends' EP series. Curated by Monki herself, 'Monki & Friends EP 3' saw a total of 12 artists come together to record a series of tracks at Red Bull Studios, London exclusively for the project, which will be available to download for free via monkiandfriends.redbullstudios.com from August 10th.
Featuring a host of both established and up-and-coming artists including Applebottom, Mensah, SG Lewis, Woz and talented young vocalist Zak Abel, the EP reflects the colourful, genre-blurring world of contemporary UK dance music. From Gotsome x Tazer's club-facing 'If You Wanna' to the Wayward X Apres' bubbling 'Let Me Tell You', this an EP of tangible vibrancy and colour. Zak Abel's soulful rendition on the excellent 'Higher Ground' is also a highlight while the glossy, HD feel of Lxury x Billie Black's 'Keep Running' nods to Monki's ear for taste-making – a role she has perfected through her weekly show on BBC Radio 1 / 1Xtra.
To celebrate the release of the EP, Monki and Red Bull Studios are also pleased to announce a launch party at Dalston Roof Park on August 13th, where Monki and her EP pals will be playing back-to-back from 7-10.30pm.
£5 tickets are available via DICE here: http://bit.ly/1Dked1G
In a special addition this year's party, there is an opportunity for budding DJs to submit a mix and join the lineup at Dalston Roof Park. To enter the competition, DJs can post a link to one of their mixes, alongside their name, age and contact details via monkiandfriends.redbullstudios.com.
Tracklist
1. GotSome X Tazer – If You Wanna
2. Kalyde X Applebottom – Cochise
3. Lxury X Billie Black – A Lot Of Words
4. Kalyde X Applebottom – Diva
5. Lxury X Billie Black – Keep Running
6. New York Transit Authority X Woz – Combination
7. SG Lewis X Zak Abel – Higher Ground
8. Wayward X Apres – Let Me Tell You