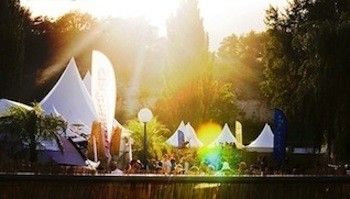 Weekend At The Edge Of The Lake Festival announces over 40 artists for it's 2014 stunning Alpine lake side line up // Geronde Lake – Switzerland // 27th-2
The 8th edition of Weekend At The Edge Of The Lake Festival will take place from June 27th to 29th, in a little summer alpine paradise: the Géronde Lake in Sierre, Switzerland. With over 5,000 festival goers set to be in attendence for three days and three nights of concerts, live sets, DJ sets and visual art performances all taking place at the shore of the little lake.
On Friday, Géronde Lake will welcome it's headliner Gramatik, US resident but originally from Slovenia, world famous beat maker, with a live show that travels between blues, swing, hip-hop and dubstep. The evening will start with an acid jazz concert from Mop Mop featuring Ange Da Costa from Angola, for a tropical journey with a stopover in the east of Africa. Lack of Afro from UK, will present their new funk album full of sun and energy. DJ Food, Cheeba and Moneyshot will present their long awaited project Caught in the Middle of a 3-Way mix, created in memory of the 2nd album of Beastie Boys, Paul's Boutique. This audio and video party documentary will be presented premiered exclusively in Switzerland.
On Saturday, Soul Minority, will bring electronic colours to the festival with a sweet and soft DJ set, made from their own productions. The Bruk Boogie Kru will offer a unique concert of musicians gathering for the occasion such as The Layders, an amazing band from Johannesburg. Karocel, lead by Matthias Kaden, will launch the evening with their live formation of six musicians who flow between downtempo and deep house. Synapson, an emerging new French duo, will offer a ruffling performance between disco, house and electro. The evening will end with two tight artists, the Bulgarian KiNK with his instrumental live show alongside the beautiful voice of Rachel Row and the little genius from South Africa, Culoe de Song, signed on the Berlin label Innervisions of Dixon & Âme.
Saturday and Sunday afternoon will take a south west French accent with the "Bal 2 Vieux de Guéthary" lead by Jules Edouard Moustic (Canal +), Rhapsode and RKK from Radio Nova. An off festival around the lake will also be taking place as well during the 3 days.
Visual arts will be a predominent feature at this year's festival with 5 different disciplines on show : illustration with Madame la Belge (the festival's 2014 poster designer) and Nicolas Constantin through live painting performance ; plastic arts with Pierrot Des Ballons and Gabidou, master balloon sculptor ; video with David Vincent, alien video VJ expert ; photography from Rachel Baran, a young American artist who has been creating quite a buzz on the web recently she will be dropping an innocent and sparkling outlook on the festival and theater, with Tildi Zinsstag and their camels with two bilingual performances.
Several animations will also be screened over the weekend alongisde a petanque tournament, an interactive ballad in a Tuk-Tuk Pedalo with a start from a short lived floating platform, initiation to stand up paddle and Surf bike, a children's space and immersive workshops around the pirate universe with handmade paper hot air balloon's and for football fanatics the world cup games will be broadcast live on screens by the lake.
LE WEEK-END AU BORD DE L'EAU
The concept is simply relax and put your feet in the water
The Festival was founded in 2007. Through the years, the Festival has conquered Switzerland and the neighbouring France and Germany thanks to its specialized programming, its friendly atmosphere and the idyllic surrounding in which it takes place. It puts in the place of honour groove music and visual arts through swiss and international artists. Many animations will brighten the Festival up like a petanque tournament, street arts and summer activities. As the holiday approaches, the goal of the Festival is to absorb the people in a festive, hot and relaxed atmosphere, while proposing a high quality programming that can be approached and appreciated by everybody.

For all the latest news, accomodation options and local attractions check out: http://www.aubordeleau.ch/en
::::::::::::::::::::::::::::::::::::::::::::::::::::::::::::::::::::::::
FESTIVAL LISTINGS INFORMATION:
WHAT: Weekend At The Edge Of The Lake Festival (Weekend Au Bord De L'Eau Festival)
WHERE: Geronde Lake, Sierre (City Of Sun), Valais Alps, Switzerland
WHEN: Friday 27th – Sunday 29th June 2014
PRICE: 3 day festival pass just £25, kids go free
TICKETS: http://www.aubordeleau.ch/en/festival/ticket_shop.html
LINE UP JUST ANNOUNCED:
GRAMATIK – KINK – DJ FOOD, CHEEBA & MONEYSHOT – CULOE DE SONG
MOP MOP – LACK OF AFRO -SYNAPSON – KAROCEL – KADEBOSTANY
SOUL MINORITY – EMEL MATHLOUTHI – LE BAL 2 VIEUX
BBK FEAT. THE LAYDERS – SARAH QUARTETTO