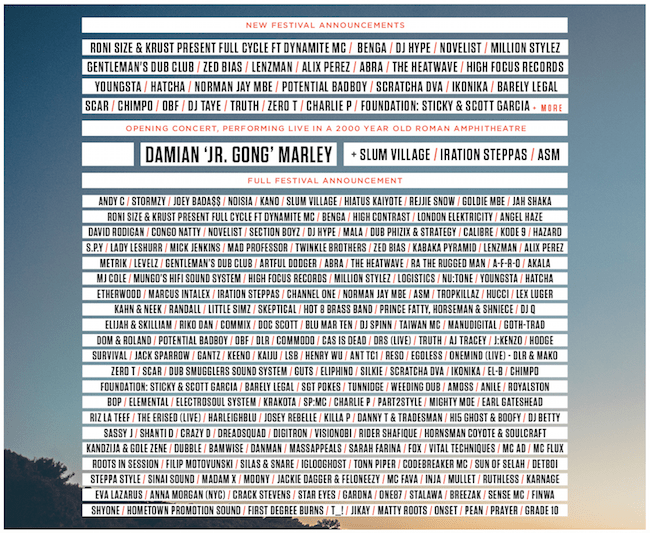 More acts announced for Outlook Festival…
Heading into its ninth year stronger than ever, Outlook Festival is the reigning king of bass-led parties the world over. Renowned for boundary-breaking, diverse bookings year on year, the team can now reveal the complete 2016 line-up; with Roni Size & Krust present Full Cycle ft Dynamite MC, Benga, DJ Hype, Novelist, ABRA, Million Stylez, The Heatwave, Norman Jay MBE, Gentleman's Dub Club, Zed Bias, Lenzman and over eighty new names added to the bill. Between the 31st August – 4th September, the best DJs, producers, crews, labels and MCs from the worlds of hip-hop, bass, dub, grime, reggae, drum & bass and beyond will unite in Outlook's fortress home for five days of good vibes and quality music.
After announcing a massive set of talent including Damian Marley, Andy C, Stormzy, Joey Bada$$, Noisia and more, the eighty new acts do not disappoint. Reprazent leader Roni Size & Krust will present their Full Cycle label show, featuring legendary mic man Dynamite MC, and Outlook are extremely proud to welcome back with open arms, the king of dubstep; Benga, an artist who was instrumental in the early days of the festival. Drum and bass mainstay and Playaz affiliate DJ Hype joins, alongside Novelist, a leading light in the grime revival of recent years. Export of Sweden's dancehall scene, Million Stylez brings a tropical flex; plus dub outfit Gentleman's Dub Club, garage-god Zed Bias and DnB pioneer Alix Perez all play across Outlook Festival's five bass-fuelled days. Metalheadz poster boys Lenzman and SCAR also support or the DnB camps with those 160–180 bpm beats.
One of the most revered breakthrough acts of 2016 and Queen of ATL rap squad Awful Records, ABRA brings her gothic steez to the fort, and bashment madness comes from Outlook regulars The Heatwave. The High Focus Records crew add a hip-hop flavour, whilst dubstep mainstays Youngsta and Hatcha both return for sets with speaker-shaking basslines. On the flip-side, revered crate-digger Norman Jay MBE presents a soul-searching journey between house, hip-hop and every genre between, whilst Playaz's Potential Badboy will venture through jungle rhythms. Two of Hyperdub's most revered exports, Scratcha DVA and Ikonika also join, alongside Hyperdub / Teklife affiliates Jackie Dagger & Feloneezy.
A festival built on the foundations of dub and reggae; soundsystems have long been at the heart of Outlook, and each year internationally revered artists and vocalists are invited to play. OBF Soundsystem, Shanti D, Dan Man, Rider Shafique, Earl Gateshead, Charlie P, Dubble, Danny T & Tradesman plus Sinai Sound will now join Iration Steppas, Jah Shaka, Channel One and more legends to shake those mighty Outlook systems. Also a vital part of the festival programming, MC's are a vital part of what makes Outlook so special. This year sees a strong contingent of the finest MC's old and new, with SP:MC, Killa P, Crazy D, Fox, MC AD, Steppa Style, Visionobi, Codebreaker MC, Tonn Piper, MC Flux, Sense MC and more.
Joining his Manchester LEVELZ family, Chimpo adds a touch of bass and UK hip-hop, and selector wise DJ Barely Legal, Sassy J and Radar Radio's Riz La Teef are set to light up the floor. Also joining is Just Jam host Crack Stevens, Teklife's DJ Taye, Deep Medi affiliate TRUTH and Dispatch's Zero T. Flying the garage flag are Sticky and Scott Garcia with Foundation, Moony and Heartless' Mighty Moe, plus mainstays of the dubstep circuit come in the form of El-B, Sgt Pokes, Sun Of Selah and Croatia's very own Egoless.
Japanese ragga duo Part2Style will bring their trademark hi-energy dub creations to the Outlook fort, with darker, bass-driven sets from Roll Deep's DJ Karnage, Amoss, Keysound associate Detboi and New York's Anna Morgan. Brotherhood Soundsystem's Silas and Snare, Outlook family member Finwa and bass-boys Vital Techniques also bring the heat, plus multi-instrumentalist producer Prayer, alongside Radar Radio family the Grade 10 Collective. On top of this, across the five day outing you can catch First Degree Burns, Massappeals, Jikay, Gardna, Stalawa, Breezak, Hometown Sound Promotion, Matty Roots and Onset finalising the hefty line-up.
Located in one of the most picturesque locations in Croatia, Outlook Festival finds it's home in an abandoned fortress – undoubtedly one of the most unique festival settings in the world. The five day festival is balanced between an all-out rave and holiday, a mix of chilling on the beach all day and dancing as long as the music lasts. No where else will visitors be able to experience highest spec sound like Outlook Festival, an event that prides itself on its deeply rooted appreciation of sound design. With tickets selling faster than ever, it's advised that tickets are purchased or deposits are secured asap for those who wish to attend. To take part in Outlook Festival 2016, head to : outlookfestival.com/tickets/uk/. Stages, boat parties and more on-site extra's to be announced.
Nearby Pula is easily accessible by taxi from the Outlook Festival site, and is complete with excellent transport links, apartment accommodation and historic sites. For those wishing to camp on-site, or for more information on accommodation options including boutique camping options, head to outlookfestival.com/accommodation/ to look at what is available. Flight options from the UK are to Trieste, Ljubljana, Zagreb, Venice Treviso or Venice Marco-Polo airports, and then a transfer to the festival site. Outlook Festival also organise coach packages and flight packages, all available to view / purchase at outlookfestival.com/travel/. See you at the fort!
FULL LINE-UP TO DATE (in alphabetical order)
ABRA – A-F-R-O – AJ Tracey – Akala – Alix Perez – Amoss – Andy C – Angel Haze – Anna Morgan (NYC) – Ant TC1 – Artful Dodger ASM – Bamwise – Baseline Crew – Barely Legal – Benga – Billain – Breezak – Calibre – cas is dead – Channel One – Charlie P – Chimpo – Codebreaker MC – Commix – Commodo – Congo Natty ft Iron Dread & Congo Dubz – Crack Stevens – Crazy D – Damian Marley – Danman – Danny T & Tradesman – David Rodigan – Detboi – Digitron – DJ Betty – Dj Hype – Dj Q – Dj Spinn – Dj Taye – DLR – Doc Scott – Dom & Roland – Dreadsquad – DRS (live) – Dubble – Dub Phizix & Strategy – Dub Smugglers Sound System – Earl Gateshead – Egoless – Elijah & Skilliam – El-B – Elemental – Eliphino – Eva Lazarus – Finwa – First Degree Burns – Filip Motovunski – Flowdan – Foundation – Sticky & Scott Garcia – Fox – Gantz – Gardna – Gentleman's Dub Club – Grade 10 – Goldie MBE – GothTrad – GUTS – Hatcha – Harleighblu – Hazard – Henry Wu – Hi5 Ghost & Boofy – Hiatus Kaiyote – High Focus Records – HODGE – Hometown Sound Promotion – Hornsman Coyote & Soulcraft – Hot 8 Brass Band – Hucci – Iglooghost – Ikonika – Iration Steppas – Ivy Lab – Jack Sparrow – Jah Shaka – JKenzo – Jackie Dagger & Feloneezy – Jikay – Joey Bada$$ – Josey Rebelle – Kabaka Pyramid – Kahn & Neek – Kaiju – Kandzija & Gole Zene – Karnage – Kano – Killa P – Kode 9 – Lady Chann – Lady Leshurr – Lenzman – Levelz – Lex Luger – Little Simz – LSB – Mad Professor – Madam X – Mala – Manudigital – Massappeals – Marcus Intalex – Matty Roots – MC AD – MC Flux – Mick Jenkins – Mighty Moe – Million Stylez – MJ Cole – Moony – Mungo's Hifi Sound System – Mystic Stylez – Norman Jay MBE – Noisia – Novelist – OBF – One87 – Onemind (live) / DLR & Mako – Onset – Part2Style – Prince Fatty, Horseman & Shniece – Potential Badboy – Prayer – PUSH UK – RA the Rugged Man – Randall – Rejjie Snow – Rider Shafique – Riko Dan – Riz La Teef – Roni Size & Krust present Full Cycle ft Dynamite MC – Roots In Session – Sassy J – Sarah Farina – SCAR – Scratcha DVA – Section Boyz – Sense MC – Shy One – Silkie – Sgt Pokes – Skeptical – Shanti D – Silas & Snare – Sinai sound – Slum Village – SP:MC – Stalawa – Star Eyes – Steppa Style – Stormzy – Sun of Selah – Swindle – T_! – The Heatwave – Tonn Piper – Tropkillaz – Truth – Tunnidge – Twinkle Brothers – Visionobi – Vital Techniques – Weeding Dub – Youngsta – Zed Bias – Zero T
TICKET INFO
www.outlookfestival.com/tickets/ || From £130 // €175 // Deposit scheme available