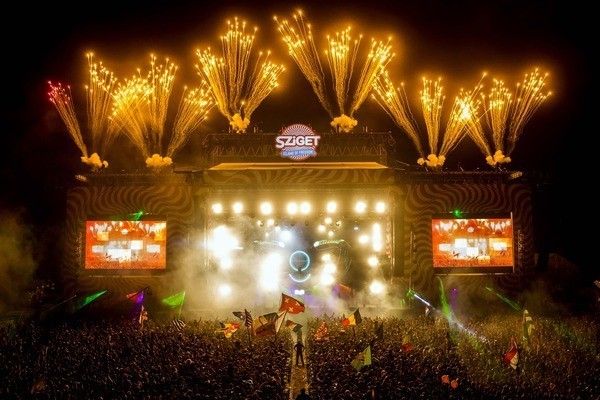 More Acts for Sziget Festival: Deadmau5, Axwell, Bombay Bicycle Club, The Kooks and more
New names were added to the always colorful line-up of Sziget Festival. All genres will be covered this year as well, so Deadmau5, Axwell, Bombay Bicycle Club, The Kooks, Crystal Fighters, Anti-Flag will be great add-ins to the previously announced acts like Queens of the Stone Age, The Prodigy, Placebo, Imagine Dragons and many more. The Island of Freedom is held between 11-18 August in Budapest. Tickets for discounted 'Advance round 1' prices are available till 30 April.
Sziget is known for its diverse musical world and 2014 will also be dedicated to this open-minded tradition. To the already announced names, organizers added many exciting new performers, who will definitely keep the audience moving both in front of the stages and also wandering from one venue to the other.
This year Day 0, 12th August, is also very special as not only Queens of the Stone Age will perform, but fans can check out the opening show of Deadmau5 as well. The Canadian EDM superstar, a groundbreaking electronic artist, is an emblematic figure of the biggest festivals. He makes music that changed pop culture as we know it. Up to this point, his career stands earmarked by a series of firsts and shattered records. Also playing on Day 0, Anti-Flag, an ultra provocative punk rock band from Pittsburgh, are known for their tight paced music and sharp lyrics. Their music and message is a call to action for people of all backgrounds and beliefs to focus on making tomorrow a better place for all.
On the regular festival days of island Szitizens can check out the following acts:
The global dance icon, five-time Grammy nominated Axwell has had little time to rest upon his laurels over the past decade. In a career that has taken him from the Swedish underground to the top of the charts, he has risen as an idol of modern house music. He will also make a frenetic gig at Sziget this year.
In addition, The Kooks will also play their characteristic and stylish British post-punk music, reminding us a little bit of the 60s. The band of Luke Pritchard comes all the way from Brighton to Sziget with their new album, so old fans will also have some surprises.
Bombay Bicycle Club will also bring their guitar-driven music to the Sziget audience this year. Their newest album is innovative, a beautiful collection of songs that will stand the test of time from a band at the top of its game. The songs are built around ethereal loops that owe more to experimental electronica than to the kind of indie-rock the band was initially known for. T
he music of Crystal Fighters merges traditional-acoustic Basque music elements with slushy bass and euphoric electronic sounds mixing altogether an atmosphere of loose chillwave and speedy dubstep-electro. The London-based band makes such a complex music and merges so many genres that currently there is no one else in the alternative dance universe like them.
With a successful music career spanning over the course of two decades, Macedonian born Kiril Dzajkovski is without a doubt one of the most respected and critically acclaimed electronic artists from the Balkans. He is regarded as one of the pioneer producers to introduce Balkan sounds to the modern dance production – globally known as the "Balkan Beat phenomenon". At Sziget we can see Djaikovski ft. TK Wonder & MC Wasp.
Tasteful, stylish, mostly moderate tempo, essentially melancholic, but uplifting music is what Girls in Hawaii do. They create some kind of magical atmosphere with their indie pop. They come to Sziget from Belgium and they will present their unique miracles, showing us their most recent album, Everest.
Mount Kimbie have played a central role in forging a new form for electronic music. Their influence stretches far beyond the tiny corner of the dance music underground that birthed them and, with the duo now signed to the legendary Warp label, it looks set to stretch further still in the coming years.
Wild Beasts play a sophisticated and elegant guitar-music in which we can barely hear a little folk rock sound. Their music is lacking any kind of monumental character rather their trade-mark is the beautiful voice of singer-guitarist Hayden Thorpe. They were nominated for the Mercury Prize two years ago for their album 'Two Dancers' and now they are arriving to Sziget with their recent album 'Present Tense' released this February and navigating us to the maze of synthpop.
Full Line Up so far: Queens of the Stone Age, The Prodigy, Placebo, Macklemore & Ryan Lewis, Skrillex, Calvin Harris, Lily Allen, Deadmau5, Bastille, Imagine Dragons The Kooks, Jake Bugg, Stromae, Axwell, Die Fantastischen Vier, London Grammar, La Roux, Ska P, Bombay Bicycle Club, Tom Odell, Miles Kane,, Crystal Fighters, Klaxons, Michael Kiwanuka, Laidback Luke, Darkside, Bonobo, Anti Flag, Palma Violets, Wild Beasts, The Big Pink, Kavinsky, Outrun Live, Fink, Borgore, Mount Kimbie, Jagwar Ma, Djaikovski ft. TK, Wonder, Brody Dalle, Girls in Hawai, Starlight Girls.
Still want more? If Sziget Festival is "wonderland" then Luminarium is its "enchanted castle". The adventure is like diving into a colorful dream land that is a 800 square meter inflatable sculpture made up of labyrinthine tunnels and inspiring spacious domes – a sensual world of liquid-light and color. We can call this a sculpture where the artists are the architects, but the painting is done by the (sun)light. Are you excited?
Tickets & Travel
Discounted passes for 'Advance round 1' prices are available until 30th April at the European ticket retailers and in the central webshop. Festival passes available from 169 EUR (actual price depending on time of purchase and camping options). More information on tickets, sccmodation and travel is available n the website:www.szigetfestival.com
Travel options to Sziget include all possible methods, so you can come by bus, train, airplane, car, or even boat. Accommodation is also very easy to choose. Many of the festival goers will stay at the festival area in tents or caravans, but if you are not the camper type, you will find a huge number of hotels and hostels nearby.
About Sziget – Island of Freedom
Proud winner of the 'Best European Major Festival' award in 2011, Sziget Festival is one of the biggest multicultural events of Europe, starting in 1993 and now celebrating its 22nd edition. The festival attracts almost 400 000 fans from over 70 countries to a beautiful island in the heart of Budapest, providing a complete festival-holiday experience with non-stop party, great live concerts, a widely international community and all the touristic features the city has to offer.
Sziget is the Island of Freedom that could also be regarded as an independent state. It's many festivals in one, a week long non-stop event with approx. 50 program venues and around 200 programs daily. Performing bands range from the biggest names of the international pop/rock scene to stars of world and electronic music, but you will also find metal, folk, jazz, blues, alternative and even classical tunes, while you are wondering around the huge festival area.
Sziget is not just about music, as it offers several other cultural programs, like theatre, circus, or exhibitions. It also has a beach section where fans can truly enjoy the summer and the Danube. This is the only big festival where you will find authentic Roma music and even a gay-lesbian venue. And we shouldn't forget about the fact that the festival is in the middle of Budapest, a touristic city with a lively cultural scene, beautiful historic buildings, Turkish spas and special 'ruin pubs'.
The live coverage of the festival had a massive following of approx. 5 million viewers.