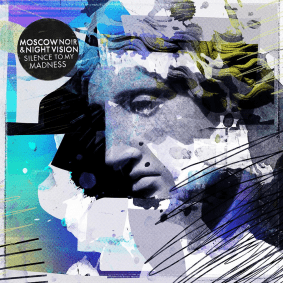 Moscow Noir & Night Vision – Silence To My Madness
Frequent collaborators Moscow Noir and Night Vision come together for a brilliant debut release on Get Physical that includes remixes from Jon Charnis and Daniel Bortz.
Night Vision are Toronto duo TJ Train and Pavel Gorin, who have put out music on Rebirth and Motek, both solo but also with Moscow Noir. Also hailing from Toronto, this singer, producer and musician brings layers of raw guitars and experimental sounds to his work.
Up first here is 'Silence To My Madness', a moody, low slung track with slapping hits and brooding bass. Stepping synth work light up the airwaves while Suol man and slow house craftsmen Daniel Bortz flips it into something much edgier. His hits hit harder and the sweeping pads bring real tension as a female vocal up top offers a release of emotion. A second interpretation of the same track comes from Jon Charnis, an LA based producer whose classy house lands on top labels like Innervisions. Here he keeps things smooth and seductive, with hypnotic drums and lead synths that bring a cosmic energy to the subtly uplifting grooves.
The second original is the striking 'Come Undone', a vocal track that mixes live sounding electronics with powerful bass and drums to make for something that straddles genres. The same cut comes with Night Vision's Under The Moonlight Rework, which is more cosmic and spaced out, dubby and slow burning.
This is a fresh collection of tracks that bring plenty of new influences to the table.
Tracklist:
1. Moscow Noir & Night Vision – Silence To My Madness
2. Moscow Noir & Night Vision – Silence To My Madness (Daniel Bortz Remix)
3. Moscow Noir & Night Vision – Silence To My Madness (Jon Charnis Remix)
4. Moscow Noir & Night Vision – Come Undone
5. Moscow Noir & Night Vision – Come Undone (Night Vision's Under The Moonlight Rework)