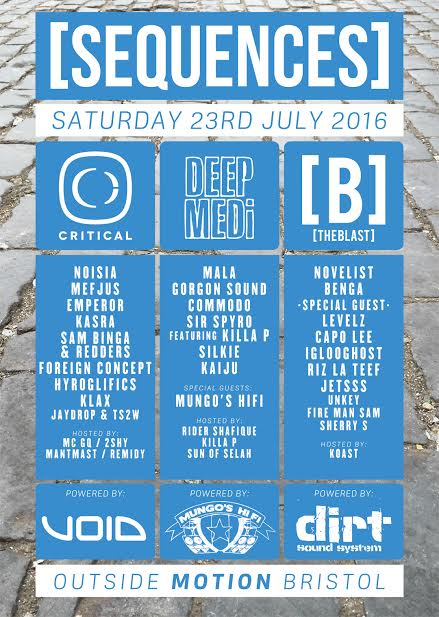 Motion Announce Sequences Day Party Line-Up…
Sequences is a new one day outdoor event taking place on Saturday 23rd July, set in the heart of Bristol at the iconic Motion nightclub. Making use of the club's expansive outdoor spaces, Sequences will be teaming up with 3 of the UK's most exciting bass music institutions, using 3 of the world's most powerful and revered sound systems to bring a new urban event to the club's new, exciting spaces.
Powered by the world renowned Void Incubus system, Sequences will be bringing Drum and Bass heavyweights Critical to Motion to present their biggest line up of all time, including a very special headline DJ set from Noisia. Other acts on the lineup will include Mefjus, Emperor, Hyroglifics, Foreign Concept and Klax, alongside label boss Kasra, and Bristol's own Sam Binga & Redders.
The second brand to feature at Sequences will be Deep Medi, Mala's prestigious dubstep and roots inspired record label. The lineup will consist of artists that have released on Medi across its 10 year history. These names include the likes of Gorgon Sound, Commodo, Sir Spyro, Silkie, Kaiju as well as a headline set from Mala himself. The Medi crew will be joined by special guests Mungo's Hi Fi who will be bringing their famous soundsystem down from Scotland with them, as well as performing on the day.
Finally, Bristol promoters The Blast will be bringing the grime, bass and all round party atmosphere to the third arena with local legends Dirt providing the sound. Headlining the stage will be Grime's latest wonder kid Novelist, with full support featuring The Blast's favourite DJs and MCs. Esteemed names like dubstep legend Benga, Northern powerhouse Levelz will also be on board, plus a very special guest to be announced in the coming weeks. The line up will also include Capo Lee, IGLOOGHOST, Riz La Teef, Jetsss and The Blast resident DJs.
Various Food Vendors, Bars and Stalls will be announced closer to the event.
+++
FULL SEQUENCES LINE-UP
Critical Sound:
Powered by Void:
Noisia
Mefjus
Emperor
Kasra
Sam Binga & Redders
Foreign Concept
Hyroglifics
Klax
Jaydrop & TS2W
Hosted by
MC GQ
2Shy
Mantamast
Remidy
Deep Medi:
Powered by Mungo's Hi Fi:
Mala
Gorgon Sound
Commodo
Sir Spyro & Killa P
Silkie
Kaiju
Special guests:
Mungo HiFi
Hosted by
Rider Shafique
Sun of Selah
Killa P
The Blast:
Powered by Dirt:
Novelist
Benga
Special Guest TBA
Levelz
Capo Lee
Iglooghost
Riz La Teef
Jetsss
Unkey
Fire Man Sam
Sherry S
Hosted by
Koast