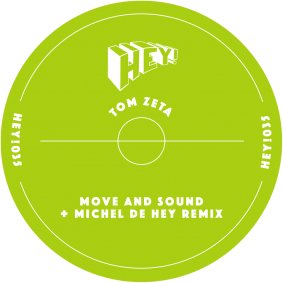 Tom Zeta - Move and Sound
Michel de Hey's essential HEY! Records is back with another brilliantly club focussed two tracker that features an original by Tom Zeta and a remix from the bossman himself.
Tom Zeta hails from Maastricht but lives in Rotterdam. Already this year he's served up a huge EP on Diynamic Music that showcased his melodic and elegant tech sound. He is a skilled drummer with formal composition and music technology skills and puts all that to good use, next to his on going love of synths and hardware. He has a live show that is utterly mesmerising and has big support from the likes of Pete Tong and Joris Voorn which will surely only continue with this new track.
Entitled 'Move and Sound', it is a terrifically tense offering with nimble synth stabs and pressure building vocal loops. It's a cut to bring real energy to the party and will get the floor on edge and raring to go. As it rolls on, the hands in the air chords grow ever bigger and never let up, making it an essential weapon for all DJs and dancers.
Next to running this vital label, Michel de Hey has appeared on the assured likes of Poker Flat, Relief and Ovum. Now in remix mode, he reworks the original into a supple bit of bouncing techno with rubbery drums, hooky synth motifs and an alien feeling that really stands it out.
These are two devastating tracks design to make a huge impact in the club.
Tracklist:
1) Tom Zeta – Move and Sound (Original mix)
2) Tom Zeta – Move and Sound (Michel de Hey remix)