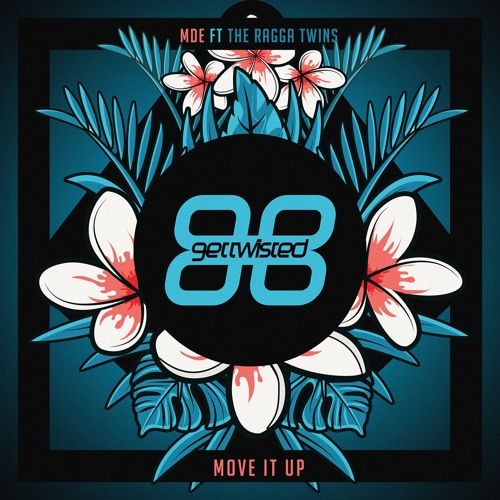 MDE ft. The Ragga Twins - Move It Up
MDE, the finest purveyors of 90s' inspired house, are back with the deep and dirty 'Move It Up' featuring jungle icons The Ragga Twins, to be released on the 29 September on Get Twisted Records.
'Move It Up' packs a punch from the off, fusing old school acid house synths and vintage jungle stabs, with legendary MCs The Ragga Twins lighting up the tough bassy beat.
Since rebranding as MDE, the UK duo formerly known as My Digital Enemy have enjoyed an excellent summer with launch MDE release 'Feelings' – also released on Get Twisted Records – as well as 'Magical', a collaboration with label bosses Tough Love. Their most recent release, 'Acting Like A Freak', has also got them winning plaudits from such names as Laurent Garnier, Danny Howard, Golf Clap, Charlie Hedges, and Tom Shorterz.
As My Digital Enemy, the duo released 'Inside of Me' and 'Clocks' (featuring Tink), both of which amassed half a million streams on Spotify alone. Buoyed by over 5 million streams across their career, MDE have homed in on their previous years' experience of topping the Beatport charts, touring worldwide and releasing on some of the world's biggest dance music labels, to create hard hitting, straight to the point records.
The sound of MDE has gained the support of BBC Radio 1 DJs such as Pete Tong, Annie Mac, Danny Howard and MistaJam and helped MDE to tour the world's festival stages including EDC Vegas, Oldenbora Germany and Sunrise Poland as well as grace the clubs of Ibiza, Dubai, Japan, Indonesia and the USA.
The Ragga Twins are regarded as two of the pioneers of jungle, having recently celebrated their 25th anniversary. Flinty Badman and his brother Deman Rockers, with their friends on record label Shut Up and Dance, together put out some of the earliest tracks that would go down in jungle history. The Ragga Twins also brought their reggae roots to the hardcore genre in the form of rewinds and lines they had perfected from their sound system days. Together, they helped the jungle scene to grow and become one of the most influential music trends in living memory.
Since its inception 2012, Tough Love's record label, Get Twisted Records, has gone from strength to strength, signing an imprint deal with Columbia Records in 2015 and featuring releases from both established names and rising talent including Roger Sanchez, Todd Terry, Sandy Riviera, Amine Edge & DANCE, Man Without A Clue, Purple Disco Machine, Full Crate, No Artificial Colours, Hannah Wants, LiTek, Leon Lour, and Felon. Get Twisted Records continues to grow in stature, with sell-out shows across 2017 showing the power the label currently commands.
Social Media links
MDE:
www.facebook.com/therealmde
www.twitter.com/therealmde
www.soundcloud.com/therealmde
www.instagram.com/therealmde
The Ragga Twins:
www.facebook.com/OfficialRaggaTwins
www.twitter.com/TheRaggaTwins
Get Twisted Records:
www.gettwistedrecords.com
www.soundcloud.com/gettwistedrecords
www.facebook.com/gettwistedrecords
www.twitter.com/gettwistedrecs
www.youtube.com/gettwistedrecords
www.instagram.com/gettwistedrecords