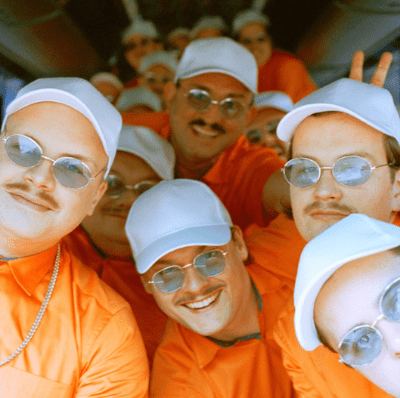 Myd - Muchas
Firm Ed Banger favourite, Myd, has delivered his new single 'Muchas' ft Cola Boy, following the release of his highly acclaimed 'All Inclusive' EP on the label last October.

Also known for his part in Club cheval (alongside Sam Tiba, Panteros666 and Canblaster), Myd has already worked with the likes of Theophilus London before he joined the Ed Banger Records.

Perfectly capturing the essence of Parisien electronica, 'Muchas' takes us on a feel-good French sojourn, packed with glistening synths and an addictive vocal melody. Accompanied by a dark comedic video, we experience a narrative that plays out like a one-way social commentary on the homogenization of society. Directed by fellow French creative Alice Moitié, who has previously worked for the likes of Fader and L'OFFICIEL, we see Myd as the main protagonist in a world amongst other Myd's.

"In a world ruled by copies and declinations of Myd, a company decides to offer its Mydemployees a team-building weekend on the countryside right before the start of a new working year"' – Alice Moitié

Following a packed summer schedule, Myd has played unforgettable sets at festivals such as Tomorrowland and Benicassim, alongside the '15 Years of Ed Banger' event, he shows no signs of slowing down. 'Muchas' will be released worldwide Via Ed Banger Records on 5th September.