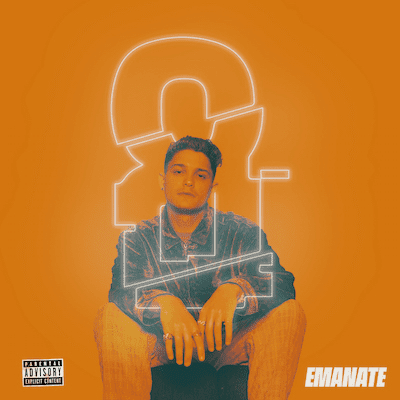 Multi-talented hip hop artist EMAN8 releases debut album 'Emanate'
Los Angeles-based artist EMAN8 is set to release debut album Emanate, out June 5th on Home Plant Records.
The upbeat, eight-track LP sees the exciting young talent traversing R&B, hip-hop, gospel, funk and more, whilst also drawing on his Caribbean roots. Merging electronic and organic elements, the result is a highly polished release, with the Missouri-born artist seamlessly switching between soulful crooning and seamless rapping. The album was self-produced byEMAN8, with North California producer and sound engineer Dave Berg taking co-production credits on a handful of tracks.
Three tracks from Emanate have already been released as singles. In January, he collaborated with girlfriend Molly Moore and artist Lizzy Land on the uplifting 'Inspired', in April he linked up with Indiana hip-hop artist Kid Quill on the gospel-tinged 'IOU', before Texas singer Forest lended his vocals to last month's 'Grateful'. The guitar-led'Time' (produced by Dwilly) will become single number four.
Previously releasing music under his real name Brandyn Burnette, the EMAN8 moniker was launched to focus on positive, inventive and intelligent storytelling through music. With writing credits including Charlie Puth, Jon Bellion and recent Backstreet Boys single 'Breathe', EMAN8's journey has been a quick rise to success drawing comparisons to Anderson.Paakand Chance The Rapper.
A diverse release covering different genres, tempos and styles, EMAN8's debut album further demonstrates his abilities as a multi-talented artist, singer and producer.
For more information on EMAN8, please visit:
Facebook | Spotify | Instagram