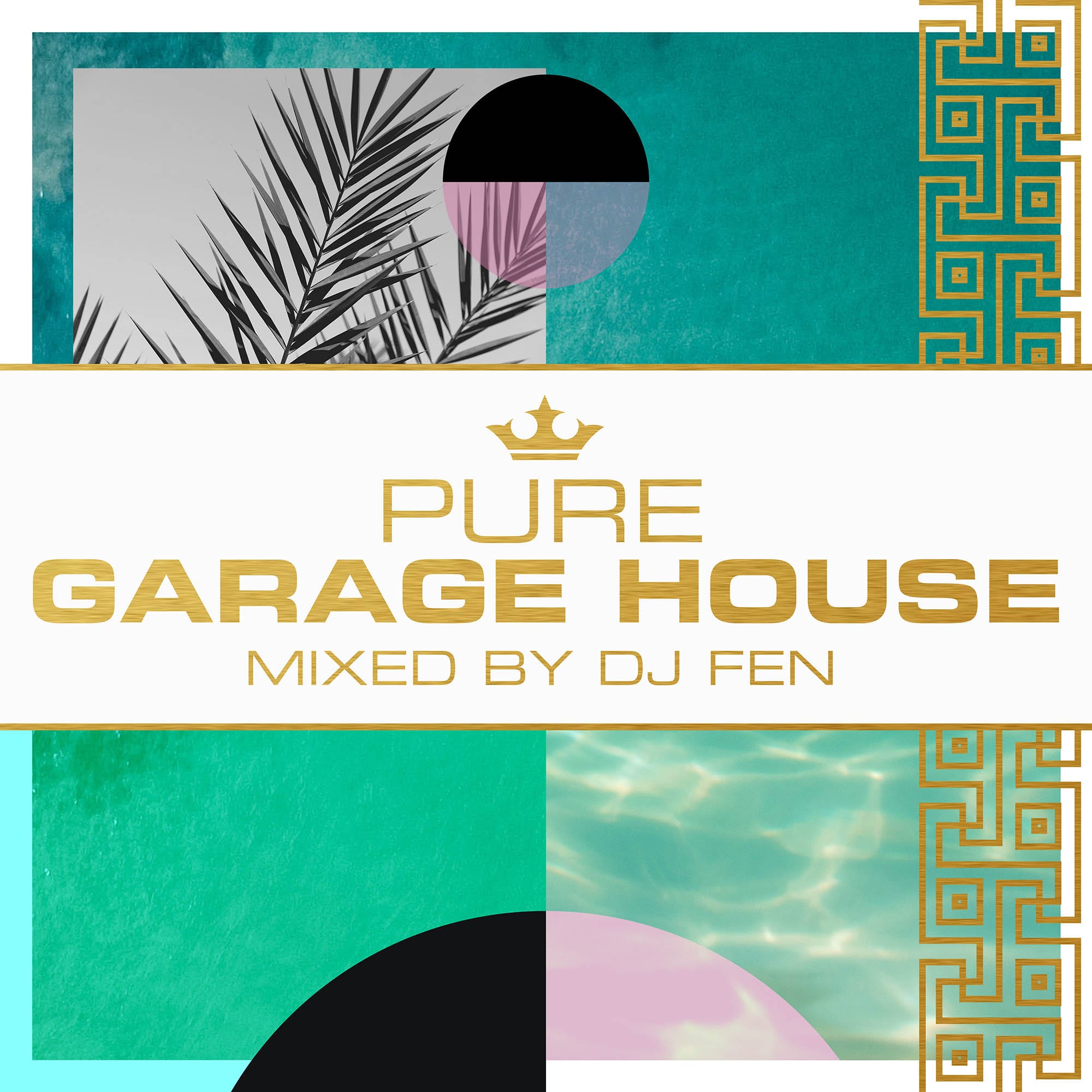 Pure Garage House – Out Now
The UK¹s No.1 dance and urban music brand Pure returns with Pure Garage House mixed byDJ Fen featuring the very best of classic US & UK style garage house. It¹s the anticipated return of the original and best-selling Garage series of all time with over 2 MILLION units sold since the first Pure Garage album was released at the end of 2000.
Mixed by the legendary DJ Fen, Pure Garage House delves into the hottest sound in house right now, the knockout combo of Garage and House for an album packed with a mix of upfront future anthems plus underground classics with 66 tracks over 3 CDs.
DJ Fen has been DJing since 1992, setting up the pirate radio station London Underground as well his own Global House club nights. In 1996 he started Bug Records with loads of memorable releases produced alongside fellow dj/producers Ramsey and MJ Cole.Releases included the massive Garage anthem Love Bug. Fen has also remixed some of the biggest Garage tunes including The Heartists – Belo Horizonti, Fabulous Baker Boys – Oh Boy, and Jaheim¹s – Could It Be. Beyond the production desk, Fen has presented his own radio shows, club nights and has played around the world from Ibiza to UK festivals. This year will also bring new releases onBug Records, as well as his new label Upcycle Recordings. Fen¹s influence on the Garage scene is undeniable constantly pushing UK Garage and House music in a positive direction through DJing, producing and hosting his new weekly show on Mi-Soul Radio.

Key tracks include Saint Etienne – Only Love Can Break Your Heart (Masters At Work Mix), Kim English – Nite Life, TJR ft. Xavier – Just Gets Better, Swing 52 – Color Of My Skin, The Beloved -1000 Years From Today (Todd Edwards Dub), Hardrive – Deep Inside andRamsey & Fen – Style plus the hottest current tunes from Jonas Blue – We Could Go Back (Todd Edwards Dub) and JT Donaldson feat. Liv.e – Stay Inside. Fen weaves a mixture of classic us style garage house anthems with the latest upfront breakers on the UK scene. Total class!
Tracklisting

CD01

01 Momenta ft. Niara Scarlett – Your Love (DJ Fen 4×4 Remix)
02 CJ Reign – No Rush
03 Jeremy Sylvester ft. Jadey Leigh – Set You Free
04 Marc Cotterell & Dominic Balchin – Baby Do You Feel Me
05 Lombard Street – Midnight Star
06 BKT & Soozy Q – Bring It On (BKT's Deepsoul Dub Mix)
07 Chris Bass – Shake N Bake (Deep Rub)
08 JT Donaldson ft. Liv.e – Stay Inside (Remix)
09 Firzt World Problemz – Call It Fate (Fight The Feelin') (DJ Fen's Afrogaragehouse Remix)
10 Tuff Culture – Electrons
11 The Beloved – 1000 Years From Today (Todd Edwards Dub Mix)
12 Paul Benjamin – Rushin (Dub Mix)
13 Scott Diaz – Lovesick (Scott¹s Studer Dub)
14 Perception – Colours
15 CJ Reign – Burnin N Yearnin (DJ Fen Garage House Remix)
16 Joe Olindo – Everyday
17 Tuff Culture – Quarks
18 Blakk Habit – What I See
19 Fizzikx – Jam 01
20 MJ Cole – If Only (MJ Cole Dubb)
21 Matt Jam Lamont & BKT ft. Rachael Calladine – Keep On Keepin' On (Matt Jam Lamont & BKT Remix)
22 JC Unique – Knock Me Off My Feet (DJ Passion Remix)

CD02

01 Brae Leni – Fire (DJ Fen Garage Remix)
02 Barbara Tucker – Stay Together (G-Funk Mix)
03 Shawn Christopher – Make My Love (Kerri Chandler Remix)
04 The Underground Solution ft. Jasmine – Luv Dancin' (In Deep Mix)
05 Daniel Ward & Mark Lee Howlett – Broken
06 Momenta – The Bed (DJ Fen Garage House Remix)
07 Groove Chronicles ft. Nia – Upset
08 Danny J Lewis – Show Me Love
09 Bonna ft. Richelle Hicks – Get What I Need (DJ Passion Remix)
10 Sole Fusion – Basstone (Underground Network Mix)
11 Ramsey & Fen ft. Rads – Style (1996 Original Vocal Mix)
12 Momenta ft. Niara Scarlett – Sweet Sweet Rhythm (DJ Fen Dubster Remix)
13 Perception – Want A Ride
14 Lombard Street – Make It Perfect
15 Smokin¹ Beats – Look Who¹s Loving Me (Smokin¹ Club)
16 Kim English – Nite Life (Armand Van Helden Club Mix)
17 Danny Foster & Rouge ft. Bizzi – Tell Me (Dub)
18 CJ Reign – Let's Play House
19 Collabor8 – Work This Out
20 Richard Bailey ft. Lifford – Gracious (DJ Fen Remix)
21 Danny Foster & Rouge ft. Dina Vass – Get It Right (2016 Dub)
22 X-Presidents – Diamond Rings Œ96
CD03

01 Saint Etienne – Only Love Can Break Your Heart (Masters at Work Mix)
02 Timmy Regisford ft. Lynn Lockamy – At The Club (Sean McCabe's Slummin Mix)
03 Oscar G ft. Marck Michel – Gotta Keep Moving
04 Banana Republic ft. Judy O'Beya – Catch The Feeling
05 Ramsey & Fen Ft. Rads – Colour (Dub Mix)
06 Kalani Bob & Remegel – Deep Breath
07 Hardrive – Deep Inside
08 Jonas Blue ft. Moelogo – We Could Go Back (Todd Edwards Dub)
09 TJR ft. Xavier – Just Gets Better (Original Dub)
10 Janet Rushmore – Joy (Choice Mix)
11 Cloud 9 – Do You Want Me Baby
12 Chris Bass – It's All Good (Instrumental Mix
13 Jeremy Sylvester ft. Kayleigh Gibson – That Vibe (BKT's Classic Summer Vocal Vibe)
14 Logic – Blues For You
15 Smokin¹ Beats ft. Conroy – Times Are Changing (Smokin¹ Dub)
16 Mood II Swing – Closer (Swing To Mood Dub)
17 Danny J Lewis – Spend The Night
18 Urban Blues Project Presents Jay Williams – Testify (Tuff Jam Remix)
19 Northbound ft. Moné – Never Gonna Be The Same
20 Swing 52 – Color Of My Skin
21 Ray Hurley & Matt Early ft. Abi Flynn – Get To Me Once
22 NY's Finest – Do You Feel Me

DJ DATES
20 July – The Mid Summer Ball – Trent Park London
2-4 August – Margate Soul Festival, Margate
5- 21 August Holiday
24 August – Pure Love for Garage, Bexley Heath
25 August – Spread Love Festival, Chelmsford
31 August – Southport Weekender Festival, Crystal Palace
31 August – Str8, Bedford
7 Sept – True House & Garage, London
http://djfen.co.uk/
https://www.facebook.com/djfenofficial/
https://twitter.com/djfen1

A New State Music release – Out 12th July on Triple CD, Digital & Streaming
http://www.newstatemusic.com