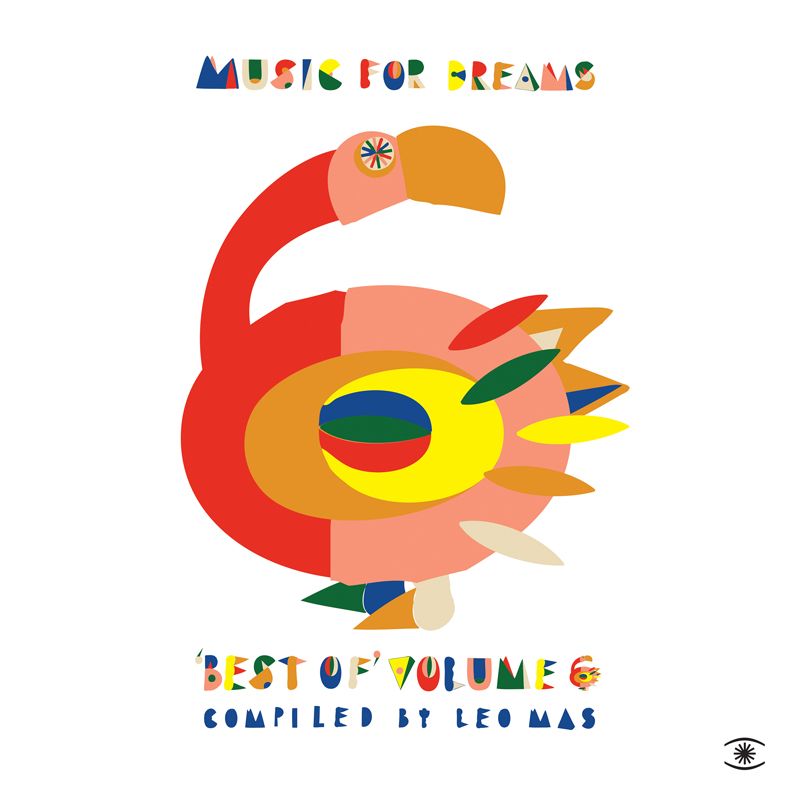 Various Artists - Music For Dreams – Best Of Vol #6
Featuring exclusive tracks by Dub Tractor, Ambala (featuring LaidBack), DJ Pippi, Silent Riders, AyOwA, Nordsø & Theill, Copanema, Kenneth Bager Experience.
Leo Mas, Godfather of Balearic beats, has compiled the new Music For Dreams, Best Of compilation album for release on the Music For Dreams label on Friday 10th November 2017.
Leo, an original Amensia Ibiza DJ, who along with Alfredo inspired the acid house revolution, has created a Balearic infused template for 'Music For Dreams, Best Of Volume #6 which journeys through the discerning Danish label's Balearic, house, space disco and chill output including deep, vibrant underground tracks from Dub Tractor 'Scary HH Loop', 'Nordsø & Theill 'Good Morning (feat. Caroline Franceska)', Jacob Gurevitsch 'Poesia La Mar', AyOwA 'Eremit', The Swan And The Lake 'Deep Red (feat. Anders Brandt)', DJ Pippi 'Calas Encantadas', Copenema 'Te Faz Bem', Silent Riders 'I See You (Whatever/Whatever Remix)', Sonic Friends Of The Galaxy 'Adamo & Eva (Leo Mas & Fabrice On Air Mix)', Ambala 'Walk With The Dreamers (feat. Laid Back) [Dreamers Dub Remix by Leo Mas, Fabrice, Giorgio Li Calzi & Luca Donini]', José Manuel 'Hungry (Leo Mas & Fabrice Lagos Dub Remix)', and Kenneth Bager 'Fragment Four (Love Won't Leave Me Alone) [Idjut Remix]'.

The legendary Milan-based Ibiza house and techno DJ, Leo Mas, has enjoyed a reputation as an avid record collector since earning his reputation spinning alongside Alfredo in the mid-to-late 80s in seminal club Amnesia. They created the Balearic sound, which influenced clubland worldwide and in the process introduced the concept of mixing house, acid house, and Balearic beats together to cater for a growing ecstatic crowd who needed to feel more connected to the music. Their contribution to the way we perceive and party to electronic music still resonates massively today on the island and beyond.
'Music For Dreams, Best Of, Volume #6' is released on Music For Dreams on digital and stream on Friday 10th November 2017.
https://www.soundcloud.com/music-for-dreams
https://www.facebook.com/ComaClub
http://comaclub.dk/
http://www.kennethbager.dk
Tracklist:
1. Nordsø & Theill – Good Morning (feat. Caroline Franceska)
2. 55 Cancri e – Att Lämna Tellus I (Ôknen)
3. Jacob Gurevitsch – Poesia La Mar
4. AyOwA – Eremit
5. The Swan And The Lake – Deep Red (feat. Anders Brandt)
6. Mackrory & Collier – The Other Side
7. Dub Tractor – Scary HH Loop
8. Bongo Entp. – El Rey De Pollo (feat. Mikkel Nordsø)
9. DJ Pippi – Calas Encantadas
10. Copenema – Te Faz Bem
11. Ruf Dug – Mangrove Dub
12. Silent Riders – I See You (Whatever/Whatever Remix)
13. Prins Emanuel – Globen
14. Sonic Friends Of The Galaxy – Adamo & Eva (Leo Mas & Fabrice On Air Mix)
15. Ambala – Walk With The Dreamers (feat. Laid Back) [Dreamers Dub Remix by Leo Mas, Fabrice, Giorgio Li Calzi & Luca Donini] 16. José Manuel – Hungry (Leo Mas & Fabrice Lagos Dub Remix)
17. Troels Hammer – Waves Of Cape Town
18. Kenneth Bager – Fragment Four (Love Won't Leave Me Alone) [Idjut Remix] 19. Dalholt & Langkilde – Je M'appelle Spacy