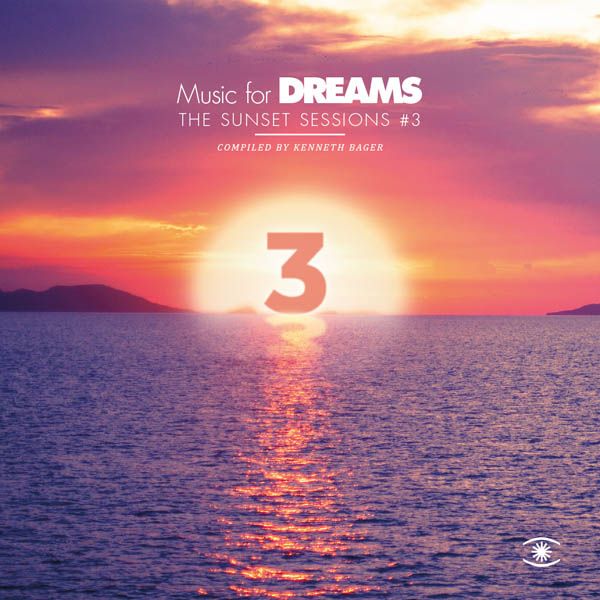 Kenneth Bager - Music For DREAMS Sunset Sessions #3
Featuring exclusive tracks by DJ Pippi & JL, Bonnie & Klein, Dalholt & Langkilde, The Swan And The Lake, Jose Manuel, Pepe California, Mick Roach, Kenneth Bager, and more.
Copenhagen's Music For Dreams label is releasing the third edition of their popular Sunset Sessions series curated by Kenneth Bager on limited edition quadruple vinyl on Friday 6th November 2015. A 30 track digital download and stream version is scheduled for release on Friday 27th November 2015.
'Music For DREAMS – The Sunset Sessions #3' is compiled by Danish DJ, producer and club owner extraordinaire, Kenneth Bager (aka Dr Baker), the label boss Music For Dreams and one of the most prominent curators of Balearic and chill out music.

Featuring 17 exclusive tracks including DJ Pippi & JL, Bonnie & Klein, Dalholt & Langkilde, The Swan And The Lake, Jose Manyel, Pepe California, Mick Roach, and Kenneth Bager among many others, the album has been designed for connoisseurs of Balearic sounds.
Furthering the esteemed reputation of the label, Kenneth has selected some seriously beautiful new music including the excellent new Danish artist The Swan And The Lake represented here with the unreleased 'Soft Brainfreeze'. Featuring soft pads and new age keyboards it has been compared to style of Klaus Schulze's classic Innovative Communication label. Sweden's Daniel Savio & Reino Nordin and Dj Herkules present the catchy 'Wee Hours' – originally released as a limited 7 inch. French artist Mathieu Boogaerts serves up the sound of The Eiffel with his beautiful Parisienne mood "Avant Que Je M'ennuie". New danish trio HSB are featured with the world premiere of their prime piece of sunshine boogie called "Welcome To The Beach. Melbourne duo Andras Fox and Oscar Key Sung's smooth and deep 80s inspired groove 'Looking Back' is joined on the album by fellow Australians Bell Towers who are featured with their fantastic cover tribute version to the Pet Shop Boys called 'Love Chain Reaction', originally released on the limited Ruf Kutz #9.
Also exclusive to the album is the funky and warm production of 'Dangerous' – a massive Ibiza 2015 Anthem by DJ Pippi with sensual vocals by JL. The gentle instrumental groove of 'June' provided by Manchester's Horsebeach is another highlight of this essential package. Legendary Danish percussionist Jacob Andersen presents his new venture Bongo Entp. with the unreleased brazilian flavoured tropical groove 'Foto Feita Do Avia~O' – a firm favorite of trainspotting Meister Moonboots' recent mixes and DJ sets.

Also featured on the vinyl and download is Gaussian Curve consisting of Jonny Nash, Young Marco and Gigi Masin – a modern super group – with haunting guitar work, pads and pianos creating a warm relaxed and cinematic journey with their amazing musical venture called "Impossible Island".
Whether you are sofa surfing, sitting by the ocean, in a forest, driving or just gliding in the skies – this album compiled by Kenneth Bager takes you through a musical journey of sunset material of the highest calibre. The vinyl edition is limited to 300, no repress.
The Sunset Sessions #3 is released by Music For Dreams on digital and stream on Friday 27th November with quadruple vinyl released on Friday 6th November.
http://www.kennethbager.dk
Tracklisting:
Vinyl 1
A1: The Swan and The Lake – Soft Brainfreeze
A2: Daniel Savio/Reino Nordin/DJ Herkules – Wee Hours
A3: Mathieu Boogaerts – Avant Que Je M'ennuie
B1: DJ Pippi & JL – Dangerous
B2: Bell Towers – Love Chain Reaction (PSB Tribute)
C1: HSB – Welcome to The Beach
C2: Bongo Entp. – Foto Feita Do Avia~o
C3: Horsebeach – June
D1: Andreas & Oscar – Looking Back
D2: Gaussian Curve – Imossible Island
Vinyl 2
A1: Schulz, Hammer & Bager feat. Rodrigo Sha – Some Di Someday
A2: Eleventeen Eston – Indian Blue
B1: DJ Pippi & Kenneth Bager – Never Stop Dreaming
B2: Mick Roach – Meantime (TDraper Mix)
B3: Nick Mackrory feat. Harry Collier – Elle Dit (Colona Radio Edit)
C1: Lust For Youth – Lungomare
C2: Danseorkesteret – Alt Er Dit (KBE Edit)
C3: Kobayashi Yamato – Okinawa Zanpamisaki Royal Hotel: Welcome Video 1999
D1: Pepe California – MFMFD
D2: Dalholt & Langkilde – Afrique
D3: Fred Ventura & Phil R – A Life In Colors (American Mix)
Digital Download
1. Lust For Youth – Lungomare
2. The Swan And The Lake – Soft Brainfreeze
3. Eleventeen Eston – Indian blue
4. Jacob Gurevitsch – Mapa De Soledad ( Len Leise Remix)
5. Ruf Dug feat Nev Cotte e – Dominica
6. Danseorkestret – Alt Er Dit ( KBE EDIT)
7. A Vision Of Panorama – Patches of Light ( Jex Opolis)
8. Mathieu Boogaerts – Avant Que Je M'ennuie
9. Bongo Ent. – Foto Feita Avi A
10. Visti & Meyland – Hand In Hand
11. Troels Hammer – Mother Space
12. Per Walter & Danmarks Radios Underholdningsorkester – Theme From "Fiskerne"
13. Kobayashi Yamato – Okinawa Zanpamisaki Royal Hotel – Welcome Video !
14. Daniel Savio, Reino Nordin, Dj Herkules – Wee Hours
15. Dj Pippi & Kenneth Bager – Never Stop Dreaming
16. Dalholt & Langkilde – Afrique
17. Jose Manuel feat. Babacar Dieng – Bilimbosa
18. Fred Ventura & Fred R. – A Life in Colors ( American Extended Mix)
19. Horsebeach – June
20. Dj Pippi & JL – Dangerous
21. Emil Germ – Tease & Burn ( Lucci Capri Remix)
22. Bell Towers – Love Chain Reaction ( PSB tribute)
23. Andreas Fox & Oscar – Looking Back
24. HSB – Welcome to The Beach
25. Bonnie & Klein – Magnolia
26. Mick Rocah – Meantime
27. Pepe California – MFMFD
28. Nick Mackrory & Harry Collier – Elled It (Colona Radio Edit)
29. Schulz, Hammer & Bager feat Rodrigo Sha – Some Di Someday
30. Gaussian Curve – Impossible Island