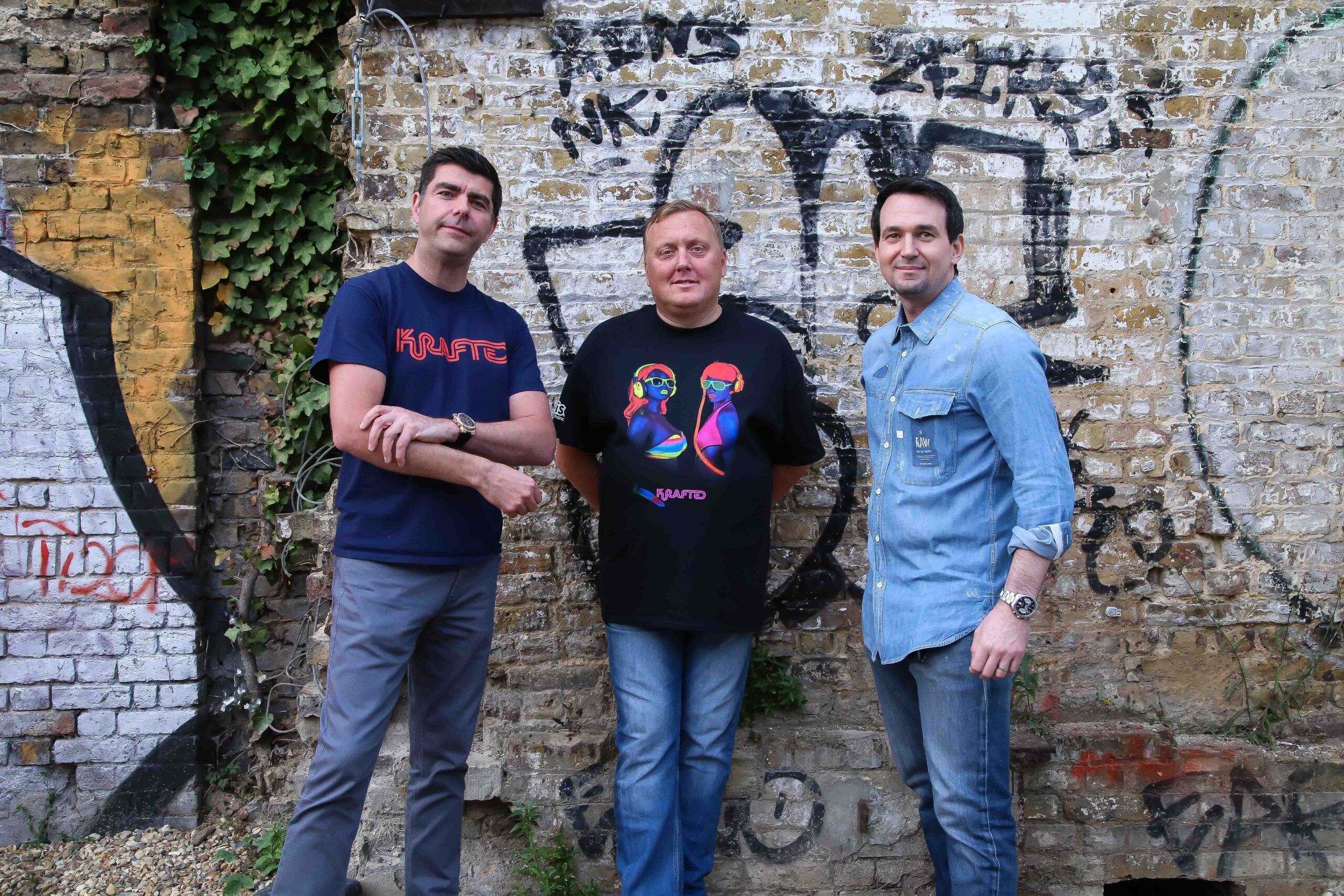 Music that's Krafted – behind the scenes at Krafted.
There's a number of UK based brands that are pushing the boundaries musically and it's fair to say that the Krafted team are pricking up the ears of the industry, as well as clubbers who have been attending their events at clubs such as the Ministry of Sound, Egg and as far afield as Los Angeles.
I caught up with Paul Sawyer, one of the Krafted partners whose busy schedule is testament to what makes a brand stand out from the crowd. These guys are probably one of the hardest working teams that I've come across.
You've just announced that you're rebranding the whole of Krafted – when did you decide this would be the step forward?
This has been something that we've been discussing for about a year now really. The main factors behind the decision started when we consolidated our facebook pages into one. We used to run a page for each label and that was becoming a full time job, so taking away time that was valuable for actually running the labels and overseeing the direction of the brand.
The reason why we consolidated it was so that anyone trying to look us up, could find everything they needed on one page. We did the same with soundcloud and deleted the multiple pages that we were running.
So as time went by and more and more demos were being submitted, artists were asking to be signed to Krafted. To the point that we were getting told that they didn't want to be signed to say Endemic Digital or EJ Underground, it had to be Krafted. So, really we created that issue ourselves by consolidating everything. But we're pleased that it's turned out that way.
So from all of your sister brands which one is the one to look out for this year?
The main focus for us are Krafted Underground and Krafted Digital. These are the two labels that will be releasing regularly focusing purely on club based house.
That's not to say that we won't be putting a lot of effort into Krafted Records and Sounds of Krafted, just that these will be releasing less and focusing on the sound that they are known for.
Paul, you've been playing more and more gigs of late can we see any releases coming soon?
It's been a manic summer. I love DJ'ing and have enjoyed this year so much. It's funny as I thought it was going to be a quiet year in terms of dj'ing as the bookings were quite slow at the start of 2016 and then all of a sudden they were coming in thick and fast. Flying to LA and San Francisco again in May was a big highlight. I love playing in the States and catching up with people that I've met since playing there.
So, with such a manic gig list, I've struggled to make time to produce this summer. But my aim is to spend as much time in the studio now and get some releases out there during the winter months. There's an EP coming out in November under my Soultrak guise on Family Grooves Records out of Croatia, plus a Soultrak remix out on October 18th that Paul Moore and I completed before the summer for Chris Schambacher from the US on Nueva Records, as well as a single out from us on Nueva Deep.
I've just finished a new EP too that I'm testing out and seeing who's up for releasing it.
If you could define Krafted how would you describe the new era of the label?
To be honest our aim is to take Krafted to as many countries as possible and promote our music and artists. We also want to build on the fan base so that we can create the atmosphere that we've created at each of our events this year.
We're also going to concentrate on more compilation albums for music lovers. Of course it's important to us that DJ's love our music and want to buy it, but the thought of people out there having our compilations and listening to them in their free time is amazing.
Are there any events coming up?
Yeah, next up I'm playing at an ADE showcase on Friday 21st October for Comfort Sessions and then the following week we're back at Egg London hosting one of the rooms with Evermix. We have the legend Seb Fontaine gracing the decks that night, its been quite a few years since I've shared the flyer with Seb. He used to regularly play for me back in the day at my Menage a Trois parties.
With a rebrand of all of your labels, is there any advice you would give to aspiring producers?
Something that's always talked about and what we discovered through experience, was developing the sound of your label. I for one was guilty of releasing every genre under the sun on EJ Underground in the early days. But I have an open mind with music and having one sound wasn't that important to me at the beginning.
You soon learn that you need to focus on a sound so that anyone who buys into the label knows they can come back and expect to hear the same theme.
So in turn that comes back to producers developing their sound too, it's so important.
We've noticed that you've had quite a few releases featured in Mark Knight's Toolroom show. How does it feel to gain support from one of the leaders in the house music world?
When you start out launching a label, one of our aims was always to get as many plays as we could from notable artists. It's all very well getting feedback from promos saying tracks will be supported or considered, but it's not until you get included in radio shows or sets by the people that everyone looks up to. It's taken a long time to get to that point and it's thanks to making sure you meeting the right people.
Steve and Joel from Concrete Promo have been a massive helping hand over the last two years, they really opened doors for us and we will always be thankful for that.
The team at Toolroom are so professional, we love dealing with them, some of the most approachable people in the industry. Their business model is something that we've always aimed towards ourselves.
Your own Krafted Radio Show has been running over a year now. That's a huge commitment isn't it?
Yes, it is. It's surprising how much time is taken up running the weekly show. We couldn't do it without our presenter Chloe Fontaine and Simon Sinfield. Chloe is like a machine, never lets us down even when she's at death's door with an almighty cold, she's still in the studio every Tuesday getting the show recorded. Of course, you can always hear when she's ill ha ha (sorry Chloe, you know we love you!)
Organising a guest every week and ensuring the mix, tracklist and artwork is sorted and uploaded each week is pretty time consuming, but we love putting it together. We currently syndicate the show to 8 stations worldwide, which is so important to reach out to as many people as we can with our brand.
This brings us to your radio station, what made you start your own station?
The Krafted show was already running each week and Simon Sinfield who has been helping us along the way had his own station broadcasting out of Bournemouth called Base Radio. His label was already a part of our label group and after a studio session churning out some music, Simon suggested that we rebrand the station and use it as a platform to showcase our labels and artists.
We jumped at the chance and within a couple of months we launched in November 2015 with shows from Dave Seaman, Traxsource, Graham Gold, Graeme Park, David Dunne, Decoded Magazine and our flagship show.
Simon dedicates a far chunk of time organising all the shows, as well as uploading hundreds of mixes from various artists, not just signed to Krafted, which get rotated when the main shows aren't being broadcast. Therefore, we're broadcasting 24/7!
We understand that one of your partners is US based, which is a new addition to the team. How did this come about and why?
We were introduced to Jason Miller aka Redux Saints last summer whilst Paul was DJ'ing in San Francisco. We discussed bringing Krafted to LA and whilst we were there, we were already moving our distribution to Proton. The majority of our sales are US based, so pursuing maximising the awareness of the brand there was something that we really wanted to investigate.
Bringing Jason into Krafted was a step forward for us which resulted in our first event in Los Angeles in May 2016 with Doorly and Mr C headlining.
We're currently seeking a venue to hold regular events there and will be returning in 2017 as Paul plays regularly in San Francisco and LA, as well as already planning to attend Burning Man next year. We had several DJ's representing Krafted at this years Burning Man.
So, does that mean your goal is to become a global brand?
We would love that; we recognise how difficult it is in the UK, so branching out is really important. The great thing about electronic music is how global it is. It really doesn't matter where your label is based, your artists and fanbase are worldwide. So holding events in Countries where our artists are based is amazing. We have managed to meet so many people that we deal with regularly online thousands of miles from home.
We noticed a post on facebook recently listing the events that you guys have attended and played at this summer, how did you find the time for all of them?
Ha ha we were a bit shocked to be honest when we compiled the list. One thing is for sure, it was a very busy summer, bloody tiring, but a lot of fun!!!
We intend making sure 2017 is even busier as we have a real love for festivals during the summer months.
Social Links:
https://www.facebook.com/EJUnderground/
http://www.twitter.com/Krafted_
https://soundcloud.com/kraftedmusic
https://www.facebook.com/paulsawyerofficial/
www.kraftedmusic.com