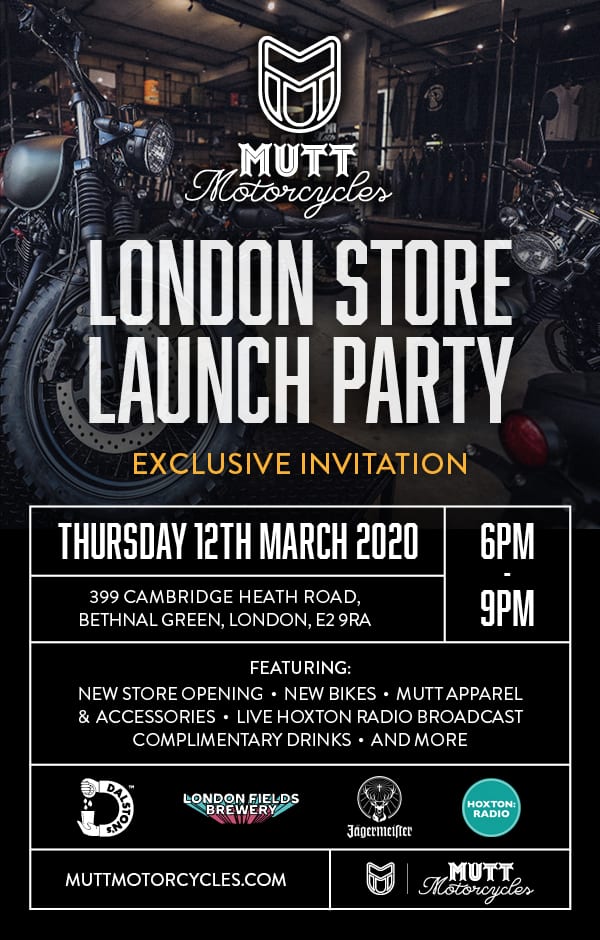 Mutt Motorcycles open new flagship London store this Thursday 12th March
The size and expense of high-end vintage motorcycles and custom bike scene can seem quite inaccessible. Mutt wanted to change that so they applied that same build quality and style to small cc bikes that are easy to sling round busy city streets, bend round country lanes, and charge on the open road. This would take small cc motorcycles to the next level and has seen Mutt grow at a rapid rate, developing new models, bigger cc's, moving into international markets and developing a wider range of products from parts to apparel.
So as part of their ever-expanding growth and appeal, Mutt Motorcycles have now launched a dedicated Mutt store in London. This new store takes on the look, feel and heart of their hometown HQ in Digbeth, Birmingham to the mean streets of Bethnal Green in East London. You now jump on your bike (or tube) and experience all things Mutt Motorcycles at 399 Cambridge Heath Road, Bethnal Green, London E2 9RA.
In order to celebrate this new store in the Capital, Mutt are hosting a launch party and you're invited!
This is an opportunity to have a look around their amazing new space in the heart of East London with a drink (or two) in hand and check out our latest Bikes, Clothing & Accessories whilst Hoxton Radio broadcast a live show and DJ set from instore.
Judging by the calibre of Mutt's drinks sponsors…and owner's club which includes Tom Hardy (Actor), Reggie Yates (Entertainer / Documentarian), James May (The Grand Tour/Presenter) Skin (Musician/Skunk Anansie), Ben Ransom (Rugby) and Iwan Thomas (Athlete) it should be night to remember.
MUTT OPEN NEW FLAGSHIP LONDON STORE
JOIN US FOR MUTT MOTORCYCLES LAUNCH PARTY THIS THURSDAY
AT THEIR AMAZING NEW SPACE IN THE HEART OF EAST LONDON
 **LAUNCH NIGHT EXCLUSIVE INVITE**
This Thursday 12th March 6pm – 9pm
   399 Cambridge Heath Rd, Bethnal Green, London, E2 9RA
 Free drinks & music all night long!
London Fields Brewery / Jägermeister / Dalston's
 Hoxton Radio Dj's live instore broadcast
    New bikes / Mutt apparel / Accessories & more
   _____________________________________________________________
FIND & FOLLOW:
_____________________________________________________________