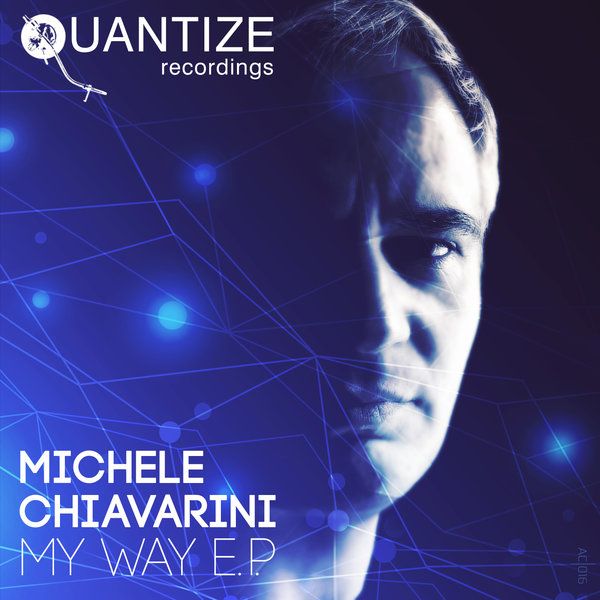 Michele Chiavarini - My Way EP
Michele Chiavarini (pronounced key-ava-ree-knee) is a rare breed of producer, accomplished in so many musical fields that every production oozes quality and it is easy to see why. Michele has been creating music for over twenty years, he plays numerous instruments including bass, violin, trumpet and vibraphone, and he is classically trained in piano and guitar. His keys have graced many a production and he has deservedly become the favourite keyboard player of numerous UK producers. He is also a songwriter, arranger, composer, remixer, sound designer and session musician, and because of his multitalented approach, there is nothing synthetic about any of Michele's creations – he plays all of the instruments and strives for absolute perfection in every release. He has written music for TV and film, worked with Ennio Morricone, and won several awards for his work.
He established Nova Fronteira in 2002 and wrote and produced the Full Fronteira EP as well as many other releases including the awesome cover of Everybody Loves The Sunshine. In 2014 he had major success with the House classic Let Me See You (Clap Your Hands) and has gone on to release several club favourites including Naomi's Song, Get On Out There, Staring At The Sun, Tenderness, Something About Your Love…the list goes on and on. This man has worked with everybody in the business and is possibly one of the most respected artists out there. A native Italian, he now lives in England and has been adopted as an honorary Englishman by everybody who knows him – humble, respectful, kind and with a keen sense of humour, Michele is one of those amazing people with a heart of gold and is a pleasure to know.
The My Way EP is a collection of 6 versions of Doing Things My Way which features Cinnamon Brown on vocals, plus Gifted featuring Dana Weaver. Remixers on this EP include DJ Spen, Reelsoul and Namy. The package is released on DJ Spen's Quantize Recordings, a label that is synonymous with excellence in Soulful House production, showcasing the very best that the dance music scene has to offer.
Cinnamon Brown hails from New York where she began singing in the Harlem Girls Choir and trained at the Fiorello H La Guardia High School of Music & Art and Performing Arts. Classically trained in musical composition, she is a lover of primarily Soulful House, RnB, Gospel and Jazz. She has worked with many respected artists on the dance music scene including Josh Milan, Alex Millet, Mark Stone, Benji Candelero, Giulio Bonaccio, and Federico d'Alessio to name a few.
Dana Weaver is from Baltimore and was recognised as a gifted musician at the age of four when her parents noticed that she could play piano by ear. She went on to become a classically trained pianist, a talented singer, composer, and choir director. She has worked with many quality dance music artists including the late Vesta Williams, Neal Conway (founder Basement Boys member), DJ Spen, Thommy Davis, and Montana & Stewart.
Doing Things My Way is a big bold song, and showcases Michele's trademark fusion of old and new where he hints at old school jazz funk and disco vibes, with an overall classic orchestral sound, expertly constructed. Cinnamon Brown's powerful and controlled vocals resonate through the track making this a glorious dance floor future classic. House Music royalty, Baltimore's DJ Spen and Californian wonder Will Reelsoul Rodriquez add three remixes to the package including a Hump Mix and a Str8 Rockin' Xtra. The Spen and Reelsoul remixes are subtle variations on a classic thumping House version which features cleverly placed keys and a pulsating bassline that will have the dancers up and bustin moves from the outset. Japanese producer Namy (Yutaka Takanami) pleases the dancers further with a bouncy funky disco vibe that has hints of Nile Rodgers style guitar and a captivating vocal arrangement .
Gifted is a deeper and more subtle track graced with Dana Weaver's beautiful vocals. The mesmerising bassline and mystic keys seduce the listener with their exquisite sensual vibe, making this track a nice bonus and a sweet complement to the bold vibrancy of the rest of the EP.
The My Way EP is a stunning collection of music for the feet and the soul. It has deepness, disco, jazz and a shining aura that will thrill and enchant the audience. Certainly one of the best releases of the year, and one that will be remembered for many years to come.
QTZ106 – My Way EP – Michele Chiavarini – Quantize Label released on Traxsource promo on 3 June 2016, and on general release 17 June 2016.
Traxsource link: http://www.traxsource.com/title/632531/my-way