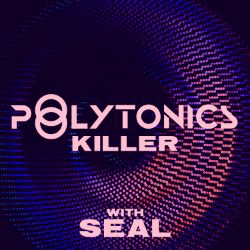 Mysterious new outfit Polytonics drop debut single 'Killer'
Mysterious production outfit Polytonics have dropped their debut single 'Killer', a rework of the 1990Adamski and Seal classic of the same name, out now via Capitol Records.
With musical legend Seal delivering an all-new vocal, Polytonics have updated the track with the dancefloor in mind. While the stripped-back original contains only a keyboard and Roland TR-909 drum machine, the Polytonics version adds more elements into the mix, ramping up the bass and throwing in some unruly sirens before climaxing with a mammoth drop.
Released almost 30 years ago, the original track was considered to be acid house DJ and producerAdamski's breakthrough single: a major UK hit that reached #1 and spent four weeks at the top of the UK Singles Chart in May and June 1990. In total, the single sold over 400,000 copies in the UK, earning it a BPI Gold certification.
Detailing the origins of the track in a 2013 interview with The Guardian, Adamski recounted that Sealhad seen him perform at an illegal rave in 1989 and handed a demo tape to Adamski's MC Daddy Chester immediately afterwards. Both Adamski and Chester were impressed and soon invited Seal into the studio with them for what would become 'Killer'.
Underground producers Polytonics have delivered a real statement of intent with debut release 'Killer' – a track that maintains all the magic of the original while refreshing it for 21st-century ears.