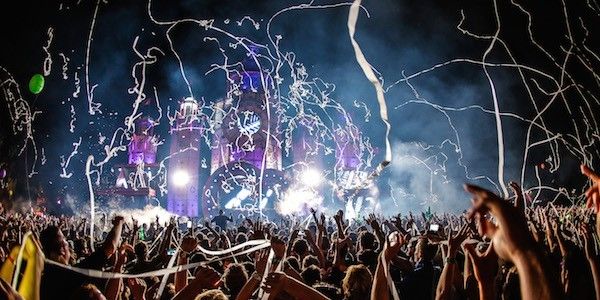 Mysteryland becomes a weekend festival
ID&T proudly announces Mysteryland Netherland's evolution from a one-day experience to an entire weekend of mischief. Yes, partygoers can now party for a whole weekend at Haarlemmermeer. By adding an extra day, the festival gives visitors more time and space to enjoy the enormous amount of music, arts, and culture on show. To make the experience complete, guests can stay at the Holy Ground campsite next to the festival area. On Saturday 29th and Sunday 30th of August, Mysteryland will pull out all of the stops to celebrate this special occasion. The festival ticket sale – which sells out every year – kicks off on Saturday, March 7th at 10AM (CET).
A wish of the fans
"Finally the time is here. Since we first organised Mysteryland at the Floriade area, visitors have consistently asked for more time to see and discover everything. We are very happy we can fulfil this wish and give even more creatives, artists and talents a stage," says Duncan Stutterheim, founder of ID&T. Other successful weekend editions take place around the globe – a valley amid the mountainous Andes in Chili and upon the legendary Woodstock festival ground in Bethel Woods, New York (USA).
All electronic music genres represented
What can you expect at Mysteryland? Mind-blowing stages, intimate dancing corners and everything in between. The amount of music will be broader than ever before this year – ranging from energetic house to obscure techno, cheerful world music to bashing hardstyle and retro disco. Together with curators such as Q-dance, Spinnin' Sessions, Beatport, CLR, HYTE, Joris Voorn, Milkshake, Planet Delsin, The Amazing Agency, Heineken Star Club, Kriss Kross, Yours Truly, Healing Garden and Radio Noet Noet, the festival will fill more than 40 stages in two days. The first part of the line-up will be released at the beginning of March.
Focus on arts and culture
True fans know that Mysteryland isn't only about music. The arts and culture program is just as significant as the music. Experiences include going completely crazy at a secret stage in a caravan, strolling down a zesty art route, engaging in a shamanistic meditation workshop in a tipi, and so much more. Interactive installations, surreal performances, an innovative culinary offering and collaborations with high end institutes and artists are making this festival a cultural adventure – a world wherein everything is possible.
About Mysteryland
Mysteryland is the longest running electronic music festival in the world. The festival – which focuses on music, culture, arts, talent and sustainability, brings visitors to inspiring and surprising worlds. Mysteryland is awarded by Julie's Bicycle with a '3-Star Industry Green Certificate', the highest predicate for sustainability in the creative, arts, music and theatre industry. The festival is also prized with three stars from 'A Greener Festival Award'. Mysteryland is a concept of ID&T. For more information and ticket info, go to www.mysteryland.com.
Mysteryland Netherlands
29-30 August 2015
Haarlemmermeer, Netherlands
http://www.mysteryland.nl
https://www.facebook.com/MysterylandHolland
https://twitter.com/mysteryland
http://instagram.com/mysteryland_official
https://soundcloud.com/mysterylandmusic