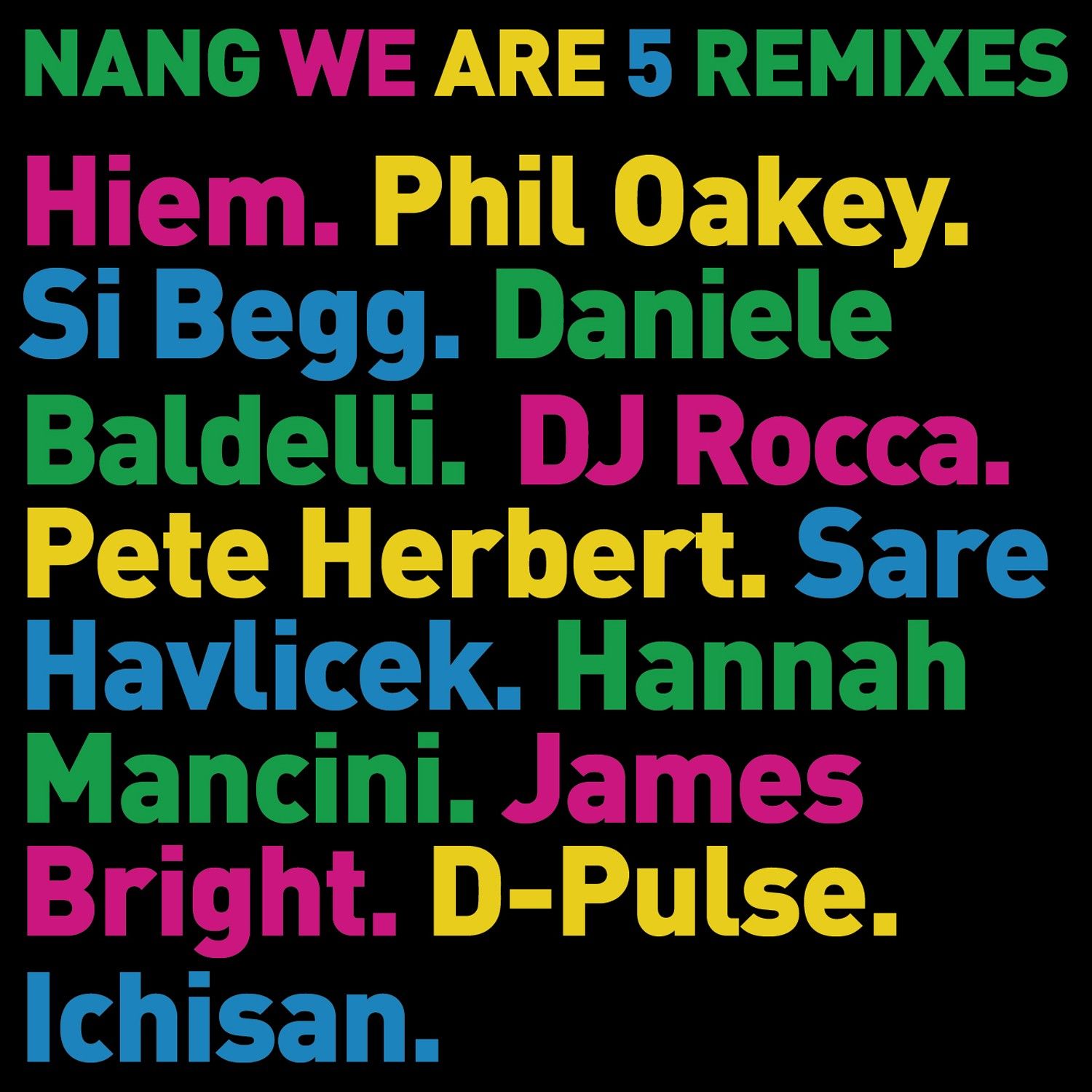 Nang – We Are Five (The Remixes)
To complement the excellent Nang label's celebratory '5 years of' compilation, they now serve up some hot remixes of key tracks from it. Scene stalwarts Si Begg and Pete Herbert appear in fine form, as do James Bright and Ichisan, all in all making for another fine release from this much loved and well established outlet.
Says the label of their proud achievement in hitting 5 years old – "This is a very special release from Nang to sit alongside our five year anniversary record. This is a compilation of remixes from some exciting and varied producers. Rewind to 2009: we had just started Nang Records; we needed a motto and a call-to-arms mission statement. The best we could come up with was, "We are doing it for the love, that's for sure". Although we may have made that up on the spot, looking back now we think we were bang on."
Up first, Si Begg transforms the unmistakable Sheffield sounds of Hiem & Phil Oakey's '2AM' into a trippy, blip house killer with raw vocals, searing synth lines and rubbery drums that drive the whole thing along. It's a frankly wild track designed for big things at parties like ALFOS.
Italian DJ legend and Italo disco star Daniele Baldelli and DJ Rocca then have their 'Real Like the Music' track remixed by the uber talented and accomplished Pete Herbert. His Blue Haze mix is a spritely, feel good and mid tempo house affair with steps synths, twanging guitar riffs and lots of cosmic funk in its grooves.
Next up, James Bright comes correct with his version of Slovenian Italo disco meister Sare Havlicek's 'Vibe On You.' This one is a blissed out, beach and Balearic bomb with dreamy vocals, sun bleached chords and inventing underlapping drums that cannot fail to sweep you up and carry you away. Last but not least, Slovenian Ichisan steps up to the plate with his trademark Adriatic disco-house shiner. His final remix is lush and laid-back as well as being busy and densely populated with soothing chords and vocals, rasping synths and plenty of dazzling textures.
This is a magically emotive collection of remixes from a label that does disco and house like few others: here's to the next five years!