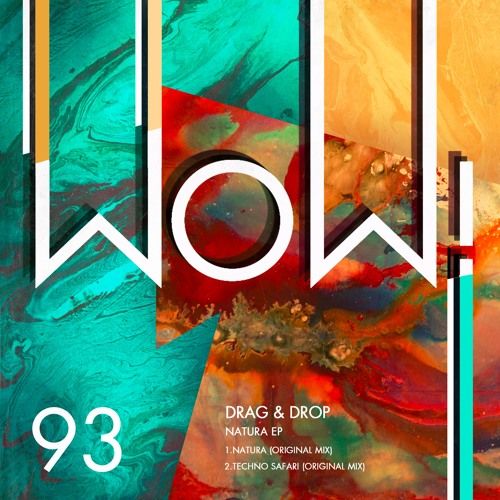 Drag & Drop - Natura EP
4th September sees German DJ duo DRAG & DROP offer up their debut EP for Mar-T's renowned imprint, Wow! Recordings, entitled 'Natura'.
Dynamic duo DRAG & DROP first showcased their talents through a number of well received sets at German venues / festivals such as Cocoon Club, World Club Dome, Kater Holzi and at Frankfurt's Tanzhaus West, where they still hold a residency.
Since then, they've bought their eclectic style of House, Techno and Dubstep (a sound they describe 'Techstep') to crowds in all corners of the world, also continuing to release several stellar productions on labels such as Draft Recordings and Monique Musique.
'Techno Safari (Cut Edit)' kicks off the release, a probing Tech-House track that combines a gorgeous synth-driven melody with edited vocals, glowing keys and numerous 'safari' inspired effects over its six minute duration.
Closing the EP is the title-named track, 'Natura (Edit Cut)', a deep-groover featuring hypnotic vocals, squelching synths and vibrant percussive elements that really shine during the track's timely breakdown midway through.
'Natura' EP is available exclusively via Beatport on September 4th and everywhere else two weeks later.
FIND WOW! RECORDINGS ONLINE:
https://pro.beatport.com/label/wow!-recordings/2163
https://soundcloud.com/wow-recordings
https://www.facebook.com/WowRecordingsOFFICIAL
FIND DRAG & DROP ONLINE:
https://soundcloud.com/drag-drop-official-page
https://www.beatport.com/artist/drag-and-drop/403853
https://www.facebook.com/draganddropofficialpage/
TRACKLIST:
DRAG & DROP – Techno Safari (Cut Edit)
DRAG & DROP – Natura (Edit Cut)