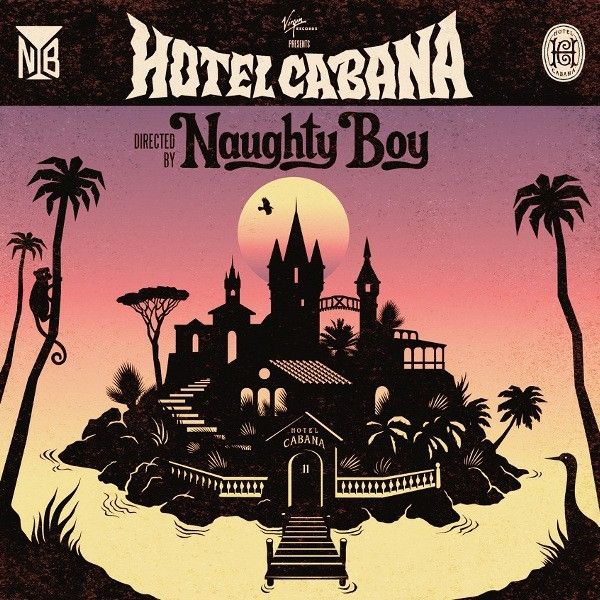 Naughty Boy – Lifted
2013 is setting up to be an incredible year for British super producer Naughty Boy. Not content with producing the biggest selling album of 2012 (and 2013 ) Emeli Sandé's 'Our Version of Events', Naughty Boy a.k.a Shahid Khan steps out of the shadows to release 'Hotel Cabana' one of the most anticipated and exciting pop albums of the year. It seems there's just no stopping this creative visionary whose last single 'La la la' is the biggest selling single by a British artist this year. The track has clocked up over half a million sales in a matter of weeks as well as over 25 million video views and still remains in the UK Singles Chart top 10. New single 'Lifted' is a monster waiting to be unleashed, a euphoric feel good track packed with lavish strings and trip hop beats featuring Emeli Sandé's soaring vocals.
A British record in every sense, Hotel Cabana features a stellar cast including Tinie Tempah, Professor Green, Wretch 32, Emeli Sandé, Ed Sheeran, Bastille, Gabrielle: Brit newcomers Ella Eyre, Sam Smith, Chasing Grace and Tanika as well as U.S hip hop maestro Wiz Khalifa. It's a concept album and as concept albums go it's wildly, brilliantly, cinematically ambitious. Hotel Cabana has a narrative, it's a party album, it's a number of beautifully realised musical metaphors; Naughty Boy's first dream-house – a shed in his parents' gardenwhere he built his first studio and where he and Sandé began writing songs; or perhaps it's the Oz forever on the horizon for this Watford boy; or the music industry, the world that this working class kid always felt was a yellow brick road too far.
But more than all that Hotel Cabana is something stronger still: a 13-track album bristling with solid-gold musicality, "The melodies, the hooks, the vocals – that's the most important thing for me," says this visionary pop fan, "We're in a time when people are afraid to make real music. But the people want to hear something fresh and amazing."
The foundations for Hotel Cabana were laid when Naughty Boy and Emeli Sandé were in the studio, working on songs for her debut album. Khan then reached out to the artists he respected and British pop royalty all responded with unquestioning enthusiasm. For the Intro, he asked Tinie Tempah to take a vocal role alongside Sandé imagining himself working on the front desk.
Sandé, meanwhile, lends her voice to the insiders' preview of Hotel Cabana, the finger-snapping, piano-soul taster single Wonder. She also lights up on Pluto and new single Lifted, as well as a Cabana re-run of Daddy, one of her breakthrough singles and one of the first tracks Khan and Sandé wrote together.
The Brit-winner is not the only diva in residence. On an upper floor, in a four-poster boudoir, living out a Sunset Boulevard reverie, is Gabrielle. She sings Hollywood, a song about glorious pasts, 'I am big, it's the tunes that got small…'
But there's also a couple of new starlets in residence, Ella, Eyre a teenager fresh from her No.1 single with Rudimental deliberating on 'Thinking About it' and the boy/girl duo Chasing Grace, avoiding temptation on the euphoric 'So Strong'.
There's also a million selling Brit kid roaming around on the roof on the track Top Floor and a certain gravel-voiced rapper, by the name of Wretch 32, on Pluto. Not forgetting the poetic genius of George The Poet, the establishment's best-informed employee, the narrator between the tracks. (he knows the secret behind the music in the elevator).
But that's enough of a sneak peak. Part Timbaland/Pharrell, part David Lynch-goes-Wizard Of Oz, part André Balazs running New York's Chelsea, Naughty Boy continues his reign on the UK charts. When your masterpiece is a shape-shifting pop-up, a Brigadoon phantasia of the best in modern British urban, pop and R & B, you're on your own. If you're breaking artistic ground as a British super-producer, chef-patron and hip-hotelier, there's no path to follow. No one's been this way before and no one, perhaps, can ever follow, Naughty Boy and Hotel Cabana are one of a kind…..
'You can check in but you can never check out…….'
Full tracklisting below :
CD / STANDARD DIGITAL
1. Act I (feat. George The Poet)
2. Welcome To Cabana (feat. Emeli Sandé & Tinie Tempah)
3. Wonder (feat. Emeli Sandé)
4. Think About It (feat. Wiz Khalifa & Ella Eyre)
5. Hollywood (feat. Gabrielle)
6. Act II (feat. George The Poet)
7. La La La (feat. Sam Smith)
8. One Way (feat. Mic Righteous & Maiday)
9. Pluto (feat. Emeli Sandé & Wretch 32)
10. So Strong (feat. Chasing Grace)
11. No One's Here To Sleep (feat. Bastille)
12. Lifted (feat. Emeli Sandé)
13. Top Floor (feat. Ed Sheeran)
14. Epilogue (feat. George The Poet)

BONUS TRACKS
15. Never Be Your Woman (Naughty Boy Presents Wiley feat. Emeli Sandé) [Bonus Track]16. Daddy (Ifan Dafydd Remix) [Emeli Sandé feat. Naughty Boy] [Bonus Track]17. Get Lucky (feat. Tanika) [Bonus Track]18. Lifted (feat. Emeli Sandé & Professor Green) [Bonus Track]