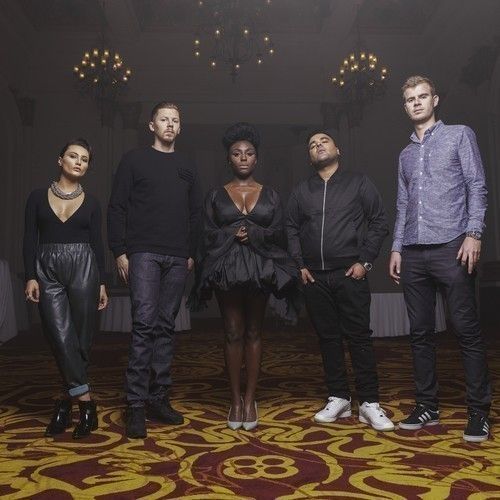 Naughty Boy – Pardon Me
'Pardon Me' premiered last week, as Mistajam's 'Inbox Fresh', 'Pardon Me' is the brand new single from chart-topping, award winning producer Naughty Boy. 'Pardon Me' features an enticingly contrasting line-up of collaborators, including rapper Professor Green, singer-songwriter Laura Mvula, Drum & Bass producer Wilkinson and Naughty Boy's latest discovery, 21 year old Bristol singer-songwriter Ava Lily. The conceptual single was created to challenge all involved to venture outside of their usual boundaries – to experiment with sound, tempo and songwriting. "It's like Ready, Steady Cook," grins Naughty Boy of bringing together the various worlds. "We had all of the ingredients; the challenge was to make it work."
Produced by Shahid 'Naughty Boy' Khan, 'Pardon Me' is a beautifully paced track that draws on a '90s UKG influence. Led by Ava Lily's instantly captivating hook, Professor Green's verse ruminates on love gone wrong, while the inimitable vocal of Birmingham singer-songwriter Laura Mvula closes the song with a typically powerful message: 'Tomorrow is another day, you can find love again. Remember how you felt before, it's the only thing worth fighting for.' Once complete, Naughty Boy then invited Wilkinson to enhance the original version for a special 'Lynx Peace Edition'; the end result is a Jungle enhanced, breakbeat led banger that catapults the song to a whole new realm. The accompanying video, featuring all five artists, was shot in North London by director Joe Alexander, who has previously directed videos for Chase & Status, Cyril Hahn and Wilkinson.
The track was created for Lynx's 'Make Beats, Not War' campaign (http://www.lynxpeace.com/beats) to raise awareness for the Peace One Day Organistation ahead of World Peace Day on September 21. It's a cause close to Naughty Boy's heart; an impassioned and politically minded young man, he was keen to help spread the message of peace through his music.
Naughty Boy is one of pop music's most-in demand composers, having worked with everyone from Katy Perry to Rihanna, Lily Allen and Cheryl Cole. Khan was also the co-producer of Emeli Sande's 'Our Version of Events', which was the biggest selling album of 2012 and the second best selling album of 2013, just behind One Direction's 'Midnight Memories'.
As a solo artist in his own right, Naughty Boy has had a No.1 single with 2013's 'La, La, La', featuring a then unknown Sam Smith, two Top 10 hits with 'Wonder' and 'Lifted' both featuring Emeli Sandé and a No.2 album with 'Hotel Cabana', his debut record featuring Sandé, Ed Sheeran and Tinie Tempah. The video for 'La, La, La' has had over 378 million views to date, has been No.1 on iTunes in 43 countries and Top 10 on iTunes in 83 countries. The song won two MOBO's for 'Best Song' and 'Best Video' while Naughty Boy won a UKMVA for Best New Act at the VEVO awards. 'La, La, La' was also nominated for 'British Video' and 'British Single' at 2014's BRIT awards. Now taking the US by storm, 'La, La, La' is went Top 10 on US iTunes, following heavy rotation on Top 40 radio and powerful performances from Naughty Boy and Sam Smith on the 'Today Show' and 'Tonight with David Letterman'.
Following a sold out UK tour late last year, Naughty Boy has spent the Summer playing at festivals including V, Wireless and Radio 1's Big Weekend. He has recently been working with One Direction on their next album.